Posted on
It's all about the experience for the Hawks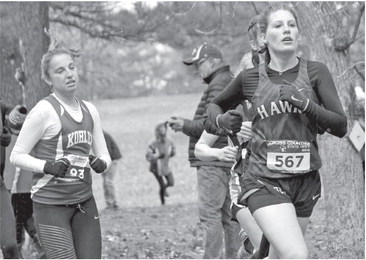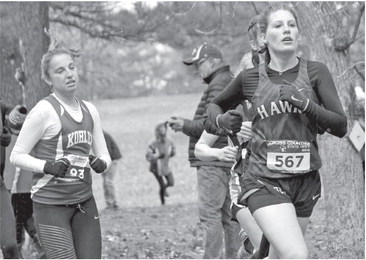 BY MATT FREY
SPORTS EDITOR
The Prentice-Rib Lake Hawks weren't quite able to avoid a 16th-place finish like they'd hoped at Saturday's WIAA Division 3 state cross country race, but that seemed to be the least of their concerns when the race ended.
Mainly, they were happy with how they stuck to their game plan and didn't let the fast starts many of their opponents got off to overwhelm them. They said the state experience was nothing but a positive and they'll have stories to tell about the snow burst they ran through in the last mile of the race.
"It was really exciting," senior Brook Peter-
See HAWKS son said. "Just so much enthusiasm from all the teams. Other coaches came up and wished us good luck. It was just really cool."
"As we were running I heard Phillips' coach, Chequamegon's coach, people from a bunch of other northern teams, they were like, 'go Kaitlyn, go Hawks' and everything. It was a really positive atmosphere," senior Kaitlyn Erickson said.
"For them, it was just about the experience of making it there as a team," cohead coach Lisa Schantner said.
The Hawks finished with 376 team points, 11 more than 15th-place Burlington Catholic Central and 32 more than 14th-place Cameron. Saturday's state appearance was the first for a Hawks' girls team since the team programs merged in 2007.
Junior Serena Moore led the team with a 59th-place finish out of 149 runners. In her third state appearance, Moore had a time of 21:12.4, which was her slowest of the three. Her week got off to a rough start with an illness that prevented her from practicing Monday and limited her Tuesday.
"I felt pretty good," said Moore, who noted that this was the first time at state she was able to finish with a strong sprint. "It was just really hard to breathe. I'm really clogged up. My freshman year was super, duper cold, but not snowing like this. Last year was beautiful, it wasn't bad. This year it's just super windy."
Moore was 29th last year in 20:22.6 and 28th in 2017 at 20:42.12.
The rest of the Hawks raced at state for the first time.
Erickson came in 109th with a time of 22:38.9. Peterson finished 120th in 23:05.9, about 11 seconds off her personal best. Senior Zoei Goodrich was 135th in 23:35.9 and sophomore Kylee Goodrich was 140th in 24:12.6.
"I think it was more about timing in this meet," Zoei Goodrich said. "Of course we wanted to try and beat other teams. We just wanted PRs."
Schantner said one of the biggest bright spots for Prentice-Rib Lake was the way the Goodriches and Peterson ran in the back half of the race. Peterson was 141st after a mile and 133rd after two miles and picked up 12 more spots in the last 1.1 miles. Zoei Goodrich was 140th after a mile and gained five spots from there. Kylee Goodrich recalled being in last place for a brief time but she climbed upward from there.
"Brook was just off her PR and Kylee was ahead of where she usually is, so that was good to see," Schantner said.
The four newcomers to state said they took advice Moore had given them earlier in the week to heart.
"It actually really helped me because it helped me know to stay back and run my race even though I really wanted to go out with everyone else," Erickson said. "At the start I felt like, 'oh my gosh, I'm in last.'" "I feel like I really did (run my race)," Peterson said. "I felt like I was really far behind at first but I was like, 'just relax Serena said everyone starts out fast.'" "Just because everyone starts off fast does not mean you go with them," Moore said. "No offense, but freshmen, when they start, they're thinking, 'oh my gosh, this is really exciting.' Then they die. Around the two-mile everyone starts dying. Of course there's always the one pack of girls that has a strategy. Then I was just telling them what the course would be like in certain spots too."
Then there was the big wind-driven flakes of snow that made for an inter- esting finish. The Hawks all said they'd never race in anything like that.
"At sectionals last year it snowed a little bit, but it wasn't like this," Erickson said. "Coming up the last hill, the wind was all blowing at you and you were trying to sprint. It was a little hard to see."
Lourdes Academy of Oshkosh won the team championship in Division 3 with 112 points, while Gillett won the secondplace plaque with 126 points, two fewer than Prentice-Rib Lake's Marawood Conference rival and last year's runner-up Auburndale. Oostburg and 2018 champion Lancaster both had 132 points with Oostburg winning the sixth-runner tiebreaker to finish fourth. From the Marawood Conference, Marathon was 10th and Chequamegon was 14th.
Edgar's Marissa Ellenbecker fell shy in her quest for a third straight state title. She finished 10th to get the last individual medal with her time of 19:47.6. She was the one of just two seniors in the top 10. Ninth-place Hannah Constable of Johnson Creek (19:46.4) was the other. Sophomore Abby Bartel of Weyauwega-Fremont won the state title in 18:52.9, followed by freshman Samantha Herrling of Wisconsin Heights-Barneveld (19:09.2) and junior Katelyn Chadwick of Poynette (19:30.2).
La Crosse Aquinas won the Division 3 boys championship 68-96 over Brillion. Marathon was 14th and Chequamegon was 16th. Senior Christian Patzka of Wisconsin Heights-Barneveld was the individual champion in 16:08.7.