Posted on
Better each time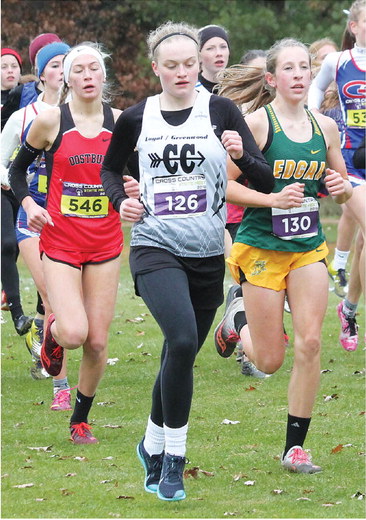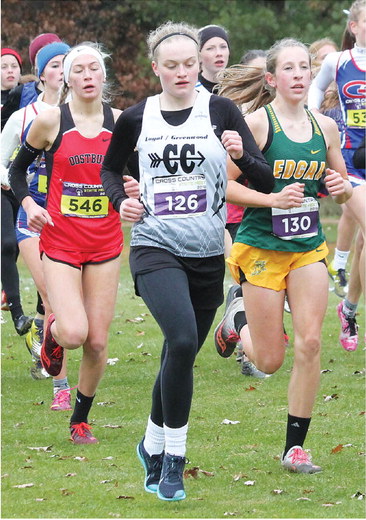 Savannah Schley takes 12th at state cross country meet after placing 24th as freshman, 15th as sophomore
by Cheyenne Thomas
Every year, as she looks over the numerous, tall hills at Ridges Golf Course in Wisconsin Rapids before the start of the WIAA Division 3 girls state cross country race, Savannah Schley of Loyal-Greenwood has a goal. Facing the bitter cold of the morning, and seeing the crowds of people ready to cheer on the 149 female runners competing against her, she has her strategy planned out. Everyone is set, ready and motionless. Then the gun goes off.
For the third year in a row, Schley has gone to this course to participate in the WIAA Division 3 state championship, running there on Nov. 2. The Loyal High School junior has come a long way since her freshman year, her first year as a state qualifier, when she placed 24th by running a 20:36.9.
"I guess it wasn't until I was old enough as a freshman that I realized, 'OK, I can do this,'" she said on first qualifying for state back in 2017.
Gaining the first-time experience she needed, she was more prepared and focused as a sophomore, qualifying again for state and moving further up the line of runners, up to 15th with a time just under the 20-minute mark (19:57.7). This year, with the experience and maturity she gained from her past trips to state, she ran again, this time finishing in 12th place overall with her best time at state yet: 19:55.3.
Getting to this point has been a sort of roller coaster for Schley this year. The season itself was somewhat unusual, with lots of rain, cold weather and cancelled meets. While she battled the elements, she also battled within herself, working through the challenges and defeats that came her way. When the Cloverbelt Conference came around, Schley suddenly found herself in second place to Fall Creek's Jenna Anders, an unexpected downturn. "I guess my c o n f e rence wasn't the best result, Jenna Anders, she definitely won the race," she said. "At sectionals, I was down, not thinking I could spring back."
But she did. Going toe-to-toe against her Edgar rival, senior Marissa Ellenbecker, Schley overcame the odds, taking the title of sectional champion for the first time in her running career.
"I didn't expect to be sectional champion," she said. "I was mostly really happy. I was excited to be the sectional champion, I've never been one before."
That run took her to state and once again to the challenges that course brings. Unlike so many of the courses she runs
MATT FREY/ MEDFORD STAR NEWS PHOTO
"I want to thank my coaches, they're the best. They have taught me so much. I would not be as successful as I have been without their help." -- Savannah Schley during the year, Schley said Ridges Golf Course always is a unique obstacle with its tall hills. Breathtaking? Sure, she says, but not fun to run on.
"As crazy as it sounds, I don't have that down," she said of the course. "The course itself is not that fun. It's very, very hilly and I don't have as much experience with that."
This trouble with the course proved to be the undoing of the strategy she had set in her mind at the beginning of the race.
"I definitely had a strategy for this year, but it didn't really work," she said. "The idea was to start off the first mile at like a 6:10 and gradually get faster each mile, the goal is to make the first mile the slowest mile."
Her first mile split time was pretty much on pace: a 6:08. But, when running up and down hills in 30-degree weather, hills have a way of slowing a person down as time goes on. Her second-mile split showed it: a 6:36. By the time the third mile was completed — in 7:14 — and the snow began to fly, Schley said she just wanted the race to be over.
"With the adrenaline of the course, especially the freshmen, you get out a little too fast," she said. "It didn't start snowing until I reached the chute, it was a really, really long chute, and I didn't really like that, and running down, it was like a blizzard."
Schley finished the state course about a minute behind first-place finisher Abby Bartel of Weyauwega-Fremont, who finished in 18:52.9. Though Schley never dreamed of getting that good of a time, she said she has had a goal to beat the time of 19:23.8, her personal best time, earned at the 60th Annual Smiley Invitational back when she was a freshman.
"My PR (personal record) is from my freshman year, I still want to beat that," she said. "I'm definitely more mature now."
Had she reached that goal, Schley would have placed third this year, and have been able to complete her other state goal: finishing within the top 10. But, with the maturity she has gained from her years of experience, she knows that while saying is one thing, doing is quite another and can be rather difficult. When facing the fans who cheer her on at each race, she has noticed many are not aware of this.
"It's kind of hard, they're very supportive and don't mean it, but when they say 'Oh, you're going to make it to state' I go, 'Er, it's really not that easy,'" she said.
Knowing full well the difficulties she faces, Schley said her coaches, Jim Genteman and Hannah Olson, have been some of the best guides for her during the season. Helping her through each challenge and being there during every shortcoming and every victory on the course, she said she wouldn't have become a three-time state qualifi er without them.
"I want to thank my coaches, they're the best," she said. "They have taught me so much. I would not be as successful as I have been without their help."
With one more season left to go before she graduates, Schley said she is optimistic about her chances to fulfill her goals. Unlike so many female runners who peak at freshman year before entering a decline, Schley said she knows she still has a chance to improve and make her senior year her best year.
"I'm so grateful for that," she said on being able to compete at state as a junior against so many freshmen. "I will probably keep up running for a while, I want to break my PR from freshman year and get the top 10 at state."