Posted on
Sectional champs again; Sullivan 4th for boys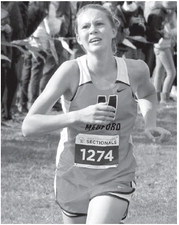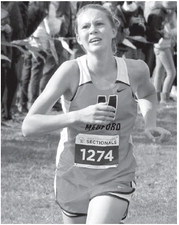 DIV. 2 COLBY-ABBY SECTIONAL
BY MATT FREY
SPORTS EDITOR
Building off the previous week's Great Northern Conference championship, the Medford Raiders girls cross country team simply was not going to be stopped at Saturday's WIAA Division 2 Colby-Abbotsford sectional.
The defending sectional and state champions easily outran the 15-team field on a cool, but sunny latemorning race at Colby High School. The Raiders put all five scorers among the top 14 finishers and all seven of their runners were in the top 31 in a field of 96 competitors.
Medford, ranked third in the Wisconsin Cross Country Coaches Association Division 2 state poll after a seven-spot jump from the previous week, outscored fifth-ranked Wisconsin Dells 35-67 to win the team's second straight sectional.
"They ran awesome, putting three in the top four and five in the top 14," head coach Kevin Wellman said. "Wow, you can't ask for anything better than that. Not only that, but partway through the race, obviously they were looking really good, but they just kept going. They were either gapping other runners or catching the people in front of them. Even our non-scoring runners today pushed it hard and were beating people in the last 800 or half-mile."
That wasn't the only success of the day. After getting shut out last fall, the Raider boys will be represented at state by sophomore Joey Sullivan, who finished fourth in a field of 101 runners. He was 14th in last year's
See MEDFORD meet. Medford's boys placed fifth out of 15 teams Saturday.
"It was a goal," Sullivan said. "It was a pretty big one because I knew I definitely had a chance. I knew I'd come back stronger, faster."
The WIAA state cross country championships are set for Saturday at The Ridges Golf Course in Wisconsin Rapids. The Division 2 girls race kicks things off at noon. Sullivan and the Division 2 boys are set to run at 2 p.m.
Girls dominate
While Laura Beghin of Wisconsin Dells, the eighth-place finisher at state last year and the runner-up the previous two years, ran away with the individual title in 20:07.3, there was little doubt which team was the strongest behind her.
Raider senior Franny Seidel and junior Alicia Kawa ran stride for stride with each other in second and third for most of the race while sophomore Jennifer Kahn lurked behind them in fourth. At the end, Kahn showed some kick, passing Kawa to take third in 20:26.3, 0.4 seconds ahead of Kawa. Seidel pulled away from Kawa in the last halfmile and finished in 20:21.9. Kawa was 11.5 seconds ahead of fifth-place finisher Greta Trapp of La Crosse Logan.
"That was awesome and it's not like Alicia slowed down," Wellman said of Kahn's final kick. "Jennifer just had an awesome race."
Kahn, who moved to Medford from Colby before her freshman year, said she may have had some added motivation running in familiar territory.
"I don't know. I've just been practicing really hard I think that helped," Kahn said. "Definitely some of the pressure with sectionals and stuff (pushed me)."
Wisconsin Dells had the eighth-place (Lindsay Cunningham) and 10th-place (Hailey Anchor), but Medford slammed the door on the Chiefs with sophomore Alexis Fleegel coming in 12th at 21:25.9 and freshman Bryn Fronk taking 14th in 21:38.6 to complete the team scoring.
Freshman Brooke Rudolph was 17th in 21:57, her second-fastest time of the season, and junior Ellee Grunwald was 31st in 22:52.9.
"I think we were pretty confident coming in, but we didn't let that go to our heads because we didn't want to be too confident and then end up coming in third," Grunwald said of the team's dominant performance.
"We beat our biggest competition in conference and I think we're still on that thought of seeing what we can accomplish," Seidel said. "I think we brought that here."
"I was like, 'this is awesome,'" Kawa said of knowing three Raiders were at the front of the pack. "I was expecting it to be a little more broken up. I just remember hearing teammates' names that people were yelling right behind me and thinking, 'whoa those girls are right behind me.'" With a handful of runners from last year's state team back plus an influx of strong freshman, the Raiders felt from day one this season they'd get to this point, barring something unforeseen. A couple of defeats mid-season to conference rivals Tomahawk and Lakeland, however, may have been just what they needed to refocus for the October stretch run.
"We got beat by a lot of teams in the beginning, but I think it just pushed us to go harder in the later meets," Fleegel said.
"Not beating Lakeland and Tomahawk at Smiley and at our home meet, it was like, 'should we be worried?'" Seidel said. "We just kept working hard and we came out and beat them both (at conference)."
"I think last week was the bigger hurdle because we knew Lakeland and Tomahawk were good," Wellman said.
Grunwald said the youngsters certainly pushed the upperclassmen through the dog days of September.
"Freshman always come in with a new energy," she said. "Everything is exciting for them and I think it radiates off them."
"It's really cool that we're freshmen and heading to state," Fronk said. "Getting this opportunity is just really nice."
"I'm pretty excited," Rudolph said. "A lot of people don't get that opportunity."
Though they're coming in with a target on their backs as defending state champs, the Raiders aim to take the same approach to state that was so successful last year –– don't worry.
"Last time we were really calm before the race," Seidel said. "The mood was just super chill. So we definitely want to go into it not getting too worked up and letting that pressure get to us. Just keep that mentality. With the course, we'll work on hills this week. We'll be ready for it."
Fleegel said her goal was to just to repeat last year when she set a personal record on the state course. Kawa said the experience for most of the Raiders of being on the state course at least once should help a lot. Her advice to the firsttimers –– Rudolph, Fronk and Grunwald –– was simple.
"Run your race; it's just another race," Kawa said.
"Last year when we did it, just qualifying was the goal," Wellman said. "We could've finished dead last last year and I think the girls would've been pumped. So the fact that we won it, because we were picked to finish sixth, there wasn't really a lot of pressure. I'm going to guarantee they're not going to pick us to win it this year. Whatever, awesome. Make us the underdog."
"We're just happy to go," Seidel said. "Stay humble."
Sullivan leads boys
Fifth-ranked La Crosse Logan entered the boys race as the clear favorite and the Rangers didn't disappoint, totaling just 43 points to win team championship and getting a second straight individual title from senior Zach Slevin. He finished in 16:57.2 to beat teammate Tracy Bye by 18 seconds.
Behind them, the race for individual state spots was settled in the back half of race. The pack behind Slevin was tight early with Sullivan sitting between 10th and 12th at times in the first mile. But runners eventually separated themselves. Sullivan was one of them as he sprinted to the finish line knowing he was headed to state.
His time was 17:22.2, his second-fastest of the season behind the 17:16.4 he posted at the fast Medford race on Oct. 3. He was 3.2 seconds behind third-place finisher Charlie McKinney of West Salem.
"I really don't know when it started separating," Sullivan said. "I think the two-mile was really when I noticed it I guess. I know there's always going to be a pack to start and there's going to be kids up there. When we came out of the woods and it was just me and two other kids. I knew I had a chance to get fourth."
"Joey ran the perfect race," Wellman said. "We knew the Logan team was just awesome. So we knew they were going to stack a couple of kids up front. He knew to qualify as an individual he had to be up there. We also knew that if he went out too hard and went to win it that it was going to cost the team and himself possibly."
"It was good," Sullivan said. "I had a good time. The course was muddy in the woods in a couple of spots, but overall it was a good course. Really flat. Great weather."
"He might've ran a negative split," Wellman said. "His second half was faster than his first half."
"Joey is so much fun to watch run," assistant coach Sherry Meyer said. "That stride of his is so good when he opens up."
Now that he's over the sectional hurdle, Sullivan said he hopes to be more relaxed for state.
"Just have another great race, just improve on my time and have fun," he said were his goals. "That's a big part of going down there. I watched the girls run down there last year. I've got an idea of what it looks like."
"I think Saturday will be awesome for him," Wellman said.
Wellman thought going in that team places two through five might be hotly contested. Elk Mound, however, had none of that, putting two runners in the top 12 and then getting places 16, 17, 18 and 20 to finish with 68 team points. West Salem (125), Gale-Ettrick-Trempealeau (149), Medford (152) and Viroqua (203) were third through sixth.
Senior Conner Carbaugh ended his cross country career with a solid 22ndplace finish at 18:29.3, his second-fastest time of 2019, while junior Logan Searles was 32nd at 18:45.5, one of his better times as well. Senior Austin Shaw finished with a 35th-place time of 19:00.2, just missing his third sub-19 minute time of the year.
Freshman Miles Searles was 58th in 19:53.2, his second-fastest time. Senior Kyle Petrick closed his year out with a 68th-place time of 20:16.9 and freshman Saskatoon Damm was 70th in 20:18.6, just 12 seconds off his season-best time.