Posted on
Minimum roster, maximum outcome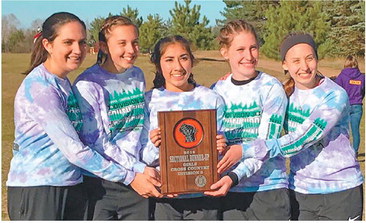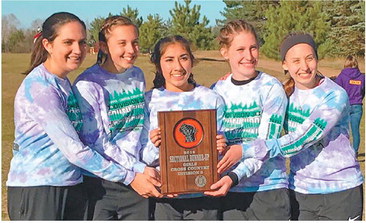 PRENTICE-RIB LAKE'S FIRST GIRLS STATE TEAM
BY MATT FREY
SPORTS EDITOR
The Prentice-Rib Lake Hawks began the season at Timm's Hill not even having a scoring team. The girls are going to finish it running with Division 3's best of the best Saturday at the WIAA state cross country championships at The Ridges Golf Course in Wisconsin Rapids.
The Hawks qualified for the state meet by finishing second in the team standings at Saturday's WIAA Division 3 South Shore sectional meet, held at Northern Pines Golf Course in Iron River. Marawood Conference schools took three of the top four spots with Chequamegon (49 points) and Prentice-Rib Lake (79 points) earning the two team state berths
See HAWKS from the meet. Unity (97) and the Phillips Loggers (102) were a distant third and fourth.
The Hawks were close to qualifying for state in the boys meet too. The Hawks may have finished sixth, but they were just 13 points behind runner-up Chequamegon and senior Peyton Enders was a heartbreaking one spot away from qualifying as an individual.
"I don't want to say we were pretty confident, but we knew we had a good shot," Hawks' co-head coach Lisa Schantner said of the five-member girls team, the minimum number of runners needed to record a team score. "It was between us and Phillips. We pretty much knew Chequamegon was going to win it because we had not beaten them all season, but Phillips and us had gone back and forth all season long on beating each other. We had been getting the better of them later in the season.
"We knew we had a good shot if everyone ran their A race and they pretty much all did," she addd. "They pretty much did what they set out to do and then some."
Their efforts resulted in all five Hawks being among the top 34 finishers in a race that had 92 runners. Chequamegon impressively put its five scorers among the top 21 runners.
Junior Serena Moore took third in this race for the second straight season with her time of 21:11.1 and will make her third straight state appearance. She finished behind freshman champion Claudia Lasiowski of Chequamegon (20:36.8) and freshman Sofia Borchers of Washburn (21:00.3). Senior Kaitlyn Erickson was 16th in 22:50.2, senior Brook Peterson was 23rd in 23:51.3, senior Zoei Goodrich was 26th in 23:51.3 and sophomore Kylee Goodrich was key with her 34th-place finish (24:20.4) as she came in just ahead of the fifth and sixth runners from Phillips.
"It's super exciting," Erickson said Monday. "It's everyone's dream to go to state. It's Zoei's senior year, Brook's and my senior year. Every other year that I've ran we've never really had even a chance to go to state. It's just kind of a crazy turnaround to just all of a sudden be in a spot where it's like, 'hey you guys can actually make it.' It's really cool."
"I think it's just kinda cool," Kylee Goodrich said. "When we started the season we didn't have a full team. Now we have just enough girls and we made it to state."
The team became whole just after the Aug. 29 seasonopening meet at Timm's Hill when Peterson joined the team to give Prentice-Rib Lake its all-important fifth runner. Peterson wasn't just a fifth runner to fill out the roster as she eventually went back and forth with Zoei Goodrich as the season progressed as the team's third finisher in races. In Peterson's first meet and the team's second of the season, Sept. 5 at Marathon, the team took third behind the Marawood's other statebound teams Auburndale and Marathon.
"That was the meet where we realized, 'hey we have a full team and we just got third," Erickson said. "I remember being genuinely excited that we got third."
"The reason I didn't join was I had gout," Peterson said. "So I couldn't even run or walk really. Then the girls asked me if I'd still join because I wasn't on a team, so I was like, 'I guess I could help somebody out.'" "Kaitlyn and Serena sold it on her," co-head coach Dalton Webster said.
While they now had a team, numbers wise, Schantner said it took awhile for each of the runners to fully understand the team dynamic of cross country. The Hawks won their fifth meet of the season, the six-team Stratford meet on Sept. 17, but it was the Barron Invite on Sept. 26 that Schantner feels was the turning point.
In that meet, the Hawks were third behind statebound Glenwood City and Cameron. Moore and Erickson were seventh and ninth, but Moore was a bit disappointed in that rival Kalin Baratka of Phillips had finished ahead of her for the first time, taking fifth. However, after the coaches stressed that didn't matter because collectively this group of Hawks beat Phillips in the team standings for the first time, the vibe on the team changed for the better and carried through October.
They won the Stratford meet before that, but there weren't a lot of hard teams at Stratford," Schantner said. "To go into Barron and get third place was good, but the biggest thing was beating Phillips girls for the first time. That was the turning point."
Going into Saturday's race the girls knew the Phillips runners were the ones they needed to watch in their individual races.
"We run against Phillips a lot," Erickson said. "You know who beats you, who you beat and where they are. It gets easier as the year goes on gauging where you are in the race and how hard you need to push yourself."
Moore was five spots ahead of Logger Allie Adomaitis, who became the top runner for Phillips after Baratka was set back late in the year by illness. She finished 28th Saturday. Erickson had her eyes on Chequamegon's Jeanna Scanlon, who wound up 10th as well as Adomaitis. She didn't get them but she was well ahead of Phillips' number two and three finishers.
Peterson was pacing off the Loggers' third runner, Jenna Simurdiak, and finished six spots ahead of her.
"She ran an awesome race," Webster said.
Zoei Goodrich was looking to beat Simurdiak and Jade Thompson, who was Phillips' fifth finisher Saturday, 2.1 seconds behind Kylee Goodrich.
"My biggest key was where Kylee was going to be," Schantner said. "I was probably 800 meters from the finish I said, 'we need that girl.' She had a Phillips girl in front of her and a Phillips girl coming behind her and she finished right in front of that Phillips girl."
"Almost anywhere I went I could hear someone yelling because Ari (Mesko of Phillips) was right behind me, so I could hear everyone yelling, 'go Ari," Kylee Goodrich said. "That was freaking me out. I was just thinking 'don't pass me.'" When the race was done, the coaches knew the Hawks had gotten the places they needed, but they chose to keep it a secret until the awards ceremony.
"Lots of crying," Erickson said of the team's reaction. "We were very excited."
This is the first time the Prentice-Rib Lake co-op has qualified for state as a girls team. The boys made it in the co-op's first season of 2007. Rib Lake's last girls state team was the 1995 team and Prentice last sent a girls team in 1988.
The Hawks know, realistically, they won't be among the team title contenders Saturday, but they are driven to stay out of the cellar and to enjoy the experience.
"I just know from cheering along last year it's not an easy course," Erickson said. "I would get winded when we'd run from place to place cheering for Serena."
"Realistically, if there's 16 teams, I'd love to get 13th or 14th place and be happy with that," Schantner said. "But I don't know what these girls have. You just never know. We would be ecstatic if we broke the top 10. These girls keep surprising us. They just put it out there. I'll take what we can get. They're getting the experience, which is big."
"That's what we told them, we're not trying to win the state title here," Webster said. "Just go have fun."
Boys were close
The Hawks' runners and coaches felt they had a shot at second place in Saturday's boys race too and they nearly made it happen. But the field was considerably more competitive at the top than the girls' race was and their season ended.
Unity handily won the meet with 73 points, while Chequamegon won an incredibly tight battle for second with 120 points, followed by Grantsburg (128), Ladysmith (129), Phillips (133) and the Hawks (133), who lost the sixth-man tiebreaker to the Loggers. Solon Springs-Northwood was seventh with 152 points.
"We almost finished dead last at sectionals last year," Schantner said. "This year, we tied Phillips to get sixth and lost the tiebreaker. I know the boys aren't happy with it, it was sad. But, as coaches, we were extremely happy with where this team, who has only two guys that were seasoned runners on it, finished."
Enders, who set his sights on state ever since last year's 11th-place sectional finish, gave himself a shot with a seventh-place time of 18:24.6. Unfortunately, Unity's Cullen Feist (fifth in 18:11.9) was the only runner ahead of him who was a member of one of the qualifying teams, leaving him one spot shy of earning one of the five individual qualifying spots. Enders was 8.3 seconds behind Kees Hoogland of Phillips.
"The only thing I can say is that it was devastating because that is how bad he wanted it," Schantner said. "He had lots going on in his head I think. That's what we all reminded him. No matter how that one race ended, your overall senior season was a great season. Unfortunately all good things come to an end."
Birchwood's Matthew Marcinske easily won the race in 16:34.2. Owen Dickenson of Solon Springs-Northwood (17:03.8) was second and Sam Borchers of Washburn (17:22.8) was third. They are all seniors. Sophomore Will Gerber of Grantsburg (17:27.1) was fourth.
Junior Riley Blomberg had a big day, taking 23rd out of 112 finishers in a personal-best 19:07.8. Freshman Noah Wiitala was a strong 33rd in 19:23.2 and sophomore Adam Granberg was 35th in 19:37. Sophomore Alex Schantner was 39th in a personal-best 19:41.1. Reese Isaacson, a sophomore, was 67th in a personal-best 20:55.4 and freshman Lane Blomberg was 78th in 21:27.9, his second-best time of 2019.
"We didn't know who our second man was going to be, third man, fourth man," Schantner said. "It was always a mix. Riley Blomberg and Noah Wiitala really stepped it up. They all did. We kept emphasizing all week long how close the boys race was going to be. Honestly our two most important were our sixth and seventh guys. That's what we kept telling them. Every person you can pass is going to matter. That's what they focused on."