Posted on
Hurricanes are blown away in 33-point second quarter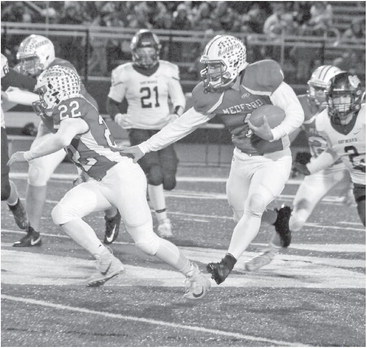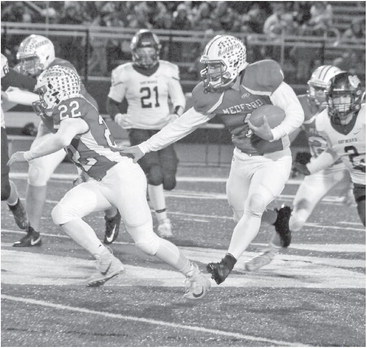 DIV. 3 LEVEL 1: MEDFORD 53, HAYWARD-LCO 0
BY MATT FREY
SPORTS EDITOR
The start of the WIAA Division 3 football post-season brought little change for the Medford Raiders, who dominated again from start to finish in a 53-0 blowout win over Hayward-Lac Courte Oreilles in Friday's Level 1 matchup at Raider Field.
The Raiders set the tone by scoring on the game's opening drive, then, after giving up a 29-yard pass on Hayward's first play, the defense allowed next to nothing during the remainder of the half, allowing the offense to build a 40-0 lead by the break.
The second-seeded Raiders improved to 10-0 and advanced to a Level 2 matchup with third-seeded River Falls (8-2) this Friday at Raider Field. Seventh-seeded Hayward's season ended at 6-4. This was easily the largest margin of victory in Medford's playoff history.
"We really came out firing on all cylinders," senior offensive tackle Zac Breneman said. "We really didn't hesitate on the first drive. It was just good."
"We've been receiving a lot of opening kicks and we usually set the tone on offense," junior linebacker Blaine Seidl said. "Then, if we shut them down on defense right away, the games have usually been lopsided."
The statistics were as one-sided as the score. Medford piled up 414 yards of total offense, including a nice split of 285 rushing and 129 passing yards, while allowing just 86 total yards.
"The defense has done a good job," head coach Ted Wilson said after the defense recorded its fifth shutout of the season. "They really take to heart what they're supposed to do. I think they pay attention to what we talk about throughout the week about what needs to be done to stop the other team and what the other teams are trying to do and how to read their keys and what plays are possibly coming out of those keys. They've done a good job of being mentally prepared."
Medford's first drive covered 59 yards on 11 running plays. Ean Wilson had 10 carries for 55 yards and got the last six on a fourth-and-1 conversion for the touchdown with 7:55 left in the opening quarter. Austin Waldhart's kick made it 7-0. The Raiders forced a punt after Hayward quarterback Austin Wessel completed his big opening pass over the middle to Adam King. The offense was stopped on downs on the ensuing drive, but that was the only time that happened when it mattered.
A 54-yard scoring drive was capped on the first play of the second quarter by an 18-yard touchdown pass from Peyton Kuhn to Emett Grunwald, the second time in three weeks those two have perfected that play. Kuhn dropped a higharcing pass right over the defender into Grunwald's arms in the back of the end zone.
"Emett did a real good job to keep his feet in and Peyton had a nice throw," Ted Wilson said.
Medford's next drive lasted just two plays as Ean Wilson got through a big hole carved out by the left side of the offensive line, bounced out to the sideline and stayed inbounds for 49-yard scoring run that made it 21-0 with 9:58 left in the first half.
Seidl then blocked his fourth punt of the season and third in the last two games to give Medford the ball at Hayward's 20. The Raiders needed just five plays to score from there, getting an 8-yard run from Kuhn to make it 27-0. Three incomplete passes, the last one forced by heavy pressure from Logan Dassow, forced a punting situation.
Dassow and Clay Bowe, from the interior of Medford's defensive line, wreaked havoc all night long in Hayward's backfi eld.
"We were having a great time," Bowe said. "Us guys on the line put a lot of time in, we hit hard, we always try to make everybody better and try to make ourselves better. (Dassow) is a beast. Not very many people can hold him back once he gets through. You better have your eyes open. Either throw the ball or run because he's coming for you."
Hayward tried to fake the punt, but Danny Toles was stopped after just a 3-yard gain to give Medford the ball at the Hurricanes' 32. Logan Baumgartner completed a 26-yard pass to Justin Sullivan on first down, and Wilson scored from the 2-yard line two plays later. After another Hayward punt, Baumgartner went deep down the left sideline just before getting hit and connected again with Sullivan, who avoided a would-be tackler and sprinted the final 50 yards of an 80yard score to make it 40-0 with 3:02 still left in the first half.
"That was fun," Sullivan said. Baumy threw a good ball up there for me and gave me a chance to go get it. I looked back and I didn't see the defender. It's good to see us complete some passes so we're a threat in passing and obviously running."
Sullivan made another spectacular play early in the third quarter. While blocking Hayward's gunner along the sideline on a Hurricane punt, he alertly saw that Toles shanked the punt, pulled it in before the man he was blocking ever noticed and shot up the sideline for a 44yard touchdown that gave the Raiders a 47-0 lead.
"The punt pretty much came right to me," Sullivan said. "I had to go try and catch it. It was pretty open from there. He just shanked the punt."
Medford's last score came on the first play of the fourth quarter when senior Mason Rudolph took one to the house from 33 yards out. In between, Carson Kleist and Nate Doriot each intercepted passes and Medford's defensive reserves recovered two fourth-quarter fumbles by Hayward to preserve the shutout.
A concern going in was Hayward's ability to throw the ball, but the Raiders shut that down, as the Hurricanes com-
See RAIDERS pleted just four of 21 passes.
"I thought our coverage for the most part was pretty good other than maybe one or two little spots where we had a kid fall down or whatever it might be," Ted Wilson said. "For the most part I thought our kids did really well in coverage. That's good going forward."
Ean Wilson ran for 169 yards and three touchdowns in 23 attempts. Baumgartner completed three of four passes for 111 yards and Sullivan's two catches went for 106 yards. Medford held Hayward's 1,200-yard rusher, Nate Sorenson to 18 yards on 10 rushing attempts.
"I think we all read our keys and once we stopped the run, they tried to pass and then the d-backs did a good job on that," Seidl said. "So then they really didn't have an offense at all."
A 10-0 record hasn't been seen in Medford since 1988 when, coincidentally, the Raiders lost a second-round 21-20 overtime heartbreaker to River Falls. This year's group is enjoying the ride and aiming to keep it going as long as possible.
"It's great. It's mind blowing," Bowe said. "I work with a guy named John Knoll and he was on one of the teams that was 9-0 (2000). He keeps telling me about it. I'm like, 'we're going to be up there with you guys.' Sure enough we're there."