Posted on
Hornets shred Nekoosa, get raided by Apaches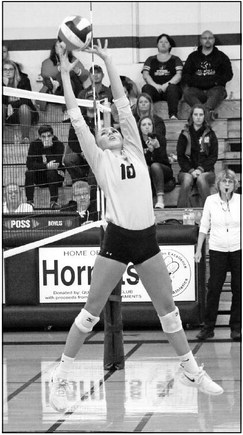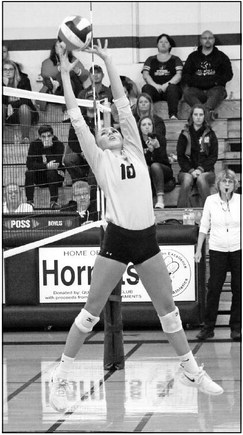 By Ross Pattermann
The Cadott Hornets Volleyball squad defeated Nekoosa at home in the first round of the WIAA Regional playoffs, but could not notch the upset on the road against Auburndale two days later, falling in the second round of Regionals. The loss ends the 2019 season for the Hornets, with Cadott finishing with a 16-23 overall record and a fifth place finish in the West Cloverbelt Conference.
Oct. 22 vs. Nekoosa Regional (W 3-1)
The Hornets enjoyed a home game in their playoff opener and wasted no time in taking the early advantage against the Nekoosa Papermakers, during the first round of Regional playoff action. Cadott jumped out ahead of Nekoosa, 25-12, in the first set, but from there, were forced to earn the victory, as Nekoosa dogged Cadott at every step.
Cadott shook Nekoosa's challenge in the second set, to prevail, 25-21, only to see the Papermakers coming charging back in the third, battling hard with their season on the brink, as they escaped with a 25-23 third-set victory over Cadott.
The Hornets shook off their third set loss and got back to business, fighting off Nekoosa, 25-20, to move into the second round.
Guiding Cadott past Nekoosa, was Autumn Bremness with 9 kills and 2 aces, Hallie Solie with 7 kills and 4 aces. Makenna Barone had 10 kills, while Lauryn Goettl ended with18 digs.
The night was also notable, as senior Abby Eiler added 34 assists to shoot her career assists number past the 1,000 mark.
Oct. 24 vs. Auburndale Regional (L 0-3)
The Hornets faced a different kind of opponent two days later, traveling to Auburndale to take on the South Marawood Conference runner-up Apaches. Auburndale won its share of victories coming into the match, dropping state ranked Stratford and Abbotsford – the North Marawood North and South Marawood conference champions.
The Apaches would win the match in three sets, but Cadott battled hard for every point, with each set highly contested. The Apaches gained the early momentum, with a 25-17 firstset decision, but Cadott upped its level in the second set.
Auburndale was just able to just scrape by in the second set, 25-21, but still had a fight on their hands, as the Hornets refused to let their season go quietly. However, the Apaches overcame the challenge, to prevail, 25-18.
Barone led Cadott with a team high 9 kills, followed by 7 from Elly Eiler and 5 from Solie. Haylee Rowe and Jada Kowalczyk each had 1 ace, and Goettl had a game high 15 digs, with Bremness tallying 7 digs.
The season also sees the Hornets bid goodbye to this year's seniors – A. Bremness, Brooke Bremness, A. Eiler, Tabitha Sikora and Hallie Solie.