Posted on
Early strikes key as Pirates win defensive playoff struggle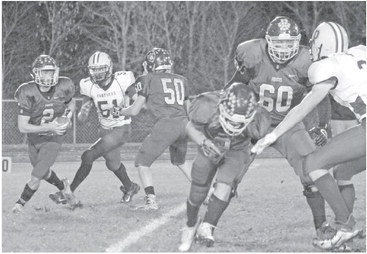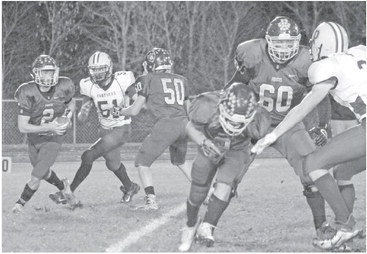 DIV. 7 LEVEL 1: GILMAN 24, PITTSVILLE 6
BY MATT FREY
SPORTS EDITOR
The Gilman Pirates were able to strike twice through the air in the first quarter Friday and that wound up being the difference in a defensive-minded 24-6 win over Pittsville in Level 1 of the WIAA Division 7 football playoffs.
The third-seeded Pirates won their sixth straight game to improve to 8-2 overall. They again did it with defense, coming one play shy of their seventh shutout of the season. They held Pittsville's potent passing game to just 43 yards on four completions and contained the Panthers' 1,000-yard rusher Eli Fox, limiting him to just 74 yards on 19 carries. The Pirates forced four turnovers and did not turn it over, also a huge statistic in the win.
Gilman was held to just 127 rushing yards, but the Pirates got 106 passing yards out of quarterback Gabe Gunderson, who completed six of 12 attempts, including the big first-quarter scores.
"We passed the ball OK, completing six of 12," Gilman head coach Robin Rosemeyer said. "We had some opportunities that we missed, but there were some plays that we were able to execute, get athletes out in space and they made a play. Other than that, it was tough sledding."
The win sends Gilman to second-seeded Almond-Bancroft Friday for a 7 p.m. Level 2 kickoff. The Eagles are 10-0 after knocking out Gilman's CloverWood Conference rival Athens 30-7 in Friday's first round.
The game's first turnover led to its first points midway through the opening quarter. The Pirates held up Pittsville's 6-4 quarterback Matthew Kissner for what was going to be a loss and eventually Brayden Boie stripped him of the football at the Panthers' 25-yard line.
On Gilman's first play following the turnover, Gunderson hit Bryson Keepers on a fade pattern for a 25-yard touchdown. Kade Kroeplin ran in the twopoint conversion for an 8-0 lead with 6:29 to go in the quarter.
The Pirates got a stop after Pittsville had moved the ball into Gilman territory and quickly went to work again. They were able to get Kroeplin matched up on a Panther linebacker, a matchup they'll gladly take anytime. Gunderson hit his speedy junior back on a deep crossing pattern for a 59-yard score and Kroeplin added another two-point conversion to make it 16-0 with 3:59 still left in the first quarter.
At the time it may have seemed like the rout was on, Pittsville steadied itself defensively from there and got back into it in the second quarter on a 25-yard scoring pass from Kissner to Fox. The touchdown came on a fourth-and-six situation. The two-point run failed, keeping it 16-6 with 6:35 left in the half. That's where the score stayed up to halftime.
"The two-point conversions became a big deal," Rosemeyer said. "We had two touchdowns to their one but we were up 10 at halftime."
The Pirates had their best sustained drive of the game on their first possession of the second half, even though it was only a half-dozen plays. Kroeplin broke off a 43-yard run and that set up his 17-yard touchdown run on an outside pitch play. He made a man miss, stayed in bounds and got good downfield blocking to get into the end zone. Gunderson's two-point run finished the scoring for the night with 6:35 left in the third quarter.
The Pirates finished with 233 yards of total offense compared to Pittsville's 177.
"We punted eight times which is the most times we've punted all season," Rosemeyer said. "We practiced all week against a 4-0 front and they came out in a 5-4 and really stacked the line on us. It was tough to run the ball on them. We
See PIRATES moved it OK at times, but we need to be better this week."
Kissner was four for 17 and was picked off three times by the Gilman defense. He was Pittsville's second-leading rusher with 54 yards on 14 attempts.
"Their quarterback had a few big runs," Rosemeyer said. "We got him for sacks of 13 and 11 yards, but he had runs of 21 and 16 yards on us too. He ran the ball more than we expected. They spread us out and he'd take the snap from the shotgun. He's a big kid, about 6-4, and was tough to tackle. Our field is a mess now. It's slippery and didn't help either team."
Pittsville ended its season at 5-4.
Gilman, meanwhile, makes its second straight trip to Level 2 and hopes to get to Level 3 for the first time since the state championship season of 2010.
The Gilman/Almond-Bancroft winner will face either fourth-seeded Hurley (82) or top-seeded Edgar (9-1) in Level 3 on Nov. 8. Edgar was a 42-0 winner over Hurley on Sept. 20. Those two teams eliminated CloverWood squads in Level 1 play on Friday. Edgar took out Greenwood 42-13 and Hurley upended Loyal 33-22.