Posted on
Cadott's hopes cut short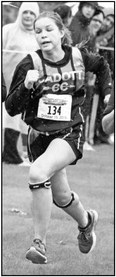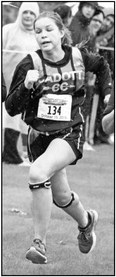 By Ginna Young
The day didn't turn out as hoped Oct. 26, as the Cadott cross country team saw an end to their season at Sectional competition in Boyceville.
It was a tough meet for the boys team, placing 14th out of 16 schools, as the Hornets were without two of the top four runners for the team.
"Obligation elsewhere for one runner and illness for another, took its toll," said coach Tom Weiss.
Setting a new personal record, was sophomore Tad Weiss, who finished 26th, with a time of 18:42.5. Zach Morgal followed, with a 67th place run (19:58.6).
Freshman Brayden Sonnentag wasn't far behind, placing 79th (20:31), while sophomore Evan Freed came in 88th (21:14.4).
Keagan Galvez, freshman, earned 101st (21:48.7), fol- lowed closely by Corbin Grenz in 103rd (21:51.5).
Rounding out the day, was freshman Kaden Matott in 117th place (23:39.3).
After three quarters of the season unable to field a team, the girls ended their year in 14th place.
Leading the charge, was junior Meadow Barone in 47th (24:21.8). Next up, was junior Kaileigh Tice in 77th (25:44.8), followed by freshman Lucy Lindeman in 85th (26:56.8).
Sophomore Jessica Klukas came in next, for 88th place (27:25.7). Senior Jasmine Horvat finished out her high school running career in 104th (34:26.9), with sophomore Izzy Chady shadowing her for 105th (32:49.6).
"Ending your season with your best time and effort, is a great satisfaction for an individual runner," said Tom Weiss. "It puts 'frosting on the cake,' for all the hard work that an athlete puts in before, and during, the season."