Posted on
As you'd expect, level of difficulty increases in playoffs' second round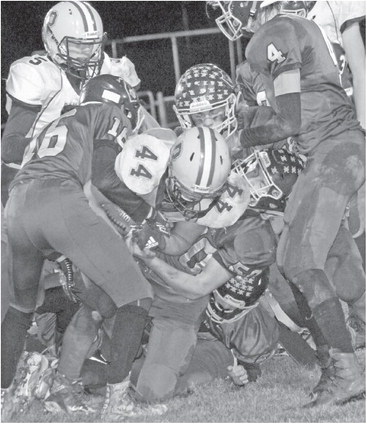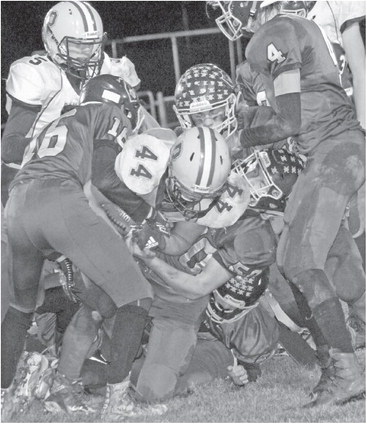 WIAA LEVEL 2 FOOTBALL
BY MATT FREY
SPORTS EDITOR
The Medford Raiders and Gilman Pirates never trailed in their Level 1 playoff victories last Friday night and extended their seasons to 11 games.
Neither figures to have such smooth sailing this Friday in their 7 p.m. Level 2 games, which obviously comes as no surprise.
_ The Medford Raiders, who are 10-0 for the first time since 1988, are well aware that Friday's Division 3 Level 2 opponent, the 8-2 River Falls Wildcats, are viewed as far and away the best team they've seen in this fall's incredible run.
But head coach Ted Wilson said Monday that cannot change the approach that has worked so well all season long for his team.
"Every game has been important," Wilson said. "The biggest thing is we need to just concentrate on the process. Concentrate on the process of getting better. Concentrate on the process of making sure we're doing things right and concentrating on the idea of, if we read our keys and do our jobs, those other things will take care of themselves."
The second-seeded Raiders started the post-season impressively, dominating the Hayward Hurricanes in every facet of the game while building a 40-0 halftime lead. The third-seeded Wildcats did the same against Medford's Great Northern Conference rival Rhinelander, building a 43-0 halftime lead before allowing the starters to sit out the second half in an eventual 43-8 win.
River Falls will come into Raider Field riding a six-game winning streak. The Wildcats' last loss was a 21-7 defeat in week four at Menomonie. The Mustangs are a potential Level 3 opponent for Friday's winner and shared the Big Rivers Conference title with River Falls as both finished 6-1 in league play.
In the loss to Menomonie, the Wildcats' lost their top running back, Seth Kohel to a season-ending injury, but that certainly hasn't stopped them as they've averaged about 32 points per game since. The catalysts have been quarterback Peter Noreen, who is 58 of 87 this season for 916 yards and 13 touchdowns; running backs Michael Krueger (135 carries for 753 yards and 12 touchdowns) and Jaden Schwantz (63 carries for 399 yards) and receivers Payton Flood (22 catches for 373 yards) and Joe Stoffel (16 catches for 335 yards).
"They're going to run the ball," Wilson said. "They get off the ball very well, really fast. They've got a nice running back. Kohel is gone, but their other backup kid is he's fast. He's a nice player. Their quarterback is a good player."
The Wildcats should be a stern test for the Raiders, who have allowed just 5.6 points per game, 85 rushing yards and 91 passing yards per game.
Stoffel is the player most would view as River Falls' best player. A 6-4, 240-pound senior who's verbally committed to North Dakota State, he'll line up at tight end and H-back positions on offense and will always be near the line of scrim-
See LEVEL 2 mage trying to create havoc on defense.
He had four touchdowns in Friday's win over Rhinelander, three on pass receptions and another on defense when he intercepted a screen pass and took it 38 yards to the house. The receiving touchdowns partly were a result of poor tackling by Rhinelander, something that hasn't been much of an issue for Medford this season.
Since the Menomonie loss, River Falls has allowed just 8.5 points per game, including a 21-0 shutout over Superior, who handed Menomonie its only loss. However, the team that had the most offensive success against River Falls in the last six weeks was Chippewa Falls, who lost 37-20 on Oct. 4. Medford beat the Cardinals 42-0 in week two, though the Cardinals improved as the year went on and made the Division 2 playoffs at 3-6. In fact, their upset win over Hudson in week nine was one of the key results that bumped River Falls down to Division 3.
"They're very physical, very big, pretty strong," Wilson said. "I think they're going to be the best team we've faced all year. It's just a matter of us just trying to go and play. They're 1,000 kids, but Chippewa Falls was 1,400."
The only other time these teams have faced each other, coincidentally, was the second round of the 1988 Division 2 playoffs when Medford was last 10-0. River Falls won the state quarterfinal game 2120 in overtime in Menomonie, rallying from a 14-0 halftime deficit. The Wildcats lost in the semifinals the next week 10-7 to eventual state champion Kettle Moraine.
Medford had teams go 9-0 in 1992 and 2000 that lost in the first round of the Division 2 playoffs to Holmen and Tomah. The 1991 team was 8-0 in the regular season after not playing a game in week nine, won its Division 2 playoff opener over Menomonie and then finished 9-1 with a 21-13 second-round loss to Holmen on the frozen surface of Eau Claire's Carson Park.
_ In Division 7, The Gilman Pirates get their toughest test since a weekfour loss to Abbotsford when they travel to 10-0 Almond-Bancroft for their Level 2 matchup.
Gilman improved to 8-2 and won its sixth straight game in Level 1, 24-6 over sixth-seeded Pittsville, a Central Wisconsin Small opponent that Almond-Bancroft beat 26-6 in week four.
The Eagles' offense revolves around 6-1, 185-pound senior running back Jackson Beggs, who has racked up 1,696 rushing yards and 23 touchdowns in 10 games. Almond-Bancroft's size also will be something to watch. Junior quarterback Daniel Baumgartner is a solid 6-3, 250 pounds and is second on the team in rushing with 505 yards. The offensive line is the biggest Gilman has seen since Abbotsford and head coach Robin Rosemeyer said this line will be bigger than the Falcons were.
"They have nine kids on their roster over 200 pounds, which is a lot different than what we've been seeing," Rosemeyer said. "That's a lot of big kids for a Division 7 team."
Beggs had a big game in last week's 30-7 win over Athens, rushing for 209 yards on 31 carries and two scores. He had 264 yards on 36 carries and scored four times in the win over Pittsville.
The size on the defensive line could make it difficult for Gilman to run the football. The Pirates struggled to get a consistent rushing attack going in their Level 1 win over Pittsville.
The Pirates hope to have an advantage in speed and quickness and their passing game has executed well the past two weeks.
"We're going to have to be balanced because it's going to be tough to run on them," Rosemeyer said.
In notable results this season, Almond-Bancroft escaped with a 13-12 home win over Lake Holcombe-Cornell in week two and beat Johnson Creek in week eight 4028 in a matchup between top-10 ranked teams at the time. Almond-Bancroft was ranked sixth in the final Wissports.net Division 7 state coaches poll, while Gilman was 10th.