Posted on
Adleman's hat trick, solid defense send Raiders to regional final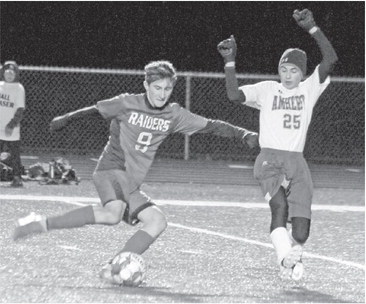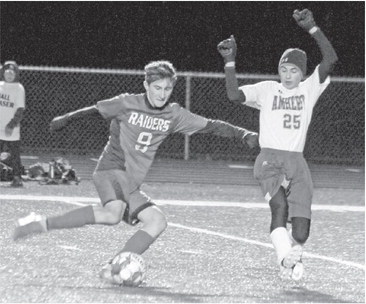 WIAA DIV. 3 BOYS SOCCER
BY MATT FREY
SPORTS EDITOR
AJ Adleman notched his first hat trick, Gage Neubauer scored two secondhalf goals and Brady Hupf stopped all six shots on goal he faced in the Medford Raiders' 5-0 shutout of seventh-seeded Amherst/Iola-Scandinavia in Thursday's WIAA Division 3 boys soccer regional semifinal at Raider Field.
It was Medford's sixth shutout of the season and third in five outings.
"Their wingers were really quick and they kept them up too, so they were playing three up, three strikers," senior defender Cooper Wild said. "So Ty Baker, Dylan Wickersheim and Jake Brunner were always occupied so it gave me less opportunities to play up. I had to play back and help out. They had a couple of chances, but for the most part we did a good job of getting in front of shots and getting in front of passes and getting them out of there."
Offensively, the Raiders possessed the ball quite well, especially in the first half when the Falcons' offensive threats were very few and far between. Two goals by Adleman had Medford up 2-0 at the half and Neubauer got his goals in the first 15:07 of the second half to put it away.
Head coach Nathan Bilodeau said it was good to see the Raiders grab control early and not give the underdog Falcons reason to believe.
"This is the playoffs, now it's win or go home," Bilodeau said. "Every team has everything on the line. Teams with lower seeds, the underdogs, they want to stick it to the higher seed. We didn't have a game on Tuesday, which was good because we had the whole week to prepare for this one game and it was awesome to see us come out swinging."
Neubauer put a shot on Falcon goal keeper Mason Czech almost immediately and the Raiders put heavy pressure on the defense on a corner kick just 1:30 in but were denied. But at 3:19, Onyi Ekwueme dribbled past a defender and had an open look from the right side of the formation, but he passed the ball to Adleman for a better straight-on shot and a 1-0 lead.
"Our passing was insane tonight," Adleman said after the game.
"Very unselfish play," Wild said. "We haven't had that for awhile on this team. It was really refreshing. The first goal came right off of Onyi getting right in on the six and just kicking it right out to AJ. Just a very unselfish play."
"That's a proud moment as a coach because Onyi could've shot that ball," Bilodeau said. "But Onyi made a great decision, saw AJ was open, got him the ball and AJ put it in the back of the net. I told Onyi at halftime that was probably the most unselfish play he's made all year, and Onyi's not a selfish player. There's a reason he was voted the Player of the Year (in the Great Northern Conference)."
Adleman was unlucky at the 17-minute mark when he rifled a shot off the crossbar, but it evened out when he got a fortunate bounce as he bent a corner kick into the net at the 32:25 mark of the first half.
"A guy got in front of Onyi and Onyi kinda bodied him from behind," Adleman said. "It hit (the defender's) side and went in."
The Raiders pressured the Falcon defense early and often again to start the second half. Ekwueme's shot on goal off a drop pass from Neubauer was deflected, Adleman's breakaway chance was just broken up, Zach Rudolph's top-shelf at-
See SEMIFINAL tempt just got tipped away and the Raiders nearly got a tip in off a corner kick.
The action briefly shifted to the other end of the field, but Adleman changed that when he got control of the ball and sent a long pass to Neubauer, who got a one-on-one shot at Czech after two Falcon defenders collided and punched it in at 53:06 for a 3-0 lead.
"Coach told me before the game if I see him open, send it, because I've got the leg for it and it's been working," Adleman said.
Neubauer scored again at 60:07 from point-blank range. Adleman completed his hat trick at 83:07.
"That was awesome. I've been trying to get one for awhile," Adleman said.
"What a phenomenal game for him," Bilodeau said. "He works so hard on so many different things. He's out before practice and stays after practice working on stuff, crossers, left-footed shots. AJ puts the work and effort into it. As a captain, that's what we expect him to do."