Posted on
A real kick to the gut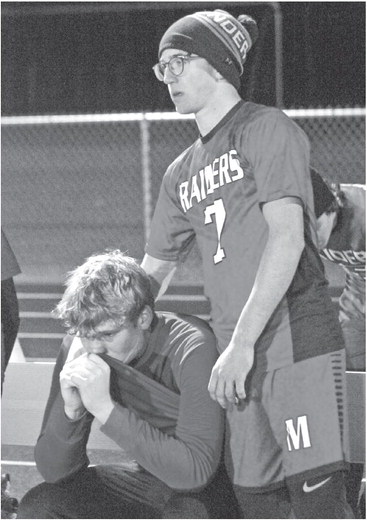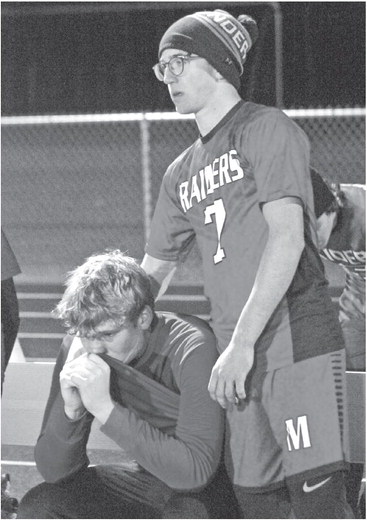 WIAA DIV. 3 BOYS SOCCER
Foxes take intense regional final in tie-breaking shootout
BY MATT FREY
SPORTS EDITOR
It certainly can be argued there has never been a more thrilling game in Medford's 10-year history of boys varsity soccer than the one played at Raider Field Saturday night.
The only thing missing from the Raiders' perspective was a better result.
Medford's run toward the second WIAA Division 3 regional title in program history ended when third-seeded Fox Valley Lutheran won a penalty kick shootout in the fourth round, breaking what had been a 4-4 tie through 90 minutes of regulation and 20 more minutes of overtime.
The game officially goes into the books as a draw, but that was of little consolation to the Raiders, many of whom were reduced to tears when the match finally ended three hours after it started on a cold late October evening.
"Fox Valley Lutheran, they're a great team," Medford head coach Nathan Bilodeau said after the team's solid 11-64 season ended. "But you know what? We're a great team too and it showed tonight. It was goal and then back and forth and back and forth. It was a roller coaster of emotion that's for sure."
The Foxes advanced to a sectional semifinal game to be played today, Thursday at top-seeded Waupaca.
Second-seeded Medford had three onegoal leads in regulation, but Fox Valley Lutheran wiped out every one of them. The Foxes took their only lead in the first 10-minute overtime period only to be answered by the Raiders late in the next overtime period.
But in the five-man shootout, the back and forth finally ended. The Foxes went first with Collin Huza beating Raider goal keeper Brady Hupf by hitting the goal's upper left corner. Raider Gage Neubauer went right and was denied by the Foxes' Nathan Hempel. It appeared Hupf had stopped Dylan Cootway's shot in round two, but the officials ruled he had stepped off the goal line before Cootway's boot and Cootway got a re-kick, which he buried. Owen Wipf's shot for Medford went high.
Hupf deflected Owen Selle's shot to start round three, but it still settled inside the post to put Medford in a deep 3-0 hole. Cooper Wild got Medford on the board with a kick to the right side that found the net, but Addison Fett's rightside kick to start the fourth round eliminated Medford before AJ Adleman and Ty Baker even had a chance to shoot.
"It was an intense game," Bilodeau said. "That's how these games should be played. Everything's on the line and you're playing for the regional championship. The game should be a nail biter. "
In regulation, Neubauer notched his second hat trick of the season with two goals coming off Onyi Ekwueme assists.
Neubauer's first goal came just 2:19 into the contest when he knocked in a short shot from right in front of the goal. For the second straight tournament game, the Raiders wasted no time getting on the board and setting a tone.
"We tell the guys, especially in the playoffs, the longer you build a 0-0 score the more confidence the other team gets," Bilodeau said. "It's important to get a jump early. it's important to get a goal."
Fox Valley Lutheran responded at 14:26 with right wing Gavin Rehberg hitting the upper right corner off a perfectly executed give and go with midfielder Blake Maxwell.
The action tilted Medford's way for most of the half with the number of scoring chances favoring the Raiders. They didn't find the back of the net, however, until the 32:26 mark when Ekwueme, attacking from the right side of Medford's formation, sent a crossing pass right to Neubauer's foot at point-blank range.
The momentum Medford had to end the half subsided early in the second half and the Foxes pounced on the opportunity with Rehberg launching a perfect lob off a Fett assist that just got over Hupf and under the crossbar at 51:29.
"We hit a road block, there's no question," Bilodeau said of the start to the second half. "I don't know if some of it was just fatigue or some of it was because some calls started to not go our way as much as they did in their first half. That stuff gets contagious."
The Raiders grabbed the lead back at 63:02 when Wipf controlled the ball through midfield, dished right to Ekwueme, who centered another perfect ball to Neubauer, who went top shelf to make it 3-2.
Though he didn't score a goal, Bilodeau and assistant coach Chris Reardon called Saturday's performance Ekwueme's best of the season.
"He was at a different level," Reardon said. "Any ball that came to him would just stick. It was insane."
But as the second half progressed, the chippiness between the two teams also increased and Ekwueme was issued a yellow card for persistent infractions at 65:40. The Foxes tied it again shortly after that at 67:50 with a Maxwell goal off a Rehberg assist. The back-and-forth action continued after that.
Medford had a flurry of action in front of Hempel in the 73rd minute but couldn't convert. Hupf had a huge save on Rehberg's breakaway chance at 76:30. Cootway sent a hard low shot that got through Hupf but skipped out of bounds at 78:00. Hempel made a diving save on a tough shot by Adleman at 83:20. Hempel broke up a chance for Adleman again at 86:00.
In the first overtime, the Foxes got a break at 3:39 when Hayden Block scored off the rebound following a corner kick save by Hupf. Tension built for the Raiders in the second overtime, but Baker came to the rescue when he knocked in a
See FINAL tempt just got tipped away and the Raiders nearly got a tip in off a corner kick.
The action briefly shifted to the other end of the field, but Adleman changed that when he got control of the ball and sent a long pass to Neubauer, who got a one-on-one shot at Czech after two Falcon defenders collided and punched it in at 53:06 for a 3-0 lead.
"Coach told me before the game if I see him open, send it, because I've got the leg for it and it's been working," Adleman said.
Neubauer scored again at 60:07 from point-blank range. Adleman completed his hat trick at 83:07.
"That was awesome. I've been trying to get one for awhile," Adleman said.
"What a phenomenal game for him," Bilodeau said. "He works so hard on so many different things. He's out before practice and stays after practice working on stuff, crossers, left-footed shots. AJ puts the work and effort into it. As a captain, that's what we expect him to do."