Posted on
#1-ranked Clear Lake holds off Gilman's determined effort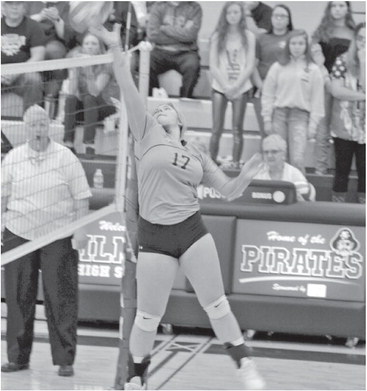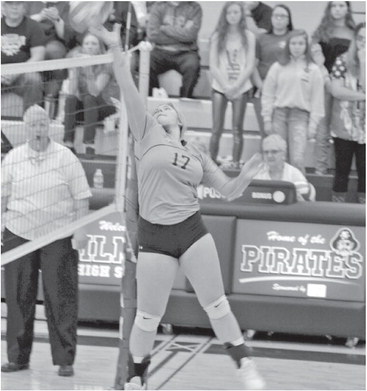 WIAA DIV. 4 VOLLEYBALL
BY MATT FREY
SPORTS EDITOR
The Gilman volleyball team's successful 2019 season ended Saturday at Clear Lake, where the half-sectional's top seed and the state's top-ranked Division 4 team upended the Pirates in four games in a WIAA regional final match.
Clear Lake (34-0) won its first WIAA volleyball regional title since 1993 while Gilman was shooting for its first regional plaque since 2000. The Warriors will host second-seeded and second-ranked Mc-Donell Central in a huge sectional semifinal showdown tonight, Thursday, while second-seeded Washburn visits one-seed Mercer in the other semifinal. The winners meet Saturday night at McDonell for the sectional championship.
Gilman's season ended at 23-8 but not without a fight in the middle sets.
Clear Lake set the tone in set one, jumping out to an 8-0 lead before Grace Grunseth got a kill off an Evelyn Fryza assist. The Warriors pushed their lead to 12-1 and 14-2 before Gilman got a little something going with kills from Grunseth, Montana Birkenholz, Jaiden Sedivy, Aubrey Syryczuk and a block kill from Grunseth before falling 25-14.
"We started out set one on our heels," Gilman head coach Janice Komanec said. "Our first couple serve receives faltered and we weren't focused and ready for the big swing on defense. We were blocked a couple times and couldn't get a put away. However, little by little as the set went on, you could see the girls starting to play with them, finding the digs, seeing the blocks and going around them."
Seeing what the Warriors had in game one, however, allowed the Pirates to make some helpful adjustments.
"We knew we had to serve at the seams as they are great passers," Komanec said. "We had to try and cause some miscommunication. We knew we had to swing high off-hand to avoid getting blocked but also to get some kills off hands. We also focused on going after the setter and making her take the first ball. Though she was still a solid passer, she was one of the weaker on the team and we were able to earn some kills off her. Also, she is a phenomenal setter and can really move things around and sets up some zero tempo balls, so we wanted to take them out of system. Going in to set two, the girls starting doing all these things resulting in the close score in set two and the win in set three."
Gilman started the set with a backrow kill from Lexi Chaplinski and took several one-point leads. The Pirates got a 10-8 lead following a Sammi Person ace, but Clear Lake scored the next three points. Fryza set up Grunseth for a tying kill at 11-11 and Gracie Tallier for a goahead kill at 12-11, but that was Gilman's last lead. Clear Lake went on a 10-3 run to go up 21-15 and held on for a 25-22 win.
The Pirates jumped ahead 8-3 to start the third set, highlighted by a block kill from Grunseth and Aubrey Syryczuk as well as attack kills from both, a Tallier kill and Fryza's dump kill.
Clear Lake surged ahead 13-11 as it aimed for the sweep, but Gilman didn't fold, getting a Grunseth kill and a Person ace to tie it. Syryczuk's kill put Gilman in front 14-13. Fryza's ace moments later made it 16-14. The Warriors tied it again two points later, but a Birkenholz kill put Gilman back on top and it never trailed
See GILMAN in the set again. Sedivy and Birkenholz added a kill apiece, Birkenholz had a key ace and Grunseth got an attack kill and a block with Fryza to close out Gilman's 25-22 win that extended the match to a fourth game.
Unfortunately, the momentum ended there as Clear Lake jumped ahead 15-5 and never looked back in the 25-7 clincher.
"In set four, we unfortunately started off unsteady like we did in set one and we just couldn't pull the momentum back our way," Komanec said. "As I told the girls after the match, I was so very proud of the way they applied their skill into the adjustments we made going into set two. I can't say enough about our defensive play. That Clear Lake team is talented and has six solid hitters. Our defensive players really stepped up to the challenge. Lydia Syryczuk had 21 digs on the night and Lexi followed right behind with 19. Montana, Evie, and Grace added another 31 for us in back row play."
Grunseth's 11 kills paced the Pirates, while Birkenholz had seven and Sedivy had six. Fryza had 27 assists and two aces, while Person and Birkenholz had one each. Grace Grunseth had a hand in three blocks, while Emma Grunseth, Aubrey Syryczuk and Fryza had two blocks each.
"We are sad to see it end, but what a great season for these girls," Komanec said. "First place in Prentice, second place in Medford and a conference championship after 30-plus years. They should be very proud of what they accomplished this season, and they should be very proud of the way they played Saturday against a very talented Clear Lake team, who is a clear contender for the state championship."
Gilman 3, Turtle Lake 0
The Pirates advanced to Saturday's final by sweeping fifth-seeded Turtle Lake 3-0 in Thursday's regional semifinal played in Gilman.
The match was closer than the 3-0 final suggests. All three sets went down to the wire and Gilman had to pull off a huge comeback to take the second set 26-24. The Lakers reached set point at 24-18, but the Pirates went on an 8-0 tear to steal it.
"This was such a fun night," Komanec said. "It was so great to watch the girls play a high level from start to finish. The highlight of the night was obviously the comeback in set two. To play them for eight set points and win every single one of them, it will definitely be one of my favorite memories from the entire season." The first and third sets went to scores of 25-22.
In the first, Gilman jumped ahead 9-2 behind a serving run by Person that ended with an ace and a dump kill from Fryza. A mini Laker run was stopped by a sideout, a Fryza ace and a Grace Grunseth kill off a Fryza assist that ended a rally where the ball crossed the net 13 times. That made it 12-6.
But the Lakers chipped away and eventually tied it at 18-18 before a missed serve cut their momentum short. The Pirates surged ahead for good, clinching it on Sedivy's kill off a Fryza assist.
The second set was tied 18-18 before a Laker ace, a string of Pirate errors and two kills put the Lakers on the verge of winning it. But three straight errors got Gilman back within 24-21. After a timeout, Fryza and Sedivy got kills, Chaplinski served an ace and Fryza set up Birkenholz for a kill. The Lakers called their second timeout, but their hitting error on the following point capped Gilman's comeback.
"For Lexi to come in and lead us as a server and for that group of seniors to just keep fighting to the very last point, it was just such a great moment for this group of girls. I am so very proud of them."
Game three was tied 8-8 when Gilman went on a three-point run that put them ahead to stay. Birkenholz started it with a kill off a Fryza assist. Grace Grunseth got a block kill, Fryza dumped one and Birkenholz got another kill in a run that put the Pirates up 21-16. The Lakers got within three, but another Birkenholz kill got Gilman going again and kills from Grace Grunseth, assisted by Fryza, and Aubrey Syryczuk, assisted by Chaplinski, ended it.
Sedivy led the Pirates with nine kills. Grace Grunseth had eight, Birkenholz had seven, Fryza had four and Aubrey Syryczuk had three. Fryza had 30 assists and an ace. Person served two aces.
Grace Grunseth had seven blocks, while Sedivy had three and Emma Grunseth and Fryza had two each. Lydia Syryczuk led Gilman with 20 digs, Birkenholz had 12, Chaplinski and Fryza had nine each and Grace Grunseth had eight.