Posted on
Schley edges Ellenbecker for sectional championship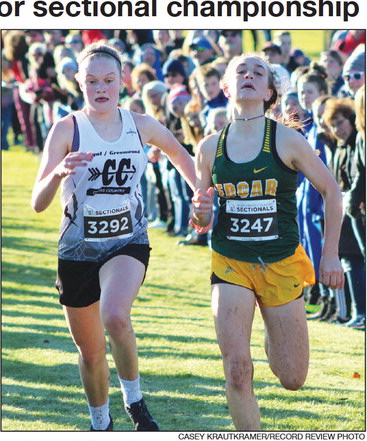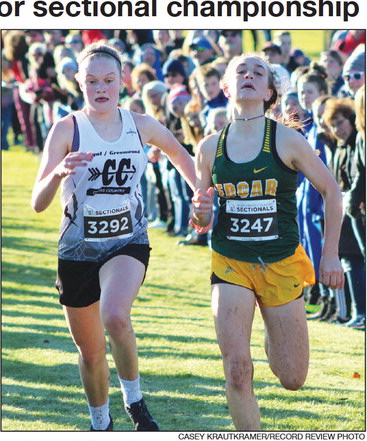 In a scene almost reminiscent of last season's Division 3 sectional race, Loyal-Greenwood's Savannah Schley once again saw herself facing off against Edgar's Marissa Ellenbecker during competition held on Oct. 25 in Athens. Unlike the result of last season's race, however — where Ellenbecker won the sectional title — it was Schley who overcame the Edgar senior by the smallest of margins to win the sectional race and earn her third trip to the WIAA state cross country meet.
Having one of her season-best performances at Athens, Schley ran a 19:35.4 on the 5,000-meter course, edging the 2-time defending Division 3 state champion Ellenbecker (19:35.5) out of the top spot by one millisecond as they sprinted almost stride for stride down the final stretch. Along with Ellenbecker, Schley will be joined by freshman Grace Dolan of Assumption, freshman Kallie Volk of Three Lakes and freshman Morgan Schnelle of Edgar as the individuals attending the state meet to be held at Wisconsin Rapids' Ridges Golf Course on Nov. 2. The cross country teams from Auburndale (57) and Marathon (91) will also be attending the state meet.
Schley was the only area runner to earn a spot at state and returns after placing 15th in 2018. Her teammate in the boys' race, Avery Horvath, came very close to qualifying, though. He placed seventh as an individual with a time of 17:09, just six seconds behind the last qualifying individual, Carl Lundgren of Auburndale (17:03).
The rest of the Loyal-Greenwood team also placed at the sectional meet, with the girls finishing 10th among the 17 teams at the invite with 253 points and the boys taking 12th from among 16 teams with 329 points. For the girls, Rylan Lindner placed 21st in the 111-runner field with a time of 21:37, more than a minute behind the state qualifiers. Maci Bogdonovich took 66th by running a 24:49, Maria Hadaschik finished in 25:52 for 79th, and Halle Aumann completed the course in 28:07 for 98th.
For the boys, Devin Degenhardt followed after Horvath through the finish at the 21:29 mark, taking 82nd in the 120-runner field. Ashton Palms completed the race right after him in 83rd place with his 21:31 time. Jaden Ruggles placed 103rd with a time of 23:22, Vaughn Zettler ran a 24:04 for 108th and Josiah Horvath took 118 with his finishing time of 27:41.
The Spencer cross country team also competed at the sectional race held in Athens, though none of the team's competitors placed high enough to qualify for state. The girls team finished 13th overall with 323 points and the boys took 10th with 320 points. Taking the top two spots and heading to state for the boys teams were Pacelli (68) and Marathon (87).
Leading the Rocket girls was Emily Wehrman, who ran a 22:42 for 35th. Taking 71st and 72nd, respectively, were Kaylee Wehrman (25:09) and Savana Miller (25:37). Hannah Zastrow completed the race in 25:44 for 76th, Leah Nieman finished in 82nd place with a time of 26:06, Emily Klaus earned 84th by running a 26:12, and Leah Zastrow placed after Klaus in 85th place with a time of 26:13.
For the boys, Spencer was led by Malachai Anderson, who ran a 20:34 for 63rd. Coming through the finish next for the team was Ashton Ackman, who placed 67th with a time of 20:45. Caleb Rucker ran a 21:01 for 72nd while Cameron Nieman placed 76th with a time of 21:08. Also finishing for Spencer were Kaizer Eikleberry (89th, 22:05), Austyn Kohls (105th, 23:29) and Andrew Sieracki (109th, 24:17).
CASEY KRAUTKRAMER/RECORD REVIEW PHOTO