Posted on
Familiar foe, familiar result for Indians in Level 1 playoff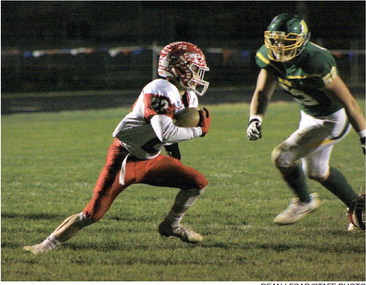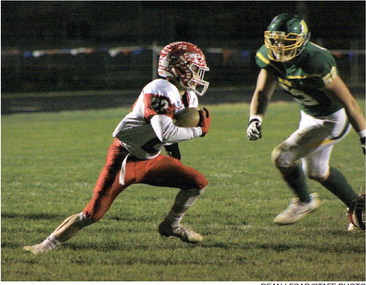 As the Greenwood football program prepares for a switch next season to an 8-man format, there is at least one thing it will not have to worry about -- facing Edgar in the WIAA playoffs. That routine is getting old.
For the second straight season, Greenwood bowed out of the Division 7 playoffs with a first-round loss to the Wildcats. This year the final score was 43-12.
With a 6-3 season record, Greenwood drew the #8 seed in its regional pool, and with that came the unenviable task of traveling to Edgar for a first-round contest against the top seeded Wildcats (8-1). As it was last year in a 50-0 loss, the task was daunting.
With two early defensive stops, the Indians managed to stay in the game for the first quarter. Greenwood had the opening possesion but punted after losing five yards on three plays.
A short punt set Edgar up at the Indian 40-yard line, and the Wildcats quickly drove to the 3. A holding penalty negated a would-be touchdown, the Indians held on the next play, and Edgar then missed a field goal.
The result was the same for Greenwood on its second possesion, but after another punt, Edgar fumbled six plays into its next drive.
Taking over at its own 19-yard-line, Greenwood picked up its first first down with Cooper Bredlau's 16-yard pass across the middle to Xander Hinker. The Indians appeared to pick up another fresh set of downs on a pass completion on a fourthand- 3 play, but a penalty for an illegal man downfield negated that play. Instead, Greenwood punted for a third time in the opening quarter. This one has bad results as Edgar's Kaleb Hafferman ripped a 67-yard return down the sideline for a touchdown and an 8-0 lead.
Another punt followed for Greenwood and this one was blocked. Edgar had only 21 yards to cover and did so in four plays, scoring on Mason Stoudt's 3-yard run to start the second quarter.
Greenwood managed a single first down before punting again, and that led to another Wildcat score. Austin Dahlke's 39-yard touchdown run gave Edgar a 22-0 lead with 9 minutes to go in the half. It went to 29-0 after yet another Indian punt and a 37-yard Edgar drive ending with a 7-yard Hafferman run.
Edgar scored again to start the second half, but Greenwood's offense found some life. On the Indians' first possession of the second half, Bredlau connected with Sully Whitford on a 36-yard pass play, and Wyatt Artac followed with a 22-yard run to the Wildcat 11. After an Edgar offsides penalty, Artac pounded in from the 3-yard-line to make it a 36-6 game.
Edgar needed just five plays to cover 63 yards to score a final time.
Greenwood put together an 83-yard, nine-play drive in the final quarter. Hinker got the touchdown on a 9-yard pass from Bredlau with 2:08 left in the game.
Greenwood's offense produced 196 total yards, with 118 coming on the ground. Bredlau ran for 74 yards on 15 carries and completed eight of 19 passes for 78 yards.
The Edgar offense had short fields throughout the game, and its total yardage was 304. Hafferman ran for 101 yards on 15 carries. Edgar passed nine times with four completions for 61 yards.
Edgar's first-quarter fumble was the only turnover in the game.
DEAN LESAR/STAFF PHOTO