Posted on
Pirates notch season's sixth shutout in dominating fashion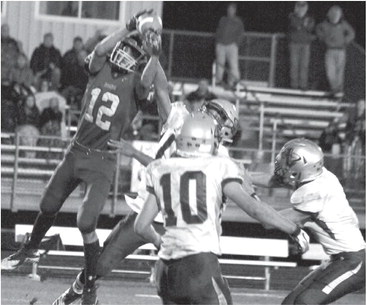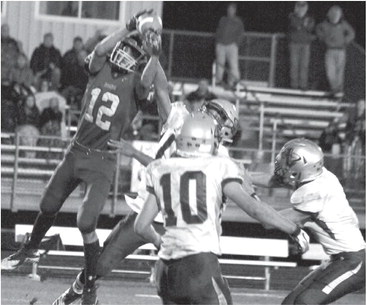 GILMAN 20, LOYAL 0
BY MATT FREY
SPORTS EDITOR
CLOVERWOOD CONFERENCE FOOTBALL FINAL STANDINGS Conf. Overall
Going into Friday's regular-season finale with Loyal, the numbers said the Gilman Pirates had the CloverWood conference's best defense. When the 20-0 shutout win was completed, there was no doubt.
"We're pretty confident in our defense," senior Gabe Gunderson said after the Pirates held the visiting Greyhounds to a mere 30 yards of total offense and three first downs in the battle for second place in the final conference standings behind undefeated Abbotsford. Both teams finished 5-2 in league play, but the Pirates, of course, won the head-to-head matchup.
Loyal came into the game with the CloverWood's second-ranked rushing offense at 297 yards per game, headlined by Nathan Buchanan (802 yards) and Matthew Szymanski (761 yards). All 30 of Loyal's yards came on the ground with Buchanan getting 25 of them on 17 carries and Symanski only getting 7 yards on seven carries. Neither back, it was learned afterwards, was playing at 100%, but the way the Pirates got to the football, it may not have mattered.
The final tally put Gilman at 172.4 yards allowed per game in conference, far and away the best average in the eight-team conference. That includes just 98 yards rushing per game, even with the 351 rushing yards Abbotsford got on them in week four.
"They had the second- and third-leading rushers (in the conference) so it felt good to shut them down," senior Ethan Grunseth said. "It definitely drove us knowing that it could be our last home game."
Fortunately for Grunseth and the Pirates, they'll get one more home game this Friday in Level 1 of the WIAA Division 7 playoff. Third-seeded Gilman (7-2 overall) will host sixth-seeded Pittsville (5-3) Friday at 7 p.m.
Gilman head coach Robin Rosemeyer said Friday's shutout –– Gilman's sixth of the season –– was a team effort.
"The defensive line did a great job of gap control and that allowed the linebackers to shoot the gaps and openings, get penetration and stop the play," Rosemeyer said. "It looked like the linebackers were blitzing a lot, but really they just did a great job of reading their keys and shooting the openings. It was a team effort. The guys up front did their jobs, which allowed the linebackers to flow freely and get to the spots."
The win was also made possible by Gilman's ability to complete some key passes at key times. Loyal's run defense was stout as well, limiting the Pirates to 158 yards, but Gunderson completed nine of 13 passes for 108 yards and a big score right before halftime that capped a 95-yard drive and opened up a 12-0 lead, which was too much for Loyal's minus-4 yards of second-half offense to overcome.
"Gabe had a couple of nice runs on quarterback draws, otherwise we struggled to run the football," Rosemeyer said. "They line up defensively in a 4-4 but it's almost like a 6-2 with how they keep their ends toward the middle of the field. So it leaves the flats open and we were able to take advantage of that a bit especially with our play action. But they did a very good job too against our run game."
The first big pass play came on Gilman's first series of the game when Ethan Person outfought Loyal's Kole Bogdonovich for a 16-yard, over-the-shoulder catch on third and 10. The Pirates went on to
W L W L
Abbotsford 7 0 9 0
Gilman 5 2 7 2
Loyal 5 2 5 4 Greenwood 4 3 6 3 Athens 4 3 5 4 Thorp 2 5 3 6 Owen-Withee 1 6 1 8 W.R. Assumption 0 7 0 9 Oct. 18: Gilman 20, Loyal 0; Abbotsford 50, Athens 19; Greenwood 12, Thorp 6; Owen-Withee 36, W.R. Assumption 28. Oct. 25 WIAA Div. 7 Level 1: Pittsville at Gilman, Athens at Almond-Bancroft, Loyal at Hurley, Greenwood at Edgar. Oct. 25 WIAA Div. 6 Level 1: Crivitz at Abbotsford.
complete a 66-yard, 11-play touchdown drive to go up 6-0. Brayden Boie's biggest gain of the day, a 25-yard bounce to the right side after he looked to be stopped up the middle, put the ball at the one and Kade Kroeplin scored on the next play.
Gilman's defense got a big stop after the Pirates lost a fumble on their 45 early in the second quarter. The teams traded punts, which gave Loyal the ball again at Gilman's 41. Again, Gilman forced a three-and-out and Bogonovich's punt died at the 5-yard line with 4:36 left in the half.
The Pirates got 15 yards in two running plays, but then were faced with a third and 16 at their 16. After calling timeout at the 2:04 mark, the Pirates got a huge conversion when Gunderson hit Blake Wisocky over the middle for a 19yard grab over two Greyhound defenders.
"It wasn't super open but Blake can jump, so I just threw it up to him and he made a play," Gunderson said.
The Pirates got an 18-yard run from Gunderson, a 12-yard pass to Wisocky and then a 14-yard juggling catch from Bryson Keepers during a drive that ended with Wisocky's 4-yard touchdown on a pass over the middle with 16 seconds left.
"I thought our kids made some real good catches," Rosemeyer said. "We've talked this year about losing some 50-50 balls on the other side, but these were just tough catches. There was the one by Ethan Person on our first scoring drive, then Blake and Bryson had nice catches on our second scoring drive. If they don't make those catches, it might be a 0-0 game at half and then who knows what happens. It was great to see those guys go up and make those plays."
"That drive was definitely pretty big," Grunseth said. "We knew we were going to get the ball back right after half. It felt good going into the locker room with a two-touchdown lead for sure."
Gilman's first two drives of the second half produced nothing, but the defense kept favorably tilting the field position, allowing the Pirates to make a short 33yard drive late in the third quarter that ended with a 10-yard bootleg to the right from Gunderson for the touchdown with 49 seconds left. Kroeplin's two-point run pushed the lead to 20.
In the second half, Loyal had 11 offensive plays that resulted in no gain or negative yardage.
Gunderson was the game's leading rusher with 84 yards on 13 carries. Boie had 50 yards in 10 carries. Keepers had three catches for 44 yards on three catches, Wisocky had 35 on his three secondquarter catches and Person caught two passes for 24 yards.
Now on a five-game winning streak and as healthy as they've been all year, the Pirates are feeling good heading into the tournament.
"I'm definitely more confident after tonight," Grunseth said.