Posted on
Milliren, Syryczuk lead Thorp-Gilman at Cloverbelt meet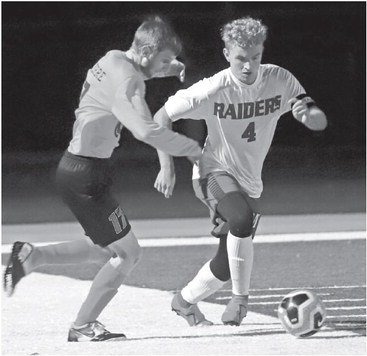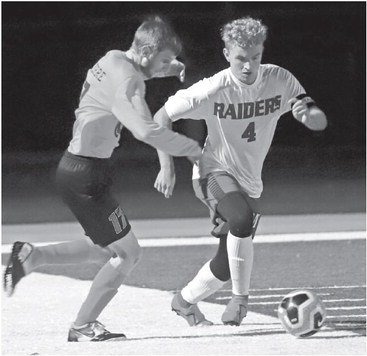 CLOVERBELT CROSS COUNTRY
BY MATT FREY
SPORTS EDITOR
Thorp-Gilman's Molly Milliren earned the girls' last honorable mention spot and freshman Sam Syryczuk just missed it in the boys race during Saturday's Cloverbelt Conference cross country championships, hosted by Cadott at Whispering Pines Golf Course.
Milliren placed 21st out of 82 runners in the girls race in 23:01.7 to easily beat Spencer's Emily Wehrman by 18.4 seconds for the last of seven honorable mention awards presented by the conference. First-team honors go to the top 14 runners in the Cloverbelt Conference, while honorable mention goes to runners who finish 15th through 21st. Milliren was 12th in last year's Cloverbelt race at Colby.
Thorp-Gilman placed ninth in the 14team girls race after being incomplete a year ago. The additions of Gilman's Mikayla Waichulis and Abby Krug helped push this year's roster over the five-runner minimum for a team score.
Following Milliren for Thorp-Gilman were Kate Schraufnagel, who was 44th in 25:06.7; Brooke Webb, who was 47th in 25:21.1; Waichulis, who was 66th in 26:50; Krug, who was 68th in 27:08.1 and Chloe Faude, who was 76th in 29:03.8.
Colby-Abbotsford successfully defended its 2018 girls team title by compiling 74 points, nine fewer than runner-up Fall Creek. Osseo-Fairchild was third with 91 points, followed by McDonell Central (105), Eau Claire Regis (107), Altoona (116), Loyal-Greenwood (152), Neillsville-Granton (201), Thorp-Gilman (234), Spencer (247), Cadott (262), Columbus Catholic (323) and the incomplete teams from Stanley-Boyd and Owen-Withee.
Fall Creek freshman Jenna Anderon won the individual championship in 19:40.1, knocking off two-time defending champion Savannah Schley of Loyal-
See CLOVERBELT Greenwood. Schley's time was 20:00.5, well ahead of third-place runner Willow Oemichen of Colby-Abbotsford (20:47.1). Osseo-Fairchild senior Kari Herman (21:20.5) and Fall Creek sophomore Alison Dubiel (22:01) rounded out the top five. Syryczuk, a freshman, finished 22nd in the boys race at 19:17.3, 3.9 seconds behind 21st-place runner Riley Parks of Altoona, who is a senior. That was Syryczuk's second-best time of the fall. He led Thorp-Gilman to a 10th-place team finish, equaling the team's placement of a year ago.
Senior Riley Raether was 48th in 20:57.6, one spot ahead of teammate Jacob Barth (20:57.7). Barth's time was a season best. Braxton Stark was 61st in 22:05.9, Wyatt Luzinski was 72nd in 23:14.1 and Preston Wampole was 80th at 26:25.
McDonell Central also repeated as a team champion, earning a comfortable 42-75 margin over runner-up Regis. Altoona was third with 106 points, followed by Cadott (124), Fall Creek (153), Osseo-Fairchild (158), Neillsville-Granton (174), Colby-Abbotsford (185), Spencer (230), Thorp-Gilman (238), Loyal-Greenwood (248), Stanley-Boyd (353) and the incomplete teams from Owen-Withee and Columbus Catholic.
McDonell sophomore Dan Anderson knocked off teammate and defending Cloverbelt champion Joey Thaler to win the individual title in 17:14.4. Thaler was 12.1 seconds behind. Colby-Abbotsford's Chase Oehmichen (17:28.2), Andrew Schlitz of Regis (17:28.9) and Avery Horvath of Loyal-Greenwood (17:34.5) rounded out the top five.
Thorp-Gilman is at the WIAA Division 3 Boyceville sectional on Saturday. The girls race is set for 11 a.m., followed by the boys at 11:45 a.m. The top two teams in each race along with the top five individuals from non-qualifying teams advance to the Nov. 2 state meet.
Molly Milliren Hon. Mention