Posted on
Lopsided win gives Raiders momentum going into GNC meet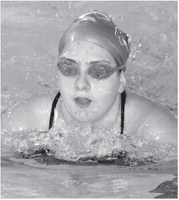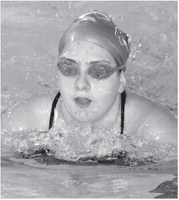 MEDFORD GIRLS SWIMMING
BY MATT FREY
SPORTS EDITOR
The Medford Raiders knew they were going to outscore Mosinee Thursday in their final Great Northern Conference girls swim dual meet of the fall, but even head coach Betsy Berends did not expect how well they were going to do in their 126-42 win.
The reasons for Medford to come out flat were there. The Raiders were taking on the GNC's last-place team, they have been going through two-a-day practices in the early part of the month and they had a day off school, which will often make coaches nervous as student-athletes get out of their normal routine.
None of that seemed to matter.
"They were very jacked up for this meet," Berends said after the meet. "That was kinda my fear is that we wouldn't be. But they know that double days are done now, so they see the light at the end of the tunnel. They see the taper coming. They had no school today, Normally I do fear the off day, but whatever they did, it worked. I think they were just so tired this week, they needed the actual rest today. They were looking pretty tired yesterday."
As the Raiders do on occasion, they had some fun with the lineup, allowing the seniors and captains to set the majority of it. Though some people found themselves in different places, Medford still won every race and several seasonbest times were set, even with the tired bodies.
The Raiders scored big in the freestyle relays, sweeping the top two spots in both. Erin Bergman, Kami Razink, Faith Piller and Morgan Ball won the 200-yard race in 1:53.46, while Savannah Brandt, Alicia Venzke, Lacey Brandner and Shaniah Brandt were next in 2:14.06, 10.24 seconds ahead of Mosinee's top team. Razink, Ball, Piller and Bergman easily won the 400-yard freestyle relay in 4:14.46, while Maddie Williams, Kirsten Weix, Brandner and Aiden Denzer were next in 4:33.95, 20.38 seconds ahead of Mosinee's top team.
A new 200-yard medley relay combo of Williams, Piller, Denzer and Weix won that race in 2:14.55, 11.73 seconds ahead of Mosinee's best group. Raiders Shaniah Brandt, Olivia Rau, Venzke and Savannah Brandt were third in 2:36.98.
"I was testing out some other relays, just for conference and sectionals to see where we're going to fall, see what we want to do," Berends said. "We're still deciding how we're going to stack those."
Medford swept the top three spots in three individual races.
The first was the 50-yard freestyle where Bergman won in a season-best 26.45 seconds, Ball was second in 28.05 seconds in her first 50 of the fall and Rau won a race with Mosinee's Annie Fochs for third by 0.35 seconds with her time of 33.24 seconds.
Razink easily won the 100-yard freestyle in 1:03.44, while Savannah Brandt (1:15.28) and Rau (1:16.65) were second and third ahead of Fochs (1:18.86). Williams and Weix, lanemates in practice, pushed each other to the top two spots in the 500-yard freestyle at 6:49.3 and 6:50.63, respectively. Shaniah Brandt pulled away in the last 50 yards to grab third in 7:27.35, 8.71 seconds ahead of Mosinee's Olivia Daul.
Piller posted one of her best times ever in the 100-yard breaststroke, winning in 1:16.75. Her time of 1:14.23 in last year's
GREAT NORTHERN CONFERENCE GIRLS SWIM STANDINGS Duals Dual Meet Total W-L Pts. Pts. Pts.
Rhinelander 7-0 14 0 14 Lakeland 5-2 10 0 10 Medford 5-2 10 0 10
Ladysmith Co-op 5-2 10 0 10 Tomahawk 3-4 6 0 6 Colby-Abby 2-5 4 0 4 Antigo 1-5 2 0 2 Mosinee 0-7 0 0 0 Oct. 17: Medford 126, Mosinee 42; Rhinelander 109, Tomahawk 61; Ladysmith Co-op 88, Lakeland 82; Colby-Abbotsford 107, Antigo 63. Oct. 24: Rice Lake at Ladysmith Co-op. Nov. 1: GNC Championships hosted by Medford at UW-Stevens Point.
sectional was the only one that was better. Denzer cut nearly two seconds from her previous best and finished second in 1:18.21, while Brandner's breaststroke debut produced a fourth-place time of 1:37.34.
Ball won the 100-yard butterfly in one of her best times of the fall, 1:05.78, while Williams was third in 1:19.88, just 0.14 seconds behind Mosinee's Ellie Woller.
"Lacey was very nervous that she was going to get disqualified, but she did great in the breaststroke," Berends said. "Maddie in the butterfly, I don't think she's ever done that before. They actually swam better than I was expecting."
Earlier in the meet, Brandner won the 200-yard freestyle in a personal-best 2:21.64, just ahead of Razink's 2:23. Shaniah Brandt was fourth in 2:52.08.
Bergman cruised to the win in the 100-yard backstroke at 1:06.37, while Venzke was third in 1:26.32 and Savannah Brandt was fourth in 1:27.59 in her first backstroke race of 2019. Denzer took the 200-yard individual medley in a personal- best 2:33.04, while Weix was third in a personal-best 2:59.55.
The Raiders are now in the midst of a two-week break heading into the Nov. 1 Great Northern Conference meet, which they will host at UW-Stevens Point's Aquatic Center. The meet has a 5 p.m. start.
"We'll keep the yards decent, not as much as they are," Berends said of the time off. "They won't be four and a half miles a day anymore, but we'll keep them pretty decent. Then taper will start in about a week and a half, right before conference. We have to work on our turns. Our breathing looked better (Thursday), so that was good."