Posted on
Girls not ready to give up the GNC crown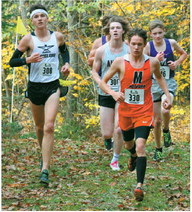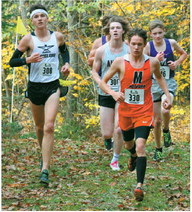 GNC CROSS COUNTRY
BY MATT FREY
SPORTS EDITOR
The Gartzke Flowage Bike and Ski Trails outside of Antigo didn't draw rave reviews from Medford's cross country runners when they won a five-team meet on them Sept. 24. But, having competed in that race served them well in the return trip Saturday.
The Raider girls used the knowledge gained last month to continue their historic run by winning their third straight Great Northern Conference championship. The defending WIAA Division 2 state champions pulled off a minor upset by knocking off Lakeland and Tomahawk, who had both beaten them earlier in the fall and were above them in last week's Wisconsin Cross Country Coaches Association state rankings.
While the boys' one-year GNC title reign ended, they put Joey Sullivan and Conner Carbaugh on the All-GNC first team during a solid third-place finish in the team standings.
Medford's girls JV team added a conference title of its own, winning its meet by securing the sixth-runner tiebreaker over Lakeland.
See RAIDERS The course's main obstacle is a long, steady uphill climb that runners have to encounter three times in the race –– the initial start, the start of the second loop and at the end of the second loop. Medford, Rhinelander and the host Red Robins were the only GNC teams to compete in that five-team meet last month.
"We already had our chance to have our negative side to it, so I think we were way more positive this time," Medford senior Franny Seidel said after she took second in the girls race for her fourth All-GNC first-team finish. "We already ran this, so we knew what's up."
"I think it helped," Sullivan said after his second consecutive second-place GNC boys finish. "All these other teams don't know when the hills are. They don't know when to go."
"I knew when to hit them at the perfect time and where to go up them," said Carbaugh, the boys' sixth-place runner.
On what turned out to be a near perfect day for a race before the afternoon rains hit, the Raider girls produced a determined effort –– the kind of effort a battle-tested championship team tends to come up with when it matters most.
"I feel like we were a lot more on our toes because we had gotten beat by the other teams," said junior Alicia Kawa, who earned her third All-GNC first-team award with her fourth-place finish. Kawa did that despite missing much of the week's preparation due to illness. "I feel like since we already got beat by them it motivated us more to beat them."
"We were hungrier it seemed like," junior Ellee Grunwald said.
Both varsity teams also noted that they came into the meet feeling fresh. The previous Saturday's meet in Colby was canceled, leaving Medford with a 16-day gap between meets. The runners said the plusses of losing that meet outweighed the minuses. "It's nice just to get your weekend because now we come into all these Saturday meets," Sullivan said. "I guess it's good and bad. You do want to stay up because races always help you. You stay up with your times."
"But a break always feels nice," Logan Searles said after his 19th-place finish in the boys race.
"We all seemed pretty fresh today, fresh legs ready to race," Kawa said.
"I think it gave us more of a chance to have some harder practices," said Jennifer Kahn, the girls' 10th-place finisher.
"Last week we pushed it really hard to get ready for the race and then we didn't have one," said Alexis Fleegel, who finished right behind Kahn.
Whether it was course experience, rest or added motivation, the girls showed early they were ready to run, putting five runners in the lead pack through the first mile. In the second mile, Seidel and Kawa stuck with the lead pack of five that included Tomahawk's Haley Voermans-Dean and Lakeland's Ashley Peterson and Aubrey Anderson, while Kahn, Fleegel and freshman Bryn Fronk stayed close in the next wave.
The last mile, however, was key. By the last uphill climb, Peterson had separated herself as the winner in 21:21.9. But Seidel was solidly in second at 21:47, 10.2 seconds ahead of Voermans-Dean. Kawa was not challenged for fourth with her time of 22:22.6 and Lakeland's Kate Melms (22:30.9) and Anderson (22:45.1) fell to fifth and sixth. Tomahawk's Kate Reilly and Emily Lacina claimed eighth and ninth, but Kahn (22:57) and Fleegel (23:12.3) came through with their 10thand 11th-place times.
"I tried to stay positive about the hills, thinking I could push myself up them," Kahn said.
"You just try to stick with the runners around you," Fleegel said.
Fronk slammed the door as Medford's fifth and final scorer, taking 13th in 23:27. Freshman Brooke Rudolph was 20th in 23:58.7 and Grunwald picked off some runners down the stretch to take 24th in 24:09.
"Just try to beat all the Lakeland and Tomahawk runners in front of you," Rudolph said of the last stretch.
Ranked 10th in the state going in, Medford scored 40 points, while fifth-ranked Lakeland had 45 points and fourthranked Tomahawk totaled 47. Mosinee was fourth with 92 points, followed by Rhinelander (129), Northland Pines (190) and the incomplete team from Antigo.
"The ladies all ran great races and really pushed themselves," head coach Kevin Wellman said. Wellman was named the girls GNC Coach of the Year for the third season after Saturday's meet.
"Defending conference champs for two years now and we just really wanted to give it our best and see how we compare," Seidel said. "We had Tomahawk in the mix this time, so we had more than one other big competitor. We've ran here so we had that small upper hand. I just think we did really good."
Boys results
The boys race featured two lead groups by its midpoint. In the second loop around the course, Sullivan pulled away from Tomahawk's Noah Buckwalter (18:53), Rhinelander's Callahan Laggis (19:09.8) and Lakeland's Victor Masayesva (19:11.4) to earn his numbertwo spot at 18:45.5. No one was catching Mosinee's Eric Kordus, who finished in an impressive 18:31.5.
"I didn't feel as bad (as the first time)," Sullivan said. "Some of the top guys, I know they slowed down a bit during the hills. I felt fine. At the top I got them. The first mile and a half everyone was still packed, about six guys up there. As we came up the big hill the second time, those two guys from Tomahawk started to drop back. Then I passed them. At the two-mile mark I passed the Lakeland guy and never looked back."
Carbaugh emerged as the leader of the next wave. His sixth-place finish was a two-spot improvement over last year. His time was 19:14.9, 58.1 seconds faster than Sept. 24. Tomahawk's Drew Bolder got the seventh and final first-team spot at 19:17.9, while Lakeland's Tyler Teichmiller led the All-GNC second team with his eighth-place time of 19:19.4 and T-Bird Casey Van Hefty was ninth at 19:22.3.
"I'm totally happy where I ended," Carbaugh said.
Logan Searles dropped 59 seconds with his time of 20:02.6. Senior Austin Shaw was 23rd in 20:36.5 and freshman Miles Searles was 27th in 20:53.5.
"A pretty good time for a slower race," Miles Searles said.
Senior Kyle Petrick was 34th in 21:53.1, a 19-second improvement over his Sept. 24 run. Freshman Tristan Price was 35th in 22:24.4, a huge improvement of 1:40.
"The guys team really pushed hard to the finish with many runners passing people or extending the lead over their closest competitor," Wellman said.
Tenth-ranked Tomahawk beat Lakeland 51-54 to win the meet. Medford's 73 points beat Mosinee by five. Rhinelander (95), Northland Pines (179) and Antigo (incomplete) closed the scoring.
JV races
Medford's girls JV team started the meet by scoring 49 points to tie Lakeland for first place. Sophomore Lyza Brandner broke the tie in Medford's favor as the team's sixth scorer. Her 26th-place time of 29:00.4 was 54.6 seconds faster than Lakeland's sixth scorer, Maddie Saunders, giving the Raiders the title.
Sophomore Megan Kloth made a late push to take fifth for Medford out of 38 runners in 25:10.2, Paige Brandner was sixth in 25:13.4 and Karina Herrada was seventh in 25:14.8. Tyra Wicke placed 13th in 26:30.3 and Justine Wojcik was the fifth scorer, taking 18th in 27:14.8. Kayla Szydel was 35th in 31:33.2.
Mosinee was two points behind the leaders, Tomahawk was fourth with 82 points and Rhinelander had 106.
The Raiders had three freshman entrants in the JV boys race. Saskatoon Damm had a strong final uphill climb and placed 12th out of 39 runners in 22:21.9. Lucas Liske was 27th in 23:54.6 and Lucas Borman was 39th in 26:54.7.
Tomahawk beat Lakeland again by three, 31-34, while Rhinelander (56) was third.
Sectional is next
WIAA post-season competition begins Saturday with the Division 2 Colby-Abbotsford sectional at Colby High School. The girls are scheduled to run at 11:30 a.m., followed by the boys at 12:30 p.m.
Medford is the defending girls champion. If you believe rankings, sixthranked Wisconsin Dells and 13th-ranked La Crosse Logan could be the Raiders' top competition in the 15-team meet. Colby- Abbotsford won the Cloverbelt Conference championship Saturday as well.
Medford was third in last year's boys race behind Gale-Ettrick-Trempealeau and La Crosse Logan. Logan is the state's fifth-ranked team this week. Elk Mound, who finished fourth behind Medford last year, is ranked 16th.
The top two teams in each race and the top five individuals from non-qualifying teams advance to the Nov. 2 state meet at Wisconsin Rapids.