Posted on
Apaches score in all phases while ending Hawks' season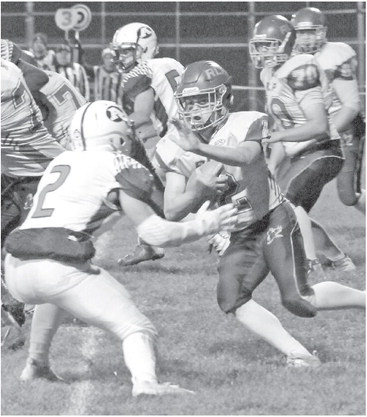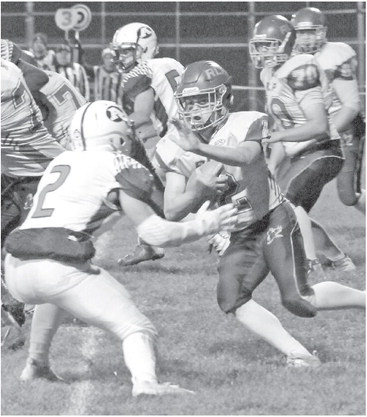 AUBURNDALE 62, RIB LAKE-PRENTICE 0
BY MATT FREY
SPORTS EDITOR
The offensive momentum the Rib Lake-Prentice Hawks felt they had built the previous week in Hurley didn't carry over to their week-nine finale with Auburndale Friday as the Apaches limited them to just one first down and rolled to a 62-0 win at Prentice.
Auburndale's balanced offensive scheme gave the Hawks fits, but the Apaches also scored two special teams touchdowns and one defensive touchdown to pile up points quickly. They led 42-0 at halftime and 56-0 through three quarters.
The win assured Auburndale of a WIAA Division 6 playoff berth with its 7-2 overall and 3-2 Marawood Conference records, while Rib Lake-Prentice's tough 2019 season ended at 0-5, 0-9.
"They were a pretty sound team overall," Hawks' co-head coach Jonah Campbell said. 'We knew their offense was going to be pretty hard to stop since they were so balanced with pretty much a 5050 split of their 2,100 yards coming in. We just couldn't get anything going on offense. We gave up a fumble recovery for a touchdown, a punt return for a touchdown, a kick return for a touchdown. After their first drive, they scored quick."
Not only was the week-eight game at Hurley one of the Hawks' two best games of the year offensively, Campbell said the team felt good about its effort in week seven against Edgar and felt coming in like it was ready to close the season with a sharp, solid effort.
Unfortunately, things didn't go as planned as Auburndale took it to them with two early touchdown drives and Dylan Paun's 42-yard punt return for a touchdown in the first quarter that made it 21-0.
"I don't really know how to explain it," Campbell said. "We played a decent game in Hurley. We didn't play that sloppy against Edgar. We had two backto- back good games as far as not making mistakes, not really turning the ball over and limiting it. We were sloppy again on Friday."
Paun got the scoring started with a 5-yard run, capping a short drive after the Hawks were pinned deep in their ter- ritory off the opening kickoff and punted after three plays.
The Hawks came up a couple of yards short on fourth down on their next series and Auburndale quarterback Cooper Weinfurter's 21-yard touchdown run made it 14-0 with 6:13 left in the quarter. The Hawks had a third-and-one situation on their next drive get ruined by a fumbled snap. The teams traded punts, but then the Hawks had to punt again and that's when Paun got his big return, going across the field and getting behind his wall of blockers.
"We punted it to the left," Campbell said. "It was a pretty solid punt but, everybody pursued to our left and then Auburndale built a wall on the opposite side of the field and trapped everybody and we just couldn't get through the wall."
Auburndale's first offensive drive of the second quarter resulted in an 80yard, nine-play scoring drive that ended in Kyle Peterson's 1-yard touchdown plunge. Weinfurter hit Hunter Wright for a 16-yard touchdown pass and Wright capped the half with his 35-yard return of another fumbled snap by the Hawks.
Kaden Hoffman returned the opening kickoff of the second half 77 yards for another Auburndale touchdown.
"They use a lot of quick passes and they spread you out," Campbell said of the Apaches, who finished with 328 total yards, 241 on the ground and 87 through the air. "When they have a lot of fast guys, it's hard for us to spread out especially being thin a few guys. Their speed on the outside was hard to catch. In the middle they have a couple of guys up front who are able to seal some blocks and make some holes."
Holes were few and far between for the Hawks who ended with minus-3 yards of total offense. Sam Gumz had 10 yards on three carries, while Logan Severson had eight yards on seven attempts. Quarterback Ashton Keiser completed one of six passes but the completion went for zero yards.
Gumz had four solo tackles, while Austin Dobson had three solo stops and an assist.
Campbell said he sensed emotion may have played a part in the loss for the seniors, especially those who have been in the program for four years.
"The mentality that we had all season (was a positive)," Campbell said. "There was never really that moment where you could tell they were out of it in practice or started to give up on the season. There was never that. I don't think there was too much turmoil in the team, pointing fingers and stuff. Their response to the season was in-line with the character that we are trying to teach. They were making the right choices. They were putting in the full effort every week.
"We have nine seniors, but out of those nine, really only five (Josh Jast,
See HAWKS Severson, Dobson, Clayton Lyons and Isaiah Nelson) had played with the program," he added. "It is a game of numbers. We have those five seniors, and you play some teams that have some big senior classes or even 10 seniors. Even though we have nine, if you have 10 that have played, that experience means a lot. Just the strength somebody has as a senior compared to the strength somebody has as a sophomore is huge."
Campbell noted the team also was a little thin in the junior class with Brock Thiede and Trent Heikkinen being out all season hitting the Hawks hard.
Looking ahead, the experience gained and hopefully a dedicated off-season of hard work will have the returning players prepared for a fresh start in 2020 in the new Lakeland Conference, which will feature the Hawks, Hurley, Ladysmith, Flambeau, Lake Holcombe-Cornell, Grantsburg, Webster and Unity.
"We have a bunch of experience coming back," Campbell said. "The sophomores got to play varsity. The junior class that has been playing a lot of varsity since they were sophomores and freshmen, they have the opportunity to see what real off-season work can do to a season. I think if we get a bunch of guys in the weight room and at speed workouts I think we can have a decent season in the new conference. I know that's what the seniors were preaching. Get into the weight room. The seniors were telling them, 'if you do that, you guys can have a better season than what we finished on this year.'"