Posted on
A FIRST FOR MEDFORD SOCCER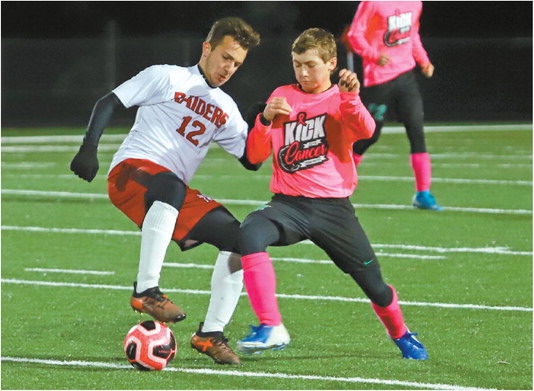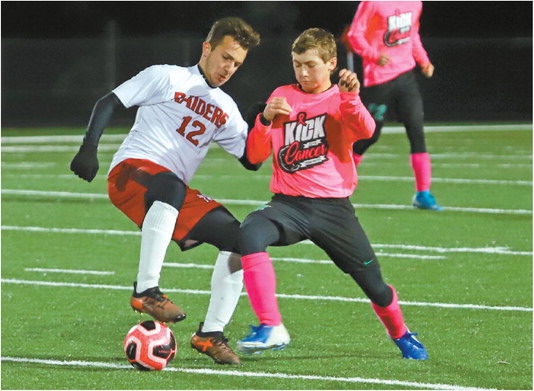 MEDFORD BOYS SOCCER
Adleman buries PK, Raiders win title share
BY MATT FREY
SPORTS EDITOR
A week after the Medford Raiders seemed to be closing in on the outright Great Northern Conference boys soccer championship, they found themselves one bad break away on Thursday from getting no piece of the title while locked in a 0-0 tie at Rhinelander.
Given a shot to break that tie, senior co-captain AJ Adleman wasn't going to miss.
Adleman's penalty kick at 75:49 following a handball call in the box against the Hodags was all the Raiders needed to secure the 1-0 victory that gave them a share of the conference title. Their 7-1-2 record in conference play resulted in an .800 winning percentage that equaled the percentage Northland Pines had with a 6-0-4 league mark.
It's the first conference championship in 10 seasons of varsity play in Medford and the program's first win in Rhinelander since a 3-2 win early in the 2011 season.
"It was probably the most favorite goal I've ever scored by far," Adleman said. "Just to be able to do it in that kind of environment too. We haven't won in Rhinelander in so many years and to finally do it like that. It was awesome."
"You want to talk about a stressful kick," Medford head coach Nathan Bilodeau said. "He almost had to feel like the entire season was dependent on making that kick. But if you put the ball in the back of the net, you've got to believe this is our game. We just have to play our game for 10-12 more minutes, hold on and we've got this. We put the responsibility on AJ and he came through for us."
Adleman said he actually tried to make the kick as stressless as possible. "As little as possible," he said when asked what he was thinking as he lined up the shot. "It was like 'I know what to do, just put it where I want.'"
See SOCCER Adleman went right with his kick and buried it. In fact, he hit it so hard, there was confusion as to whether it actually went in.
"I went right side, but they have this wheel thing like a block (on the back of the net)," Adleman said. "It bounced out really quick and everyone thought it looked like it hit the post. Even on the film, it looks like it hits the post. I knew right away because the goalie didn't move and I knew where I put it. No one celebrated right away, it was a little weird. But I was happy to put it in."
So were his teammates who put in another solid defensive effort, while recording the team's sixth shutout of the year. Offensively, the team had to make some adjustments to play without its top scoring threat, Onyi Ekwueme, who, by WIAA rule, had to sit this one out after receiving his fifth yellow card of the season in the Oct. 10 1-1 tie against Northland Pines.
"It wasn't always pretty," co-captain Cooper Wild said. "Gage (Neubauer) had to do a little more, AJ had to do a little more. Christian (Di Benedetto) stepped into an offensive role and played well."
Bilodeau said the play of Di Benedetto, Medford's exchange student from Italy, was key.
"You can put him on defense, at wing, in the mid, striker," Bilodeau said. "I think the only spot he hasn't played for us is goal keeper."
"Without Onyi it's hard to score," Adleman said. "Our passes were clean, we constantly moved the ball up and down, took shots. It was good. It definitely changed our mentality. It was more of a shoot if you get the chance kind of thing. Don't look for Onyi up top. I had to play more offensively I guess. But there wasn't much of a change because I know we can work without Onyi. We still have Gage up top so I knew we'd be fine."
Medford had 25 shots in game with nine getting on goal. Brady Hupf stopped all 10 of Rhinelander's 22 shots that were on goal, including a couple of late ones after Adleman had put the Raiders ahead.
"The last one was the toughest one," he said. "I had to go up high and I kind of bobbled it for a second. The turf was getting wet so it was getting a little harder. The ball was getting slippery. They had some through balls that were close."
Once the final whistle sounded, the celebration was on.
"It was exciting, just hugging everybody and knowing we had made history, done something no team in Medford had done before," Hupf said.
"It means everything," Ekwueme said. "It's respect for the sport. Soccer hasn't always been a top sport in Medford. This was huge."
"We constantly got better," Adleman said. "Even when we lost, it was all positive things. We knew what we had to work on. I don't think you could take the team we had at the beginning of the year and even compare them. We're just way better."
Wild and Ekwueme said it didn't take long to figure out things were going to be different under Bilodeau in his first year as the head coach.
"We were doing some different things on the field and the conditioning was definitely different," Wild said. "We did a lot more conditioning. But I think it helped in the second half of the year and second halves of games."
After finishing the regular season 106-3, the second-seeded Raiders now look forward to WIAA Division 3 tournament play, which starts today, Thursday, at 7 p.m. with a regional semifinal contest at Raider Field against seventh-seeded Amherst/ Iola-Scandinavia, who beat 10thseeded Antigo 2-0 in a regional opener Tuesday.
Tonight's winner advances to a regional final Saturday against sixth-seeded New London or third-seeded Fox Valley Lutheran.
The other side of the bracket has topseeded Waupaca hosting ninth-seeded Lakeland today and fifth-seeded Shawano traveling to fourth-seeded Mosinee. Lakeland rallied from a 3-0 deficit to tie eighth-seeded Rhinelander in their firstround game Tuesday. After two scoreless 10-minute overtimes, Lakeland won a penalty kick shootout 5-4 to advance.
The last two teams standing in the grouping will play in an Oct. 31 sectional semifinal.
"Amherst will be a tough matchup right away but I think we can take care of them, especially having Onyi back now," Adleman said.
"We just have to go one game at a time," Ekwueme said.