Posted on
XC girls defend Cloverbelt title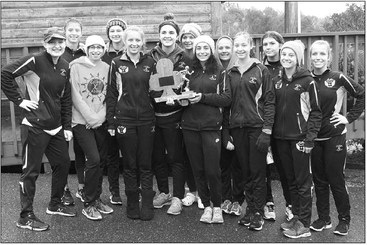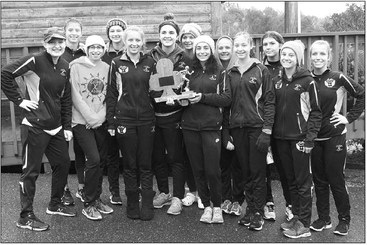 October 19, 2019 has been circled on the Colby/Abbotsford cross country calendar since the beginning of the season. The Cloverbelt Conference meet is something the team always focuses on and prepared for.
Though the weather didn't cooperate the Colby/Abbotsford cross-country teams stayed focused and didn't let a little bit of rain get in their way.
As been the case all season, Chase Oehmichen led the boys to finish in third place with a time of 17:28. For most of the race Oehmichen was with a pack of six to eight runners, but in the end he was able to sprint to the finish catching all but McDonell's top two runners, who finished first and second.
Matt Mateer ran a great race as he continues to improve each meet. He finished 23rd, crushing his old PR by 21 seconds, crossing the finish line in at ime of 19:33. Talon Severson was up next with a PR, finishing in 52nd place, and a time of 21:11.
Richard Streveler wasn't far behind, taking 56th place in a PR time of 21:29. Up next was senior Nick Kleparski in 60th place with a time of 22:04. Ryan Nelson finished in 67th place with a time of 23:04, and Braxton Smith was the team's seventh runner in 75th place, with a PR at 23:23. As a team the boys finished in eighth place with McDonell Central Catholic taking the top spot followed by Regis in second place.
The girls team had some lofty goals going into the day - they wanted to defend their title from 2018 and make 2019 the third Cloverbelt title in four years having also won the conference crown in 2016 and 2018.
Freshman Willow Oehmichen lead the team finishing in third place, just like her brother, with a time of 20:47. Up next was senior Abbie Hediger. Hediger finished with a large pack of runners, taking ninth place in a time of 22:11.
Also in that pack was sophomore Daisy Feiten in 13th place, and a time of 22:17.
"These three ladies have led our team all season, and it was awesome to see them work together this weekend," Colby/ Abbotsford head coach Bryon Graun said. "They have become great leaders and hardworking runners."
Sophomore Mercedes Sarkkinen had a season best race on the day, finishing the wet day with a time of 23:50 for 27th place.
Right behind her was Payton Roth with another PR, in a time of 23:53 in 28th place. Rounding out the varsity squad was Trinity Severson in 58th place with a time of 25:55 and Alana Brill in 64th place with a time of 26:47.
As a team the Colby/Abbotsford girls team finished with a final score of 74 point, which put them nine points ahead of the Fall Creek Crickets, to bring home the trophy for the third time in four years.
"I am very pleased with the results," Graun said. "Another conference title, seven PR's and 11 season bests, that's amazing. For the girls, each runner did what was asked of them, and as a result were able to come out on top. I couldn't be happier."
Colby/Abbotsford also had five runners in the JV race, which put them in the hunt for team title in that race as well.
Leading the JV girls was sophomore Kierra Kussrow, who finished in first place with a time of 24:03. Up next was Ella Halopka in fourth place in a time of 25:49. Gianna Mundt ran 27:03, and finished in tenth place.
Senior Hailey Voelker ran a time of 27:15 for eleventh place. The team's final runner was Elizabeth Winters in 16th place, and a time of 29:26.
Together, the JV girls put together a combined score of 27 points, which was one point ahead of the second place team Osseo-Fairchild.
Up next for the Colby/Abbotsford cross country teams is the WIAA Sectioanl Meet this Saturday, Oct. 26. The co-op meet will be at home, as they host the WIAA D-2 sectional meet in Colby, with a date with the state meet on the line.