Posted on
Rockets run roughshod over Rails to take 5-4 mark into playoffs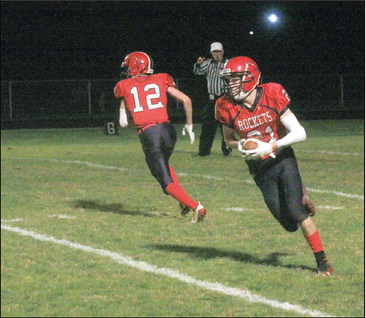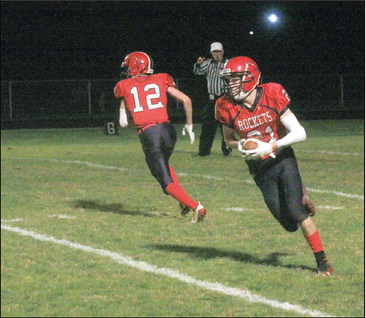 The Rockets had already secured a playoff berth with a 4-3 Clovebelt Conference recordheading into the final regular season game, but upped its overall mark to 5-4 by piling up almost 400 yards of total offense and surviving a 174-yard night from Altoona running back Paxton Gluch. Spencer-Columbus scored at least one touchdown in every quarter and led 24-6 at the half.
The first Rocket score came on the game's opening drive as Jacobson's 9-yard run put points on the board. Bacon added a 1-yard touchdown run early in the second period for a 16-0 Rocket lead.
Altoona sustained a drive on its next possession and Gluch scored on a 5-yard run to cut the lead to 16-6 with 7:10 left in the half. Spencer-Columbus then made the most of its last possession of the half and scored on Bacon's 20-yard run with just 47 seconds left.
Hayden Bauman made it a 30-6 game on a 10-yard run early in the third quarter. Altoona Quarterback Gage Stratman threw 13 times with seven completions for 61 yards. Bacon had four catches for 48 yards.
Altoona had 249 yards of offense, but 174 of it came from Gluch on 30 rushes. The Rails threw 11 times with five completions for 77 yards.
Altoona lost one fumble in the game. Spencer-Columbus did not have a turnover.
Dominic Post and Brett Kasch led the Rockets defensively with five solo tackles apiece.
Spencer-Columbus will now play a WIAA Division 5 Level 1 playoff game at Bloomer (7-2) on Oct. 25. The winner takes on either Stratford or Spooner.
Eden Jacobson ran for 126 yards and three touchdowns and Austin Bacon added two scores as Spencer-Columbus cruised to a 49-12 Homecoming night win over Altoona on Oct. 18 to secure a winning season record as it heads into the WIAA Division 5 playoffs again. got the lead down to 30-12 on a 4-yard Adrian Donovan run midway through the third quarter, but Jacobson quickly negated that with a 3-yard run.
Jacobson added a 56-yard touchdown run with 1:53 left in the third quarter and Max McGiveron added a final score for the Rockets on a 33-yard run midway through the final period.
Spencer-Columbus ran for 323 yards on the night on 41 attempts. Jacobson had his 126 yards on 10 carries and Bauman added 67 yards on eight attempts.
DEAN LESAR/STAFF PHOTO
MATT FREY/MEDFORD STAR NEWS PHOTO