Posted on
L-G runners grab three all-conference placings at Cadott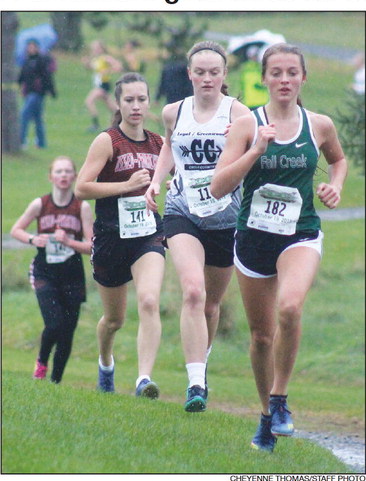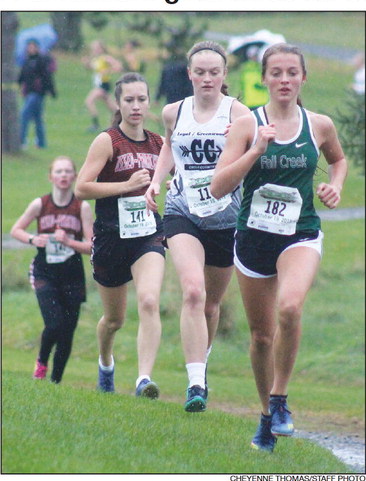 Yet another wet and rainy day was faced by area cross country teams on Oct. 19 during Cloverbelt Conference competition at Whispering Pines Golf Course in Cadott. A few members from the Loyal-Greenwood and Neillsville-Granton teams achieved all-conference status at the meet, while a couple of Spencer athletes came close.
The Loyal-Greenwood team had the most runners receive all-conference, with runners from both the boys and girls teams placing high enough for the award. For the girls race, junior Savannah Schley came very close to winning her third consecutive conference championship, but was overcome at the end of the race by Fall Creek's Jenna Anders (19:40). Schley herself took second place overall, finishing right around the 20:00 mark.
Schley's teammate, Rylan Lindner, also was an all-conference recipient. She placed 11th in the 82-runner field by running a 22:13 on the course. No other female runner from the Greyhound team finished high enough to take an all-conference position, however, there were four others who completed the race for Loyal-Greenwood. Leah Scherer ran a 25:01 for 41st, Maci Bogdonovich completed the race in 25:24 to take 51st, Aubre Robida crossed the finish in 25:46 for 56th, and Halle Aumann ran a 27:04 for 67th.
Avery Horvath was the top finisher for the Loyal-Greenwood boys and the only runner from the team to earn all-conference distinction. Horvath placed fifth in the 84-runner field, taking the placing with his 17:35 race. The next runner to finish for the team was Devin Degenhardt, who ran to a 54th-place finish with a time of 21:23. Ashton Palms took 63rd, crossing the finish at the 22:17 mark.
The last four runners for the Greyhound boys all finished within 10 places of each other. Jaden Ruggles took 71st with a time of 23:14, Josiah Horvath finished in 23:19 for 73rd, Anthony Ottman took 77th with a time of 24:09, and Vaughn Zettler ran a 24:46 for 79th.
In light of the conditions of the course and what the team had faced throughout the season, Loyal-Greenwood coach Jim Genteman said he is proud of what the team was able to accomplish.
"I think all the kids ran well and for the most part finished where we expected them to," he said. "This time of year is always hard to predict the kind of weather you are going to run into. It's also the time of year that getting sick can alter performances. All the runners from all the schools have to deal with this. We are very proud of all the kids and are extremely happy on Savannah, Rylan, and Avery's all-conference performances. They worked very hard and deserve this honor."
The Neillsville-Granton boys had two individuals place in the top 10 at Cadott, earning all-conference spots. Taytor Lowry ran to a seventh-place finish overall, crossing the finish at the 18:22 mark. Skylar Drinka finished just seconds behind him, taking ninth with his 18:27 time.
Four other boys competed for the Warriors at the invite, none of whom placed high enough to join their teammates in all-conference standings. Stone Johnson placed 40th with a time of 20:34, Efer Castillo took 50th place by running a 21:22, Kane Johnson ran a 23:58 to place 76th, and Marco Di Toma placed 82nd with a time of 27:31.
For the Warrior girls, Chloee Lowry got the closest to an all-conference placing, but was just shy of an honorable mention award by three places. She ran a 23:39 which put her in 24th overall. Coming in after her was Ashlee Piskow, who ran a 24:32 to take 35th. Kayla Oldham placed 40th with a time of 24:59.
Also running for Neillsville-Granton were Kristin Strey, who ran a 25:34 for 52nd, Dolorosa Thomas, who ran a 26:37 for 62nd, and Lizzy Jorgensen, who finished in 30:04 for 79th.
For the Spencer cross country team, Emily Wehrman came the closest out of any of the other runners to an allconference finish. She placed 22nd in the field, completing the dance in 23:20 to earn the spot. The next runner to complete the race for the Rockets was Hannah Zastrow, who sprinted the last portion of the race to finish in 25:20, overcoming several other runners to place 46th. Kaylee Wehrman took 50th after her, running a 25:24.
Three other runners finished for Spencer. Emily Klaus placed 70th with a time of 27:29, Leah Zastrow took 72nd place with a time of 27:54 and Faith Miller ran a 29:15 to place 77th.
The Spencer boys had a solid performance from its athletes, but none finished the race fast enough to earn an all-conference spot. Ashton Ackman ran a 20:20 to earn 36th and Malachai Anderson finished in 39th place with his time of 20:31. Cameron Nieman came through at
CHEYENNE THOMAS/STAFF PHOTO the 20:53 mark to take 46th.
Also running for the Spencer boys were Caleb Rucker, who ran a 21:31 for 57th; Kaizer Eikleberry, who finished in 22:55 for 64th; Andrew Sieracki, who completed the course in 23:12 for 69th; and Austyn Kohls, who placed 70th with his time of 23:13.
A total of 12 teams competed at Cadott. The Spencer girls earned 247 points to put them in 10th place, ahead of Cadott (262), Columbus Catholic (323) and Stanley-Boyd and Owen-Withee, which fielded incomplete girls teams. Thorp-Gilman took ninth (234), Neillsville-Granton was eighth with 201 points and Loyal-Greenwood was seventh with 152 points. Altoona finished sixth (116), Eau Claire Regis was fifth (107), McDonell took fourth (105), Osseo-Fairchild was third (91), Fall Creek took second (83) and Colby-Abbotsford finished first (74).
The Loyal-Greenwood boys placed 11th overall with 248 points, finishing ahead of Stanley-Boyd (353) and Owen-Withee and Columbus Catholic, which fielded incomplete boys teams. Thorp-Gilman was 10th (238), Spencer was ninth with 230 points, Colby-Abbotsford took eighth (185) and Neillsville-Granton finished seventh with 174 points. Osseo-Fairchild took sixth (158), Fall Creek was fifth (153), Cadott was fourth (124), Altoona finished third (106), Eau Claire Regis took second (75) and McDonell was first (42).