Posted on
'Jays fall to Falcons' second half flurry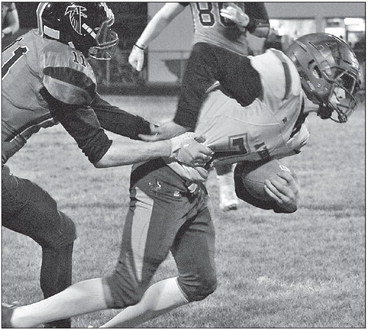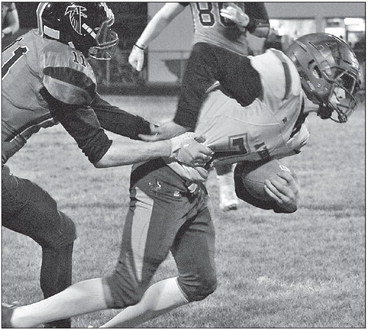 By Ross Pattermann
It wasn't quite the ending to the regular season that the Athens Bluejays were hoping for, but if there is one consolation prize after a 50-19 loss in Abbotsford on Friday, it's that their season will go on.
After a two year hiatus, the 'Jays are back in the playoffs, and they are hoping to use Friday night's experience to help pull off the upset when they travel to Almond-Bancroft this week for a first round WIAA playoff game.
"I am excited about the playoffs and the kids are too," Jay's head coach Todd Diethelm said. "We're in the playoffs, and we're all pretty proud of what we've done so far. If you'd told a lot of people that Athens is going to be in the playoffs they wouldn't have believed it."
If an upset seems ludicrous against the number sixth ranked team in D-7, just take into consideration that the 'Jays had the number four ranked D-6 Falcons on the ropes for over two quarters in their last game as a member of the Cloverwood Conference.
"We played hard tonight, we knew we were playing a great physical team, and I thought we went toe to toe with them for two and a half quarters," coach Diethelm said after Friday's game.
The 'Jays' first half against the Falcons showcased Athens at its best, as the 'Jays displayed their big play ability on both sides of the ball early and often.
Twice Athens took the lead against the undefeated Falcons, the first coming on the 'Jays opening drive as Athens gashed Abby with big runs that ended with a Dayne Diethelm 32-yard scoring run with 8:24 to play in the first quarter.
A successful PAT from Diethelm gave the 'Jays a 7-0 lead, but four minutes later the Falcons would get on the board when Abby's Dalton Feddick dove into the endzone on a four-yard QB keeper.
It was Feddick who would be the story of the night as the athletic and rangy senior signal caller gashed the 'Jays with big plays on the ground all night, tallying nearly 250 yards and four scores as he led a Falcons' ground game that piled up 445 rushing yards.
After one quarter the 'Jays clung to a 7-6 lead, but with barely a minute gone by in the second, Abby took its first lead when sophomore Ty Falteisek scored from three yards out to make it 12-7.
Athens stopped the extra point, and was then stopped on their next possession, but quickly regained momentum and the lead when the 'Jays stood up Falteisek, and stripped him of the ball.
Carter Brunke, who took over for an injured Cooper Diedrich early in the second quarter, found Sawyer Schreiner in the back of the endzone for the 'Jays second score of the night. The PAT was no good, but Athens held a 13-12 lead against the state ranked Falcons.
It was Feddick who took the momentum from Athens on a pair of backbreaking 51 and 59 yard rushing touchdowns late in the second quarter to give Abby a 26-13 lead.
The 'Jays put the mental mistakes behind them scoring with less than two minutes left in the first half. Dayne found a streaking Jake Denzine downfield for a big gain that set up a three yard carry from Dayne that resulted in the Jay's third touchdown of the night.
The two point conversion was stopped, but the 'Jays stayed within a single possession of Abby at the break, down just seven, 26-19.
"If you're only down seven at the half against Abbotsford, you're pretty excited," coach Diethelm said.
But it was not to be as the Falcons used a second half flurry on offense to pull away from the 'Jays, and each Abby score seemed to suck a little more the life out of Athens.
"It felt awesome to get that [first half] lead, it felt like we had the game," junior defensive back Cobie Ellenbecker said. "We lost the intensity and we just need to keep that up, and if we play how we did in the first half, we can go far."
Abby scored on a Feddick 12-yard run with 9:24 left in the third, and then the Falcons added another score with 1:41 remaining in the third from Cade Faber that made it 42-19.
Abbotsford scored for the last time late in the fourth quarter, with a one yard Falteisek carry with 2:56 to play. A two point conversion from Jair Menjivar made it 50-19.
Athens finished the game with 252 yards of total offense, 151 yards on the ground and 101 yards through the air.
Dayne finished just shy of 100 yards rushing, ending the game with two TDs and 94 yards on 18 carries.
Caleb Borchardt added 29 yards on six carries and Sawyer Schreiner had 22-yards on two carries. Denzine had a big night through the air, hauling in five receptions for 79-yards, while Schreiner added 22-yards and one score off two receptions. Brunke, Diedrich and Dayne all completed passes, with Dayne leading with 52-yards through the air.
On the defensive side of the ball, Brunke and Dayne finished with 14 tackles apiece, followed by Denzine with 13. Diedrich had one forced fumble.
The 'Jays were disappointed by the end result, but they'll head back to the practice field with plenty of motivation as they prep for the postseason. It's that ability to execute and their intensity that will prove the decider against Almond-Bancroft, says Ellenbecker.
"We have to get back to basics and play defense. It's all about execution and intensity; we know that we can play with the good teams and that we belong on the big stage."
Hafferman fuels Edgar
Senior Kaleb Hafferman was all over the football field making plays in Edgar's 57-0 road win against Tomahawk on Friday.
Hafferman led the Wildcats in rushing with 10 carries for 78 yards and two touchdowns. He also had a 55-yard punt return for a touchdown and a 27-yard interception return for a score.
Junior quarterback Kaleb Wolf completed six of nine passes for 96 yards and a pair of touchdowns.
No. 1 seed Edgar faces No. 8 Greenwood in a WIAA Division 7 Level 1 home game at 7 p.m. this Friday, Oct. 25.
Tigers gain ninth shutout
Stratford blasted South Beloit, Ill., 61-0, on Friday at home. Tigers senior quarterback Max Schwabe completed for of five passes for 115 yards and two touchdowns.
Senior Teddy Redman led the Tigers in rushing with two carries for 140 yards and a pair of touchdowns. No. 2 seed Stratford plays No. 7 seed Spooner in a WIAA Division 5 Level 1 home game this Friday.
Red Raiders fall short
Marathon was nipped, 37-36, in a road game against Hurley on Friday. Sophomore Noah Gage ran 31 times for 191 yards and two touchdowns.
The Red Raiders conclude their season with a 2-6 overall record this season. Marathon didn't qualify for the playoffs for the second consecutive season.