Posted on
Ellenbecker wins conference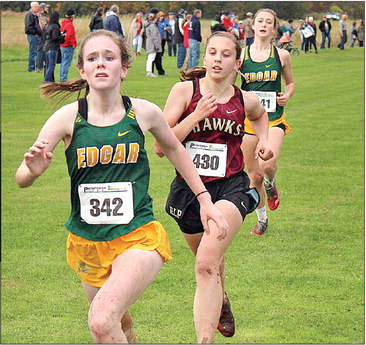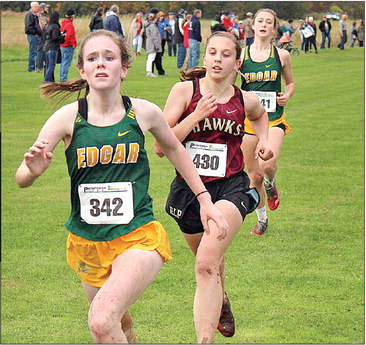 Senior obtains fourth straight Marawood title
By Casey Krautkramer
Edgar senior Marissa Ellenbecker is the first female to win four individual Marawood Conference cross-country titles, as far as anybody anyated erll associated with the conference can recall in its storied d
history.
n - mce She won the conference championship race in 20 minutes, 24.1 seconds on Thursday at Frey Field in es,
Spencer.
"Our team worked really hard together and my teammates pushed me to do better this year." Marissa Ellenbecker
"It feels really good to win four conference championships," she said after the race. "Our team worked really hard together and my teammates pushed me to do better
Edgar senior
this year."
Ellenbecker got off to a slow start this season, but now she's coming into her own again as she attempts to win her third consecutive WIAA Division 3 state championship. Edgar head coach Dennis Webb said Ellenbecker's showed her usual grit while running in muddy con- ditions at Frey Field.
"Marissa is an incredible competitor," Webb said. " She is without a doubt the toughest kid in the Edgar School District, because she is willing to put herself through so much pain and anguish to become a successful student athlete. Her level of preparation for this year's cross country season was impressive, because she ran almost 60 miles each week to get a chance at winning another conference championship."
College running options
She has received some Division 1 running scholarship offers, but Ellenbecker said after Thursday's conference race she prefers the Division 2 colleges she's visited.
Ellenbecker said she'll likely choose to run cross country, and also indoor and outdoor track, at one of the following top three Division 2 colleges she wants to consider: Bemidji State, Mankato State and St. Cloud State, all of which are located in Minnesota. She said she'll make a decision soon on which of the three colleges she wants to attend, and then she'll hold an official college signing ceremony sometime this spring.
She is currently undecided on what her major will be in college, but she is thinking about studying toward one day working as an elementary school teacher or at a job in the medical profession.
Edgar freshman Morgan Schnelle took fourth place at the Marawood Conference championship race on Thursday. She earns first-team all-conference honors in her inaugural high school season.
Marathon sophomore Jada Prihoda placed 10th and her senior teammate Katrina Fredrickson was 11th in the conference title race. Red Raiders sophomore Laci Hoeksema took 16th place. Runners who finish between ninth and 16th places are awarded second team all-conference.
Athens senior Abby Van Rixel and her younger sister, sophomore Elizabeth Van Rixel, both receive honorable mention all-conference this season. Abby Van Rixel took 18th place in the conference race while Elizabeth Van Rixel finished 23rd.
Red Raiders junior Anna Cleven took 24th place to just make the cut for receiving honorable mention all-conference this season. Runners will next compete in the WIAA Division 3 sectional race at 4 p.m. this Friday, Oct. 25, at Erbach Park in Athens.