Posted on
Athens boys create history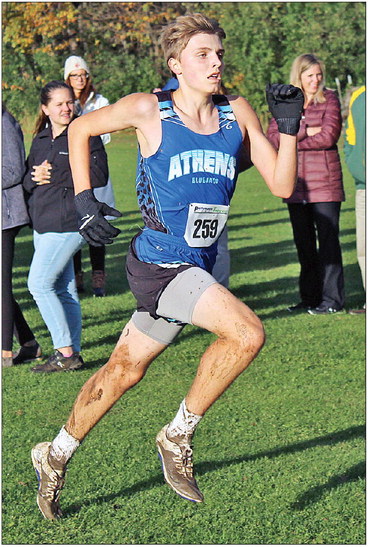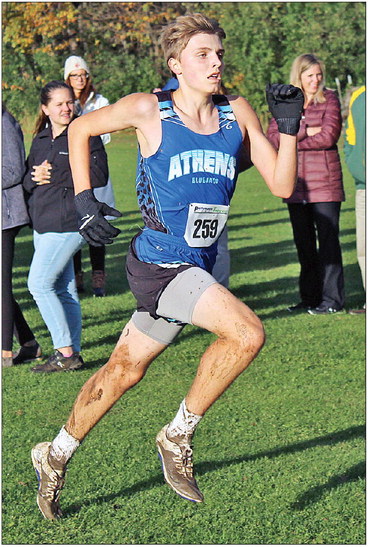 Team achieves school's initial conference title
By Casey Krautkramer
Athens senior cross-country runner Jonathon Nowacki finally beat his nemesis, senior Garrett Dolan of Wisconsin Rapids Assumption, to win the Marawood Conference championship n ap-pn-- e ld race at Frey Field in Spencer on Thursday.
st His firstplace finish also helped the Athens boy's cross-country team edge Marathon by one point to win its first conference title in school history.
"I just paced myself better in this race so I'd have more left in the tank to kick it into high gear at the end." Jonathon Nowacki
Athens senior
"I just paced myself better in this race so I'd have more left in the tank to kick it into high gear at the end," Nowacki said.
He wasn't the team's only hero, however, because senior Andrew Hartmann placed ninth and a few of their teammates edged their Marathon opponents at the finish line. Andrew's twin brother, Aaron Hartmann, fended off Marathon senior Tyler Cliver in what runners term a "photo finish" to take 12th place. Athens senior Brock Thompson also outlasted Marathon senior Aaron Schumacher at the finish line to take 21th place.
Aaron Hartmann sensed his opponent, Cliver, was gaining ground on him because the crowd started cheering louder at the finish line. Aaron Hartmann ran as fast as he could to barely beat Cliver in what proved to be a pivotal individual finish in the team standings.
"Had I lost to Cliver, then Marathon's team would've beaten us," Aaron Hartmann said.
Athens' fifth runner, senior Tanner Westfall, ran a solid race to finish in 24th place. The top five competitors from each school gain points for their teams.
The top eight individual finishers in the conference race are awarded first-team All-Marawood Conference honors. Runners who finish in ninth through 16th place gain second-team all conference and those who finish in 17th through 24th place receive honorable mention all-conference.
Bluejays chase state berth
The Athens boys cross country team will attempt to place in the top two teams at its WIAA Division 3 home sectional at 4 p.m. this Friday, Oct. 25, at Erbach Park in Athens, in order to qualify as a team for the state championships for the first time in 51 years.
Last season, Athens barely missed out on advancing to state with a thirdplace finish at the sectional race in Amherst. Rosholt won the sectional meet title and Assumption placed second to qualify for the state championships. Assumption can't field a full team this season to place at meets.
Aaron Hartmann said he and his teammates would need to bring their "A" game into this Friday's home sectional race, if the team wants a shot at advancing to the state championships on Saturday, Nov. 2, at The Ridges Golf Course in Wisconsin Rapids.
"Our team definitely has a chance to qualify for state, but everyone on our team would need to run the best race of their entire life for this to happen," he said.
Team develops chemistry
The Athens boys cross-country team wears clout glasses, which Aaron Hartmann said are weird sunglasses, after it wins races this season. The team can also be seen holding a plush ape named "Jorge."
"Wearing the clout glasses and holding Jorge has brought us closer together as a team," he said.