Posted on
T-Birds win the swim battle for second place in the GNC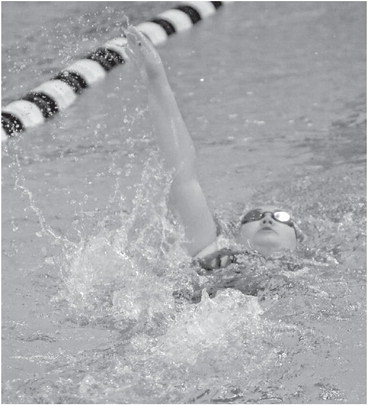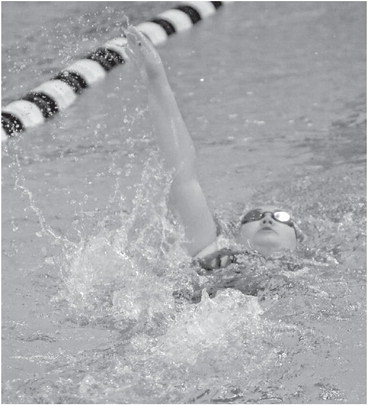 MEDFORD GIRLS SWIMMING
BY MATT FREY
SPORTS EDITOR
Erin Bergman won two individual races and was part of Medford's strong start to Thursday's meet in the 200-yard medley relay, but the Lakeland Thunderbirds were first in all other races, most of them convincingly, and were too much for the Raiders in a girls swim battle for second place in the Great Northern Conference.
Rylee Ahlborn and Maria Angove won two events individually to lead Lakeland to its 98-72 win that boosted the T-Birds to 5-1 in GNC duals. They travel to 4-2 Ladysmith today, Thursday, for a tough final dual meet of the fall.
Medford is also 4-2 and finishes with what should be a fun final meet at MASH against the winless second-year Mosinee squad.
Medford head coach Betsy Berends said she had a feeling there were some matchups that would go against her Raiders in this meet. The timing of the meet was a factor as the Raiders' workout regimen right now is geared being at their best in a few weeks.
"We definitely were hoping for a win, but I'm glad we kept it close," Berends said. "The girls have started putting in a lot of yards starting this week in preparation for taper and they are tired. We want them tired though. I think if we had this meet a few weeks earlier, the outcome might have been different. But I'm happy with how we did and I'm excited to get the chance to swim them again in a couple weeks at conference and then again at sectionals. I think there will be some different outcomes then."
The 200-yard medley relay team of Bergman, Faith Piller, Morgan Ball and Kami Razink started the meet with a bang, taking its race by a 20.49-second margin in 2:03.07. Kirsten Weix, Olivia Rau, Shaniah Brandt and Maddie Williams were fourth in 2:39.16.
The Raiders scored well in their next two events to stay even at 23-23. Ball swam the 200-yard freestyle in 2:19.88 to take second behind Angove (2:11.35), while Lacey Brandner was fourth in 2:26.5 and Weix was fifth in 2:38.46. Aiden Denzer took second in the 200-yard individual medley at 2:38.06 behind Ahlborn (2:25.72). Maddie Williams got the thirdplace points at 2:44.16 and Savannah Brandt was fifth at a season-best 3:07.14.
"We started the meet out on top with the medley win, followed by a great race in the 200 free," Berends said. "Kirsten got us a big point by beating her opponent at the end. The IM was also one of our strongest events."
From there, the T-Birds gradually pulled away.
Bergman's first win came in the 500yard freestyle. Swimming it for just the second time this season, she finished in 5:57.75, comfortably ahead of Lakeland's Amanda Kosmen (6:13.1). Denzer was third in a season-best 6:23.08 and Brandner got the fifth-place point in 6:36.83. Bergman won the 100-yard backstroke in 1:06.16, beating T-Bird Naomi Hamerla by 4.75 seconds. Williams was fourth in a personal-best 1:15.06 and Shaniah Brandt was sixth in 1:31.04.
Ball gave Hamerla a run in the 100yard butterfly, falling 1.28 seconds short with her time of 1:06.4. Savannah Brandt took fourth in 1:27.79 and Brooke Wegerer was fifth in 1:31.08.
Piller took second in the 100-yard breaststroke at 1:18.58, 3.96 seconds behind Angove. Weix got the fifth-place point in 1:39.89 and Rau was sixth in 1:44.04. Piller also was the runner-up in the 100-yard freestyle at 1:02.19, 4.78 seconds behind Ahlborn. Razink was third in 1:03.58 and Alicia Venzke was sixth in 1:12.17.
Razink finished third in 28.14 seconds in the 50-yard freestyle behind Lakeland's Brie Wescott (26.97) and Kosmen (27.92). Wegerer was fifth in 30.5 seconds and Venzke was sixth in 33.16 seconds.
Razink, Denzer, Ball and Bergman finished the meet with a time of 4:14.81 in the 400-yard freestyle relay, good for second behind Lakeland's A-team time of 4:00.53. Brandner, Wegerer, Weix and Piller were fourth in 4:35.86 and Savannah Brandt, Shaniah Brandt, Rau and Venzke were fifth in 5:16.73.
Williams, Wegerer, Brandner and Denzer took second in the 200-yard freestyle relay, while Shaniah Brandt, Rau, Savannah Brandt and Venzke were fourth in 2:20.46. Lakeland's winning time was 1:46.72.
"Overall it was a good meet," Berends said. "We are excited to host Mosinee in our final dual at home next week. It will be a nice change of pace after the last couple tough meets we have had."