Posted on
Raiders surge into regional play on five-match win streak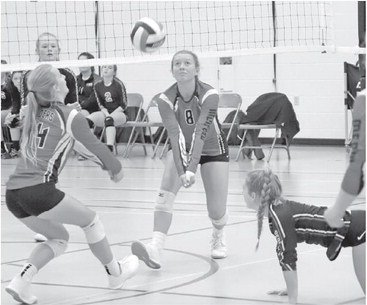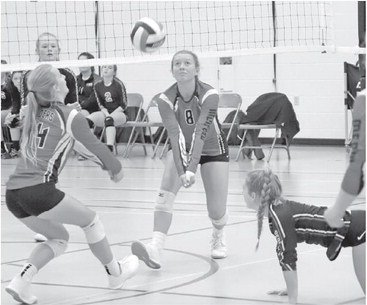 MEDFORD VOLLEYBALL
BY MATT FREY
SPORTS EDITOR
The Medford Raiders just might be getting out of their volleyball mid-season rut at the perfect time.
With an impressive 3-1 win at Northland Pines Tuesday, the Raiders wrapped up a 5-0 run to complete the regular season that allowed them to finish 20-14 overall and 7-5 in the Great Northern Conference, good for a third-place tie with Antigo.
Pines went 8-4 to take second. The Eagles were swept by 12-0 league champion Mosinee and the Raiders in conference play.
The Raiders and Eagles started the conference season on Sept. 5 with a fivegame thriller at Raider Hall. This time, Pines drew first blood at its house with a 25-19 win in the opening set. But, according to Medford head coach Cheryl Schreiner the Raiders got some breaks while winning game two 25-22 and then the defense took over in sets three and four as the Raiders minimized the damage done by Pines standout Jacqueline Smith.
"We came out sluggish in the first set," Schreiner said. "The second set we capitalized on their errors. In the third and fourth sets our defense really showed up. That led to excitement and energy and it showed in the score of the fourth set."
Medford took the pivotal third game 25-22 and then dominated the fourth set 25-15.
Kamry Albrecht led the defensive effort with 12 solo blocks and two assisted blocks, while freshman Martha Miller had 35 digs and seven kills. Albrecht added 10 attack kills, 26 digs and was a perfect 19 for 19 in serving.
Sierra Hanson had 27 digs, Alex Nicks had 26 and Brynn Rau and Emily Schafer had 25 apiece.
Rau had 10 kills, while Nicks and Rynn Ruesch had five apiece. Ruesch added three solo blocks and an assist.
Nicks put up 27 assists. The Raiders hit on 95 of 102 serves for a .931 success rate. Nicks was 23 for 23, Miller was 18 for 18 and Schafer was 15 for 15.
Medford drew the eighth seed in their WIAA Division 2 sectional bracket and will host ninth-seeded Tomahawk in first-round play Tuesday at 7 p.m. The teams split their GNC matches this year. Tomahawk upset Medford 3-1 in last year's playoff opener.
The winner draws top-seeded Mosinee in an Oct. 24 regional semifinal that also starts at 7 p.m. Mosinee won its third straight GNC title and has won 35 straight league matches. Medford, however, took the Indians to five games this season, as did Antigo on Tuesday and Northland Pines did it twice.
3-0 day at GNC
Medford entered Saturday's GNC meet at Lakeland having lost five straight conference matches, including four in five sets.
The Raiders washed away a ton of frustration with a 3-0 day that included a satisfying 3-1 revenge win over Tomahawk to end the day.
The Hatchets had handed Medford one of its five-set losses at Raider Hall back on Sept. 24. The teams split their first two sets Saturday with Medford taking the first 25-22 and Tomahawk taking the second 25-21.
But this time, the Raiders took the momentum and game three with a 25-20 win and then buried Tomahawk in set four 25-13 to emphatically win the match.
The Raiders compiled a solid team attack percentage of .276 in the win, collecting 51 kills in 134 attacks. Albrecht had 19 kills and just three errors in 39 attacks. Ruesch had 10 kills in 24 attacks and Rau had eight in 25 attacks to lead the charge. Ruesch and Albrecht also had three solo blocks apiece and one assisted block.
Nicks led the team with 28 assists and added five kills. Miller had four, Sami Stolp had three and Bella Veal had two. Rau served three aces in the win and led the team with 16 digs. Nicks had 15 digs, Schafer had 13 and Hanson had 11.
Earlier in the day, Medford took care of the league's bottom two teams Rhinelander and Lakeland in three-game sweeps.
In round one, the Raiders were 25-9, 25-17, 25-20 winners over the winless Hodags in a match that saw just about everyone get some court time.
Albrecht had nine kills, Nicks had five and Rau had four. Albrecht had six block kills and three block assists. She had two aces. Nicks had 18 assists. Hanson was the leader in digs with 16, while Veal and Rau had 12 apiece and Schafer and Nicks hit double figures with 10 each. Albrecht had nine The Raiders had just three errors in 48 serves for a .938 serving percentage.
Round two featured a 25-15, 25-19, 25-19 sweep of the host Thunderbirds.
The Raiders again were strong from the service line, putting 53 of 58 in play for a .914 serve percentage that included aces from Hanson and Albrecht. Nicks had 16 assists and 15 digs while hitting all 17 of her serves. Rau had 12 digs and five kills. Hanson had 11 digs, Schafer had 10 digs and was perfect in nine serves. Albrecht had 10 digs, three solo blocks, an assisted block and 11 attack kills.
Ruesch had four kills, four assisted blocks and a solo block.
Mosinee clinched the conference title at Saturday's meet with its second fiveset win of the season over Northland Pines in round two.
Medford 3, Menomonie 0
The Raiders started to get some good vibes back Thursday with a 3-0 nonconference sweep at Menomonie. It was Medford's second lopsided win of the season over the Mustangs with the other one coming at the Menomonie Sprawl on Aug. 30.
Game one was close on Thursday, but Medford's 26-24 gave them the momentum and the Raiders rode it to 25-16, 25-17 wins to seal the sweep.
With Nicks unavailable, Stolp stepped into the setter's role and had a big night with 26 assists. She added 24 digs and was a perfect 16 for 16 in serving with an ace and the senior had two assisted blocks.
Albrecht was effective at the net with 11 kills and just one error in 22 attacks for an excellent .455 attack percentage. She had 21 digs and three solo blocks.
Ruesch added eight kills from the middle position, two solo blocks, three digs and an assisted block.
Rau had a team-high 27 digs, five kills, two assists and eight pass assists. Kiersten Crass had four kills, two assists and three digs. Veal had 22 digs, Schafer had 15 and Hanson had 12.