Posted on
Playoff-bound Pirates shut down Blue Jays in second half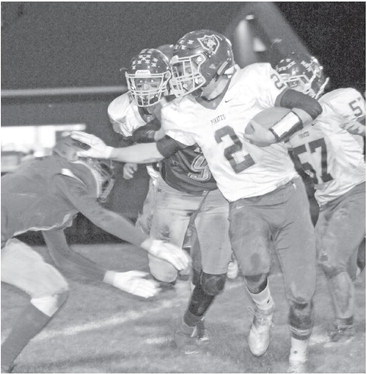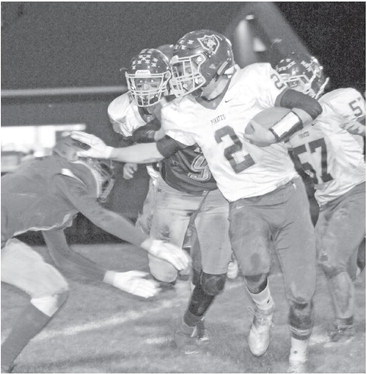 GILMAN 43, ATHENS 21
BY MATT FREY
SPORTS EDITOR
The Gilman Pirates went from leading comfortably late in the first half, to leading uncomfortably at halftime and then leading big again when it counted in a solid 43-21 CloverWood Conference victory at Athens Friday night.
The win was Gilman's fourth straight in league play and locked up the team's second straight WIAA Division 7 playoff appearance. It also gives the Pirates a clear shot at second place in the conference if they can beat visiting Loyal in Friday's regular-season finale.
The Pirates head into week nine at 4-2 in conference play and 6-2 overall.
"When you lose your first two games (in conference) it does not leave you with a lot of room for error," Gilman head coach Robin Rosemeyer said. "I'm proud of the kids because they didn't let that deter them. We knew the schedule wasn't as formidable after those first two games, but we also knew we still had to play well."
For the most part, Gilman played well again on Friday. The Blue Jays made some plays in the first half and got within 28-21 at the end of a high-scoring first 24 minutes. But the Pirates dominated play in the second half, holding Athens to just 41 of their 238 total yards through a combination of better defense and ballcontrol offense. Athens hit on a big play right off the bat with a 59-yard touchdown pass on third and eight from quarterback Cooper Diedrich to Sawyer Schreiner that made it 7-0 just 1:19 in. But Gilman controlled things over the next quarter and a half and built a 28-7 lead.
Quarterback Gabe Gunderson scored all four of those touchdowns –– the only four times he carried it in that stretch –– on the same play, featuring bootleg action off a trap and sweep fake. The senior finished the game with a game-high 137 rushing yards on 10 attempts.
He scored touchdowns of 15 and 27 yards on back-to-back possessions in the first quarter and then got loose for 21and 47-yard touchdowns in the second, the last of which came with 4:59 left in the half.
"We scored 28 points in a row and were feeling pretty good about where we were with four minutes to go in the half," Rosemeyer said. "We had all three timeouts left so we were going to use those and hopefully get the ball back with enough time to score again going into halftime."
Those plans changed when Athens hit on another big play. Dayne Diethelm got free for a 39-yard run and, with a 15-yard penalty on Gilman tacked on, the Blue Jays were in business. Diethelm scored on a 1-yard run and made the extra point to close the gap to 28-14 with 1:50 left. The Pirates then fumbled the ball away and Diedrich connected on a 12-yard touchdown pass to Carter Brunke. Suddenly it was 28-21 with 10 seconds left in the half.
The teams traded punts to start the third quarter. Gilman's second possession started at its own 7-yard line with 6:52 left in the quarter. It ended almost eight minutes and 93 yards later with Brayden Boie scoring a touchdown on a 3-yard run. The two-point pass from Gunderson to Boie made it 36-21.
The Pirates had another drive get to the Athens 20 before they lost a fumble. But after getting a stop, they put a clinching touchdown on the board on Kade Kroeplin's 3-yard run with 2:59 left.
Athens finished with just 88 rushing yards, only five of which came in the second half. The Blue Jays came into the game with three of the top 11 rushers in CloverWood Conference play in Diedrich, Diethelm and Jake Denzine. Boosted by his big second-quarter run, Diethelm had 62 yards on 15 carries, but Diedrich got just 7 yards on his 13 attempts and Denzine had 3 yards on three carries.
Ethan Grunseth and Julian Krizan led Gilman with 12 tackles apiece, while Joe Olson had 11 in his most productive night of the season on the defensive line.
"We controlled their running game very, very well," Rosemeyer said. "We just got out of position on a couple of pass plays and there were some 50-50 balls where they made the play over us."
Gilman, meanwhile, had 341 rushing yards and 362 total yards. Kroeplin had an even 100 yards on 16 carries and Boie added 92 on 18 attempts. Rosemeyer said the Pirates did most of their damage out of their trap, boot and sweep series of play calls, which was very effective against Athens' defensive scheme.
Friday's battle for second place with Loyal features two teams with similar approaches and styles. It also brings back memories of last year's WIAA Division 7 Level 2 playoff thriller won by Loyal in the final minute 24-17.
The Greyhounds have won five straight since an 0-3 start to the season and are 5-1 in conference play and 5-3 overall.
"They have two of the top three leading rushers in the conference (Nathan Buchanan and Matthew Szymanski)," Rosemeyer said. "They're not overly big, similar to us, but I think both teams have some athletic kids."