Posted on
Pirates push 2nd-ranked Macks, settle for ECC tie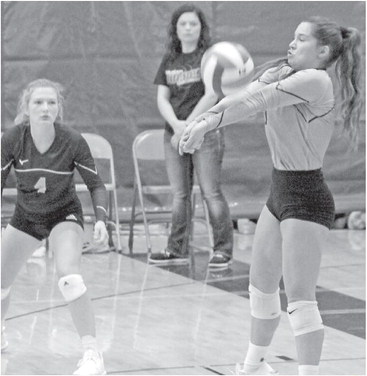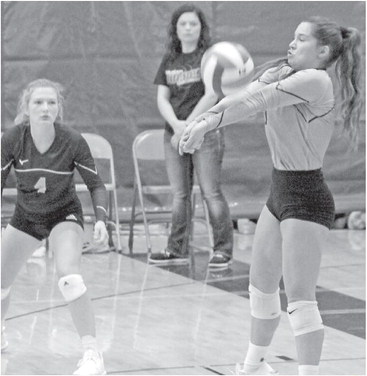 GILMAN VOLLEYBALL
BY MATT FREY
SPORTS EDITOR
The regular season didn't end the way the Gilman Pirates wanted, but they will go into the WIAA Division 4 volleyball tournament knowing they're quite capable of playing with the area's best smallschool teams.
On Tuesday, the Pirates finished the regular season at 21-7 following a hardfought 3-1 loss in Chippewa Falls to Mc-Donell Catholic Central in the secondplace game of the Cloverbelt Conference Crossovers. After a rough first game for Gilman, the match turned into a very competitive match between teams who could see each other again in tournament play.
McDonell Central is ranked second in this week's Division 4 state rankings behind Clear Lake, another team in Gilman's sectional bracket. The Pirates got honorable mention in this week's poll.
Game one went to the Macks 25-9, but Gilman responded by outlasting them 2624 in game two. Aubrey Syryczuk's tip kill from the left side put Gilman up early 8-5. Later, Montana Birkenholz's kill from the left side broke a 17-17 tie. A Lydia Syryczuk ace broke a 20-20 tie. Jaiden Sedivy and Emma Grunseth teamed up for a block and give the Pirates a 23-22 lead. Gilman finally closed out the set with Evelyn Fryza's dump kill at the 10foot line.
"It's obvious we had a slow start," Gilman head coach Janice Komanec said. "We were slow on our feet and slow on momentum and aggressiveness. Before set two we obviously talked about aggressive movement and communication. We also talked about spots in their defense. We needed to tip short behind our left and right side block and our middles needed to go just behind center court right down the middle as they were placing defenders in the left and right back corners leaving the back middle area open."
Game two was just a preview of what game three was going to be like. The teams not only battled to the 25-point mark, but went well beyond it. The Pirates had set point at 24-22 after a tip kill from Grace Grunseth. McDonell got the next two points to tie it. Jaiden Sedivy's kill had Gilman at game point again at 2827. The Macks were up 31-30 when Grace Grunseth's kill tied it again. The teams traded points to make it 32-32 before Mc-Donell scored two straight points to win it 34-32.
Game four was close until McDonell gained separation late and won 25-20. It was tied early at 5-5 and 8-8. Gilman's last lead was 12-11, but a Gracie Tallier kill had the Pirates back within 19-17 and a Sedivy kill had them within 20-18. Fryza's dump point made it 23-19, but the Pirates got no closer.
Sedivy had a big night for Gilman with 16 kills. Fryza led the team with 17 digs and 30 assists and she had four kills. Emma Grunseth and Aubrey Syryczuk both finished with four block kills. Grace Grunseth had six kills, six digs and two block kills. Aubrey Syryczuk had six kills. Emma Grunseth had three kills. Lydia Syryczuk had 15 digs, while Birkenholz and Lexi Chaplinski had 14 each.
McDonell's win was part of a clean sweep by the Cloverbelt's West Division over the East in Tuesday's seven crossover matches.
Gilman opens Division 4 regional play as the fourth seed in the McDonell sectional and will host 13th-seeded Clayton Tuesday at 7 p.m. in the first round. The winner gets either fifth-seeded Turtle Lake or 12th-seeded Cornell on Thursday, Oct. 24, also at 7 p.m.
Gilman Invitational
Gilman came up just short Saturday
See PIRATES against another team getting mentioned in the Division 4 rankings but won the rest of its matches during a third-place finish in the eight-team Gilman Invitational.
The Pirates went 2-1 in pool play, easily taking care of Alma Center Lincoln 25-16, 25-14 in the first round and Cornell 25-16, 25-12 in the second round.
In between, they faced Laona-Wabeno, a 27-6 team that got honorable mention in this week's state poll. The Rebels are led by standout 6-1 middle Sydney Rabe, who was a handful at times for the Pirates.
The teams played a tremendous first game that Gilman won 29-27. The Pirates had their chances to seal the deal in game two, but the Rebels fought them off 27-25 to send the match to a third game.
While Rabe got a couple of points, it was Emma Harris who did most of the damage from the right side as Laona-Wabeno tore out to an 11-2 lead. A Grace Grunseth kill finally got Gilman going and the Pirates inched their way back into it, getting as close as 13-10 on a Grunseth kill. But the early deficit was too much to overcome as the Rebels won it 15-11.
Laona-Wabeno went on to lose 2-0 to Phillips in the championship match.
Gilman drew conference rival Owen-Withee in the third-place match and beat the Blackhawks for the third time this season.
Game one was close at 14-12 when the Pirates started gaining some separation. A Sammi Person, an Evelyn Fryza win at the net and Aubrey Syryczuk's kill of a free ball pushed the lead to 19-13. Owen-Withee got back within 22-19 before winners from Birkenholz and Emma Grunseth helped cap a 25-21 win.
Game two was similar. it was 13-13 when Gilman went on a three-point run to take the lead for good, though the Blackhawks got within 21-20. After a timeout, Birkenholz got a kill, Grace Grunseth and Sedivy teamed up for a big block, Sedivy got a kill and the Blackhawks made an error to close it out 25-20.
Kill leaders for the day included Grace Grunseth with 39, Sedivy with 28, Aubrey Syryczuk with 15 and Birkenholz with 13. Fryza had 82 assists and seven aces. Person added four aces.
Birkenholz led with 37 digs, Lydia Syryczuk had 34, Fryza had 30 and Chaplinski and Grace Grunseth had 25 each.
Columbus 3, Gilman 0
The Eastern Cloverbelt Conference's championship match in Marshfield Thursday was closer than the 3-0 final would indicate, but the Pirates didn't quite have enough in each game to get one from Columbus Catholic. While the teams both finished 6-1 and atop the league standings, Columbus Catholic got the spot in the Cloverbelt Conference championship match at Fall Creek tonight, Thursday, because of its head-tohead win over the Pirates.
The title share represented Columbus Catholic's third straight conference title, while it was Gilman's first piece of a championship in well over 30 years. Columbus Catholic remains the state's fourth-ranked Division 4 team this week.
"The girls' aggressiveness, hustle and communication throughout the night was strong from the start," Komanec said. "The girls got many touches at the net to slow down the attack and our backrow movement was quick and aggressive, digging up many of their attacks. However, our offense needed to be a bit stronger to really push through for the win."
The Lady Dons led 13-12 in game one when a short spurt got them out to a 20-15 edge. Emma Grunseth got a kill, but Columbus extended its lead to 23-18 before the Pirates got a mini run to pull within 24-23 before the Dons got game point to win 25-23.
Set two was tied 20-20 when two Gilman errors gave the Dons the lead. Gilman got within 23-22 on a Sedivy kill and tied it when Fryza and Sedivy teamed up for a block kill. A Birkenholz kill tied it at 24-24. A block kill from Grace Grunseth tied it at 25-25, then Columbus scored two to win the set 27-25.
Columbus Catholic led throughout game three, winning 25-20.
Grace Grunseth had 14 kills, 12 digs and three blocks for the Pirates. Sedivy had eight kills, eight digs and a block. Birkenholz had five kills and 14 digs. Aubrey Syryczuk added four kills and two blocks. Emma Grunseth had three kills and two blocks. Lydia Syryczuk had 12 digs, while Chaplinski had 10. Fryza had 30 assists, nine digs and two blocks.