Posted on
Conference cross country championships on the line this week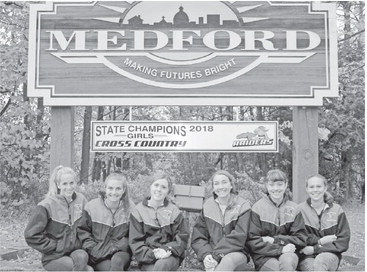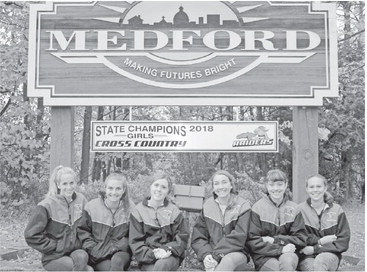 CONFERENCE CROSS COUNTRY PREVIEWS
BY MATT FREY
SPORTS EDITOR
A fall filled with some warm days, some wet days and competitive invitationals has already reached the home stretch with area conferences holding their championship meets in the next three days.
The stretch starts today, Thursday, with the Marawood Conference meet hosted by Auburndale at Frey Field, located on Hwy C east of Spencer. The first race is set for 4 p.m.
The Auburndale Apaches will be shooting for a third straight girls team championship and they are certainly one of the favorites after the strong fall they had. Individually, Edgar's Marissa Ellenbecker is looking to make history as she is shooting for her fourth straight conference title.
Marathon and Chequamegon could be contenders for high team finishers while teams like Phillips and Prentice-Rib Lake could surprise. Prentice-Rib Lake has just five girls, but the Hawks have been competitive in recent meets, led by two-time All-Marawood performer and two-time state qualifier Serena Moore and senior Kaitlyn Erickson.
Wisconsin Rapids Assumption is the two-time defending boys champions, but the Royals have not been running with a full team this season. They do have the individual favorite in last year's runner-up Garrett Dolan, who is a senior. Johnathan Nowacki of Athens figures to be one of the top challengers. Stratford's James Heeg, Auburndale's Carl Lundgren and Kees Hoogland of Phillips are returning first-team All-Marawood runners from a year ago. Prentice-Rib Lake's Peyton Enders hopes to make a jump from his 13th-place finish of a year ago.
The battle for the boys team title appears to be wide open with Athens, Stratford, Auburndale and Chequamegon all posting some good results at times this fall.
Great Northern Conference
The best local battle for a team title should be in the Great Northern Conference's girls race Saturday at Antigo's Gartzke Flowage Bike and Ski Trails.
The field includes three of the state's top seven ranked Division 2 teams, according to last week's state coaches poll. Medford is the defending state champion and ranked seventh, while third-ranked Lakeland and sixth-ranked Tomahawk have made hard charges toward upending the Raiders, who are two-time GNC champions.
The girls field is loaded with talent, including six of last year's seven All-GNC first-team performers. The 2018 Runner of the Year, Ashley Peterson of Lakeland, would probably be considered the favorite. Medford's Franny Seidel and Alicia Kawa were third and fourth in last year's at Rhinelander. Lakeland also has senior Aubrey Anderson and junior Kate Melms as top contenders and Tomahawk senior Haley Voermans-Dean has had a very good year in leading the Hatchets back to prominence.
Medford had the top three finishers and won last year's race, but sophomore Joey Sullivan, who took second, is the only one of the trio back. Conner Carbaugh just missed making the All-GNC first team. The Raider senior was eighth last year.
Tomahawkhasemergedastheleague's headliner this year, sitting 10th in last week's state rankings. Juniors Noah Buckwalter and Drew Bolder, secondteam performers last year, should be individual contenders along with Mosinee senior Eric Kordus and Lakeland junior Victor Masayesava.
See CROSS COUNTRY Saturday's meet starts at 10 a.m.
Cloverbelt Conference
The Thorp-Gilman co-op will compete in the Cloverbelt Conference meet to be hosted by Cadott at Whispering Pines Golf Course, starting at 10 a.m.
McDonell Central is the defending boys champion, edging Altoona 55-57, while Colby-Abbotsford took the 2018 girls title on its home course, 54-62 over McDonell.
Loyal-Greenwood junior Savannah Schley is gunning for her third straight girls championship, while 2018 runnerup Kari Herman of Osseo-Fairchild returns. Thorp-Gilman's Molly Milliren was 12th in last year's race. There were only two seniors among last year's top 10 girls finishers.
Senior Joe Thaler of McDonell Central is the defending boys champion. His sophomore teammate Dan Anderson is coming off a strong 15th-place finish at Saturday's Eau Claire Memorial Invitational. Colby-Abbotsford's Chase Oehmichen was the fourth-place finisher last year.