Posted on
Cadott runners finish season on a high note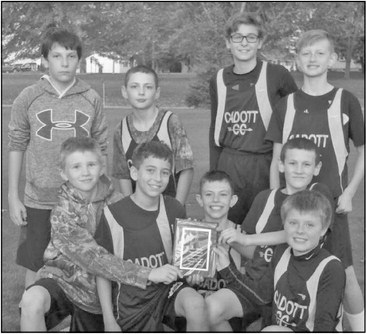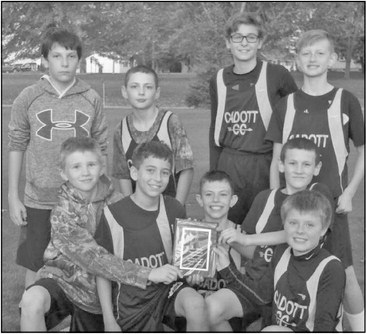 By Ginna Young
The Cadott Hornets Cross Country squad finished out the season in good form, as the boys team placed second at a meet in Owen-Withee Oct. 8, while the girls fielded a team for the first time this year.
Making his mark at the top yet again for the boys team, was freshman Peter Weir, who came in third, with a time of (16:59). Junior Zach Morgal finished the race in 10th (18:36.3), while sophomore Tad Weiss trotted in for 12th place (18:38.3).
Freshman Eddie Mittermeyer was hot on the others' heels, placing 14th (18:56.1), with Brayden Sonnentag a couple steps behind for 17th (19:19.8).
"Course and weather conditions once again led to outstanding performances," said coach Tom Weiss.
Also for the boys, sophomore Evan Freed completed the course for 22nd (20:01.6) and freshman Keagan Galvez finished in 26th (20:28.5). Rounding things out, freshman Kaden Matott came in 39th (21:44.1), while fellow freshman Cole Pfeiffer placed 43rd (21:47.7).
On the girls side of things, freshman Lucy Lindeman took home 16th place (24:33.2), with sophomore Jessica Klukas right behind in 17th (24:35.7). Junior Meadow Barone finished in 22nd (25:15.7), followed by junior Kaileigh Tice in 23rd (25:16). Senior Jasmine Horvat completed the squad, with a 39th place finish (31:14.9).
"They all were really excited about scoring as a team," said Tom Weiss of the girls' fifth place team finish.
Although a meet over the weekend at Colby was canceled, the Hornets can turn their gazes to the Cloverbelt Conference Championship, which Cadott will host at Whispering Pines Golf Course.
The Cadott middle school cross country teams came away with first place trophies Oct. 8, at an Owen-Withee meet. Iszy Sonnentag led the girls team and was overall winner of the girls. Other medal recipients, were Cortney Weggen (fifth), Marley Mengel (eighth) and Lyla Weggen (ninth). For the boys, Copper Mittermeyer placed fifth, followed Ewan Weir at sixth. Aythen Wundrow came in eighth and Jordan Sikora placed 10th. "…It was a really great way for the middle school teams to end their season," said coach Tom Weiss.
Submitted Photos
Cornell-Lake Holcombe junior Austin Bowe pushes through a lap on the Ladysmith cross country course Oct. 3. Bowe finished the race in 45th place, with a time of 23:05.8.
Photo by Ginna Young