Posted on
Business still unfinished with one game left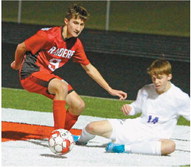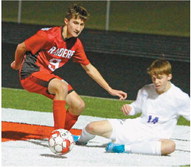 MEDFORD BOYS SOCCER
BY MATT FREY
SPORTS EDITOR
Ties seem to be theme in this fall's boys soccer competition in the Great Northern Conference, most notably at the top.
After playing to a 1-1 draw on Sept. 17, the Medford Raiders and Northland Pines Eagles duplicated that with another 1-1 tie Thursday at Raider Field. That result increased the odds of the two teams finishing in a tie for the top spot in the conference based on their winning percentages.
Each team, however, still has work to do today, Thursday, the final day of the regular season.
At 6-1-2 in GNC play, and counting ties as a half-win, Medford has the equivalent of seven wins heading into tonight's 7 p.m. showdown at Rhinelander. The Hodags have moved into third place in the GNC standings (3-2-4) by picking up their play in the second round of league play.
Northland Pines is 5-0-4 after beating Antigo 6-0 on Tuesday and now also sits at the equivalent of seven wins. The Eagles host Mosinee (2-5-2) this afternoon.
After last Thursday's tie, Medford head coach Nathan Bilodeau said the biggest thing for the Raiders was to control what they can control in tonight's contest.
"We try to take it one game at a time,
See SOCCER but it is hard to ignore that," Bilodeau said of the conference championship chase. "We've had a good season going. I'm proud of the guys for the way they've played all season. If we have an opportunity to win the conference, we're certainly going to take it. We're not going to back off. We're not going to say it's out of reach now. We have to get mentally prepared for Rhinelander in Rhinelander. It will be a tough matchup. It's something we strive for. It's something that we want to work toward. It's a goal of ours, but it's not the end-all, be-all."
Medford (9-6-3 overall) would've clinched a title tie at minimum with a win over the Eagles and for just over 40 minutes, it looked like the Raiders were on their way.
A handball call against Medford outside the 18-yard box, gave Northland Pines a direct kick and a good shot at scoring just 5:40 into the game. But Raider goal keeper Brady Hupf dove to his right to deflect the shot by the Eagles' leading scorer Liam Oas. Hupf made another stop on a long shot put on the goal by Pines 30 seconds later.
From there, Medford controlled much of the first-half action. At 15:32, Onyi Ekwueme dribbled around a couple of Eagle defenders and attacked the goal from the left side, beating keeper Colby Kruse with a shot that deflected off the post to put the Raiders in front.
Ekwueme scored his fourth goal in two games and his 12th of the season.
"Onyi's really shined the second half of the season for us," Bilodeau said. "We had some early success with AJ and Gage. They're spreading the wealth around. We don't have any selfish players on our team."
A foul called on Pines just outside the box at 33:05 gave the Raiders a direct kick, but Owen Wipf's attempted sailed a bit too high.
"It rained for probably about 10 to 15 minutes through the first half which made things that extra little bit slippery," Bilodeau said. "Touches needed to be that much better. Passes were flying for both teams. It was kind of a slippery mess. But we played phenomenally the first half. All week we were mentally prepared for this game and it really showed that first half."
Medford's play didn't really slip in the second half, but Pines, seemingly knowing their shot at a title was on the line, picked up its intensity in the second half, despite playing into the stiff east wind.
The Eagles got the play they needed at the 56:47 mark. Eagle Bjorn Luebke got his foot on an attempted clearing kick by the Raiders defense and kept the ball in front of the net about 20 yards out. As Hupf slipped trying to change direction, Oas got his foot on the ball and lofted a soft shot into the center of the net to tie it.
Both teams had a handful of chances after that, especially on corner kicks, but they were unable to get a go-ahead goal. Medford's last gasp, a solid 40-yard kick from Cooper Wild, sailed wide left with 35 seconds left.
Though it wasn't a loss, there was a look of disappointment in many Raiders' eyes, particularly among the veterans.
"You know there's good and bad," Bilodeau said. "There's guys that find that as a win, tying Pines. Then there's guys that wanted to win and think that a tie's a loss. I told the guys don't hang their head. A tie against Pines is a great day. It's a win in my book. We tied them 1-1 in Pines and we tied them 1-1 at home. It just shows the caliber of both teams. I think we played a really, really great game. Pines also played a great game. It was one of those games that was so close the whole time. The entire time it was just an intense matchup.
"I always tell the guys I'm happy but I'm not satisfied," he added. "So it's one of those things where I'm happy with our performance. I'm happy we walked out of here with a tie. But I'm not satisfied in that there's things we can work on. There's times where we could've scored goals. When they scored, we could've prevented that goal from going in. So how do we overcome that? How do we prepare for our next matchup at Rhinelander next Thursday?"
After tonight's game, it's on to the WIAA Division 3 post-season. Medford drew the number-two side in its 10-team sectional half-bracket and will host a regional semifinal Thursday, Oct. 24 against the winner of Tuesday's game between 10th-seeded Antigo and seventhseeded Amherst/Iola-Scandinavia at 7 p.m. The semifinal winner advances to an Oct. 26 regional final. Medford would host if it advances.