Posted on
ANOTHER 'GRATE' GAME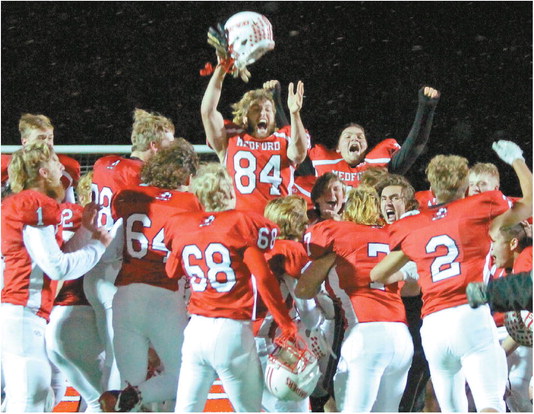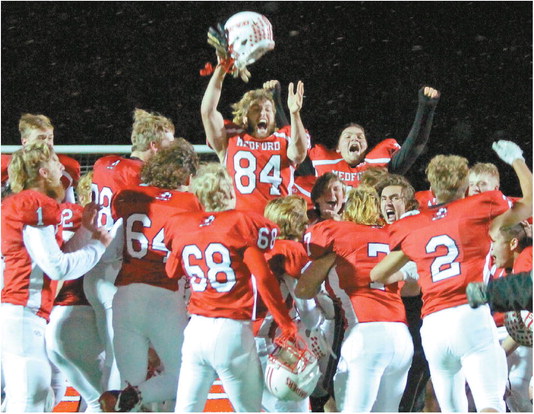 MEDFORD 35, MOSINEE 14
Raiders ride out Mosinee's air raid, win 35-14
BY MATT FREY
SPORTS EDITOR
Power football prevailed over precision passing football Friday night and, as a result, there will be two new additions to Medford's trophy case.
One, the Cheese Grater Trophy, isn't likely to be permanent, but the traveling rivalry trophy is in Medford's possession for at least the next year following the Raiders' 35-14 win over Mosinee at frigid Raider Field.
The second will be a Great Northern Conference championship trophy that is Medford's to keep after the team clinched at least a share of the league title while improving to 8-0 overall. Medford is a GNC champion for the fifth time in eight years and aims to complete the program's first perfect regular season since 2000 this Friday with a win at Merrill.
"I think the kids have done a really good job," head coach Ted Wilson said. "We're 8-0 and it's great to have a share of that conference title and obviously we don't want to share it. There's still work to be done. I truly believe and have told the kids a couple times now if they want a home playoff game we have to go 9-0."
For the most part, Friday's game played out as expected with Medford running the ball 72 times and Mosinee throwing it 42 times. Mosinee quarterback Trey Fitzgerald and his stable of receivers presented the Raiders with their biggest challenge of the season defensively. The Raiders allowed season highs of 284 passing yards and 325 total yards, along with the first 14 points the first-team defense has allowed.
But, all in all, the Raiders considered
See RAIDERS it a job well done.
"Our d-backs did a good job," said junior Peyton Kuhn, who played some linebacker but also moved outside and jammed receivers when needed. "We knew they were going to catch the ball, but we just needed to stop them from the big gains."
"One of the biggest things I was really worried about was them hitting a bunch over the top of us," coach Wilson said. "They obviously dropped the one that was over the top of us right away, but really they only had one other one that was really deep to (Cyle) Kowalski. Otherwise I think we held them fairly well as far as not allowing them to hit the deep ball over the top of us too many times."
The best defense also was Medford's offense, which only threw the ball one time in 73 snaps. Ean Wilson nearly matched the state record of 60 carries with his 57 rushing attempts. He piled up a careerhigh 311 yards and scored three touchdowns, while Emett Grunwald picked up 93 key yards in 13 attempts. Medford rushed for a season-high 409 yards.
"I'm not feeling it right now, but I'll feel it later when the adrenaline goes down," Ean Wilson said of his schoolrecord number of carries. "We were confi dent as always (in the running game). That's our bread and butter right there. If we can't run the ball, it's not as good. They have a dynamic offense. They throw the ball really well. They run routes really good. For us to be on the field as long as we could on offense was the best for us."
"I had no idea," Ted Wilson said of Ean's carries. "I guess I was just calling plays."
The only time the play calling didn't work was when Medford was called for penalties. A holding call helped end the Raiders' first drive on downs in Mosinee territory. A motion early in the fourth quarter was just enough to force a punt. Otherwise, Medford wasn't stopped.
"We rushed 70 times or whatever it ended up being and didn't have a single fumble," Ted Wilson said. "That's pretty impressive. It's great to have the 410 yards or whatever we had, which we knew we were going to need to do. But for us to handle that ball 71 times in the wind and all that stuff and not to have a single fumble is spectacular by all of our running backs."
After Medford's first drive was stopped on Mosinee's 20, the Raiders dodged a bullet when the Indians didn't quite connect on what could have been an 80-yard touchdown pass over the middle. The Indians punted and the Raiders went 65 yards in 12 plays with Ean Wilson cutting back for a 16-yard touchdown run that made it 7-0 with 2:29 left in the first quarter.
Mosinee got across midfield but its drive stalled when Medford blew up a fourth-down reverse. Grunwald, playing left defensive end forced the first handoff to take place 5 yards deep in the backfi eld, then Doug Way strung ball carrier Michal Dul all the way to the other sideline, dropping him for a 6-yard loss.
The Raiders went 58 yards in just six plays with Wilson getting an 8-yard score to put Medford up 13-0 with 10:00 left in the half.
Mosinee responded with a methodical 82-yard drive that ended with Fitzgerald's 1-yard score with 5:38 left that cut the lead to 13-7. The Raiders ground out a 62-yard drive that ended with Grunwald bouncing out to the left side for a 16-yard touchdown with 1:26 left. Wilson's twopoint run made it 21-7.
"Emett had 93 yards and did a great job," Ted Wilson said. "He doesn't probably get enough due. He's playing both ways and blocking every down and gets his 10 to 20 carries and does a great job every time he gets the ball. Emett's a good back."
The Indians drove into Medford territory again but turned the ball over on downs at the 35 with 12 seconds left. Mosinee's first drive of the second half covered 73 yards but stalled on downs at Medford's 9. The Raiders then marched 91 yards in 12 plays to extend their lead to 28-7. Wilson ran for 30 yards on the second play. He gained five on a fourth and three. Grunwald got 11 on third and five. Then, on third and 11, the Raiders found the perfect time to go to the air. The Indians bit as Kuhn took the snap and rolled briefly to his right. Grunwald was wide open on a corner route and Kuhn hit him for the touchdown with 2:49 left in the third quarter.
"That was awesome," Kuhn said. "I saw Emett and I knew it was in."
"It was like playing backyard football back in the day," Grunwald said. "I knew when I went out no one was going to be covering me because they all went for the run because we'd been running that 28 toss all the time. It was a corner route and I pretty much figured Peyton was going to throw it to me because he likes to throw the deep ball."
Another key play call late with Medford leading 28-14 helped seal the win. On fourth and two from the Raiders' own 29 with five minutes to go, Ted Wilson went for it and Ean Wilson got 9 big yards behind the right side of his offensive line. The Raiders went on to bleed off all but 20 seconds from what remained on the clock, scoring on Wilson's 2-yard run.
"I guess there's a confidence thing there that they hadn't stopped our shortyardage play all night for less than 3 yards," Ted Wilson said. "The thought process was we were up 28-14, up by two scores, and they had just marched down the field on us and I thought, man if we give them the ball back now and they go down and score, they're going to have a lot of time. What's the difference between me going for it here and them getting the ball back on a shorter field, which might actually be to our advantage a little bit? It's not as much space for them to throw it as opposed to punting and giving them the whole field to work with. And I thought if we got it, we were going to grind out the time left and we did."
"We gotta get it," was Ean Wilson's thinking on the play. "If we don't get it, then they're going to get that ball and they could score. We just need to get it and keep the time rolling. I trust my offensive line. I expect for them and I trust them to do their job and they've done it well so far."
After the game, the Raiders got their hands for the first time on the Cheese Grater Trophy, which debuted last year, and celebrated their eighth win of the year, a number Medford hasn't reached since 2012.
"I'll always remember that forever," Ean Wilson said. "The Cheese Grater. It's new and it's cool."