Posted on
An Outdoorsman's Journal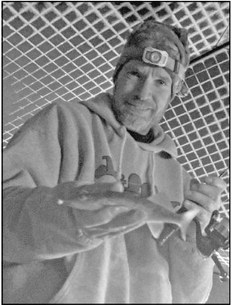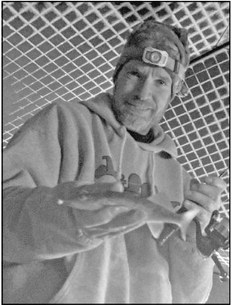 An Outdoorsman's Journal
-
By Mark Walters
A New Playground
Hello friends, My daughter, Selina Walters, is a freshmen at UW-Stevens Point, majoring in fisheries and aquatic sciences, and a few other areas in environmental sciences. Selina does not come home very often; I will not see her for spring break and there is a strong possibility she will take a job this summer, that will keep her from coming home.
Every winter, since Selina was three, we have gone on a winter camping and ice fishing trip, and I did not want that streak to end.
So, this past February, I did some research in the Stevens Point area, and discovered the Wisconsin River Flowage, which borders northern Stevens Point, covers a couple thousand acres, and has endless possibilities for winter and summer adventures.
Friday, Feb. 28 • High 27, Low 13
Lakeside Bar is a very cool bar that is family-owned, right on the water and I was able to drive on the ice from the property. Selina met me here, we parked her car at Lakeside and, as usual, I think she was just as excited to see her two buddies, Fire and Ruby, as she was me.
Before this trip, I had spoken with a couple locals on where to set up camp on the ice and how to fish it, and fortunately, there was enough ice to drive my pickup on it.
Before I go any further, I want to say that in the 31 winters I have written this column, I have never witnessed a winter where it is so tough to catch fish and in a week's time, I speak with a lot of fishermen. This would be my fifth ice fishing trip of the winter and none have been easy when it comes to catching fish.
So, Selina and I put out five tip-ups for walleye, and let me tell you, the scenery here is pure adventure, with islands, large bodies of water and channels everywhere, and as crazy as it sounds (even 48 hours later), next to no people on the ice.
Next, we set up camp, which is a really big job, but in the end, we have a heated cabin on the ice, with a kitchen, gas lights, heat, two cots and new this year, a carpeted floor.
Just before dark, I jigged for anything that might be hungry and with her pups by her side, Selina did what would in the end, be hours of homework.
Long after dark, I cooked steaks and life was good.
Saturday, Feb. 29 • High 36, Low 21
At first light this morning, I was jigging in the shack, I marked a fish, it hit my jig and I caught it.
My trophy was a 6-inch walleye and as crazy as it sounds, would be the only fish we caught all weekend.
It's a good thing my stepson/Selina's brother, Joey Dushek, came to camp today, because my truck was a little stuck in a deep crusty snow. Joe was ready to catch some walleye and along with his golden doodle, Pike, enjoy a night on the ice.
All of us getting together for a night, was all that really mat- tered.
We visited a couple times with our neighbor on the ice, "Chubby," who uses all tip-downs and has a camper for a shack that has a woodstove in it. Chubby is a cool dude who can fish alone and he gave us hope that we should be able to catch a walleye.
In every conversation I had with fisherman this weekend, I was told about how slow fish catching was this winter, but that this flowage is an excellent fishery in the open water season.
Because Selina might spend the summer working in this area, I dreamt up an idea of camping on the islands, swimming, fishing and hanging out here.
I could even see getting to know the folks who hang out at Lakeside Bar, because they seemed so cool and down to earth.
In my dream world, I have a duck hunting plan, where Selina could do a couple simple hunts. I hear that there is a solid musky population and trolling for walleye would be very cool.
Most important, would just be simple get-togethers, where we swim, watch the sunset, have campfires and enjoy life.
Thanks for reading!
Sunset