Posted on
Lake Holcombe kids get ideas of future careers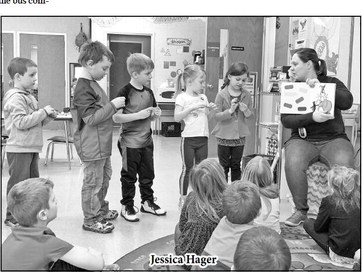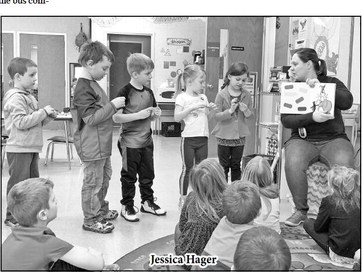 Giving Lake Holcombe kindergarten students a taste of what adults do, Becky Omtvedt's class heard from guest speakers Feb. 17-21, and Feb. 24-27. The guests talked about what their job entails, how it is done, and whether or not they like what they do.
Katelyn Omtvedt, with Blue Diamond Family Dental, talked about being a dental assistant and how to take good care of teeth. She also gave each student a new toothbrush, toothpaste and floss.
Also speaking to the class, was Jessica Hager, Lake Holcombe School nurse, who talked about what a nurse does and how to stay healthy. As part of her talk, she let the students listen to each other's heart beat with stethoscopes.
Amanda Crabb and Courtney Riel from Prevea, talked about being a nurse practitioner and medical assistant in family medicine. They showed some of the tools they use and gave each student a coloring book, "Going to The Doctor."
Students were also paid a visit by Chippewa County Conservation Warden Kevin Christorf, who talked about his job, and let the students see and feel animal pelts.
Mary Kostka and Julie Braden, Lake Holcombe School cooks, gave a behind-the-scenes tour of the kitchen and how breakfasts/lunches are made. During the tour, the students were treated to a fresh-from-the-oven cookie as a treat.
Talking about being a bus driver, Shelley Lee of Gilbertson Transit, took the class on a mini-field trip to the bus company. Paul Gilbertson, owner of Gilbertson Transit and Hands On CDL Driving School, talked about his job taking care of the buses and teaching students to drive "big rigs." He also showed the kids lots of neat tools and let them explore the inside of a sleeper cab semi.
Finally, Ginna Young, reporter/photographer at the Courier Sentinel, explained what it takes to put together a newspaper and what her job is at the paper. Students had a good laugh when she described the huge rolls of blank newspaper that are hooked up to the press machine to be printed, as looking like rolls of toilet paper.
Jessica Hager
Mary Kostka
Amanda Crabb & Courtney Riel Katelyn Omtvedt
Kevin Christorf
Ginna Young Paul Gilbertson