Posted on
Marathon school board approves therapy dog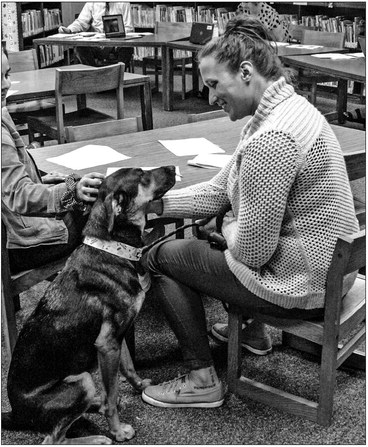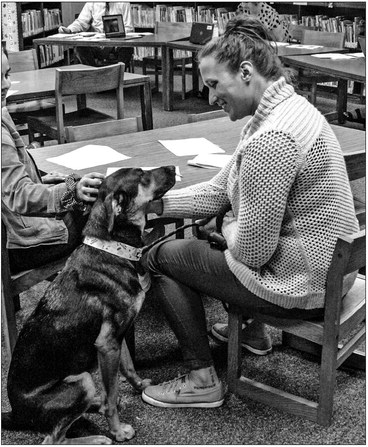 Students will be shown video on canine etiquette
The Marathon Board of Education last week Wednesday agreed to have a therapy dog at Marathon Area Elementary School (MAES)/Marathon Venture Academy (MVA).
The dog is Eva, a one-year-old German Shepherd, owned by school guidance counselor Emily Altmann.
In a presentation to the board, Altmann said the certified therapy dog will be available to help students deal with anxiety and stress, but will need to be at her side during the school day.
The counselor said the dog has been temperament tested and will lay down when confronted by a human's emotional outburst. Altmann said the dog will be bathed with anti-dander shampoo frequently to minimize shedding in the school building. Students will be encouraged, however, to wash their hands after petting Eva, she explained.
Altmann said the canine is up-todate on her vaccines. Altmann's personal insurance, she said, will be available for any incident where someone at school would be bitten or scratched.
The counselor said parents will be notified about the dog and they can opt-out their child from contact with the animal, if requested.
Students will be shown a short video on "dog etiquette" and the proper way to interact with the therapy dog, she said.
School board president Jodi DeBroux called the therapy dog a "wonderful" addition to MAES/MVA.
In other board business:
n School board members agreed to get additional information about having SiteLogiq, Minneapolis, provide a comprehensive analysis of Marathon Public Schools facilities. The school board may undertake the review either on a price per square foot basis or, alternatively, for free as long as the business is used for engineering services in a next building project.
Two company representatives, Tom Onsager and Blake Peuse, both former school superintendents, told school board members that their company would evaluate all aspects of school facilities with an eye to improve academic performance. The firm would analyze building infrastructure, student and teacher comfort, lighting, acoustics and air quality. They said their firm would deliver a multiyear, prioritized facilities maintenance proposal.
The representatives said their aim was to be a long-time professional consultant to the school district, not a "one and done" contractor.
n Summer school principal Connor Ellenbecker reported on a successful summer session with 350 students. He said the district taught 22 full-timeequivalency students, three less than last year. Ellenbecker said the school could not offer as many courses as was planned due to a staffing shortage during a second July session.
Ryan McCain, principal at MAES/ MVA, said staff was "on the fence" whether to offer summer school in July next year.
School board member Lia Klumpyan said she understood the staffing challenge of having a July summer school, but that parents appreciated having a second summer session.
"There will be parents not happy if we don't do July," she said.
n Board members approved a 2023 property insurance contract with EMC. Board members agreed to higher deductibles in order to moderate an increase in premiums. This year, the district will spend $74,861 on property insurance. Premiums for the same coverages were pegged at $91,587. With the higher deductibles, premiums were moderated at $88,564.
Administrator Rick Parks said the higher insurance costs follows the inflated costs of replacing building facilities and equipment.
n Administrator Parks announced there will be no mid-day public use of the Marathon High School fitness center. He said the reason was high student use of the center.
Public use of the facility will be limited to 4:30 a.m. to 7:30 a.m. and 5-10 p.m.
n Board members hired Jenna Ray Kurtzweil as a MAES/MVA teacher's aide.
n It was announced the Marathon High School pep band will join the Edgar High School pep band to play at a Milwaukee Bucks game, as they did last year.
There are 20 students in the Marathon High School Band, five more than last year.
n Marathon High School principal David Beranek reported that there were "numerous violations every day" of the student dress code, but that, following a letter sent to parents, there is better compliance than last school year. He said the biggest offenses were shorts that are too short and students wearing hoods on their head. Beranek said most students follow the code after a single conversation.
"I like the fact that you are putting a little emphasis on this," said school board member Lia Klumpyan.