Posted on
Baldwin touts infrastructure bill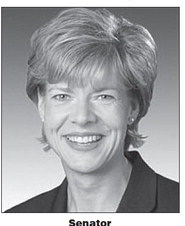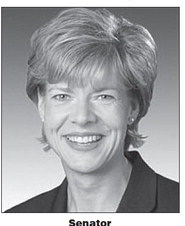 Senator argues U.S. legislation will help northern Wisconsin
Senator Tammy Baldwin (D-WI) said in an interview on Thursday that a $1.2 trillion Infrastructure Investment and Jobs Act would help northern Wisconsin communities deal with lead water service pipes, climate-related road wash-outs and floods and getting PFAs "forever chemicals" out of drinking water supplies.
The senator, in a press event that included Democratic Party chairman Ben Wikler and Rep. Gwen Moore (DMilwaukee, did not announce a timetable for distributing the funds, but said the legislation would pay for infrastructure needed to help northern Wisconsin regain its "economic edge in the global economy" over the next eight years.
Baldwin said the federal legislation would bring relief to various communities in northern Wisconsin:
_ Peshtigo and Rhinelander, which has to deal with lead pipes in those cities' waterworks.
_ Communities in Douglas and Ashland counties that have suffered climate-related road disasters after torrential rains.
_ Saxony Harbor in Iron County which saw its marina flood as a result of climate-related severe weather.
Baldwin said federal rules in the past have only allowed communities to rebuild after floods, but not to put in place protections for future flooding events.
"We are going to change that," Baldwin said. "Resiliency is incredibly important."
The White house has estimated Wisconsin will receive these amounts as a result of the approved legislation:
_ $5.2 billion in highway aid and $225 million for bridge repairs.
_ $592 million for public transit support.
_ $79 million for electric car charging stations.
_ $100 million for expanded broadband.
_ $841 million for clean drinking water.
_ $198 million for airport projects. The senator said the bill will require components for public works projects to be made in America and support the national economy.
"No longer will we have bridges with steel made in China," she said. "I am so proud to deliver these results to Wisconsin."