Posted on
Edgar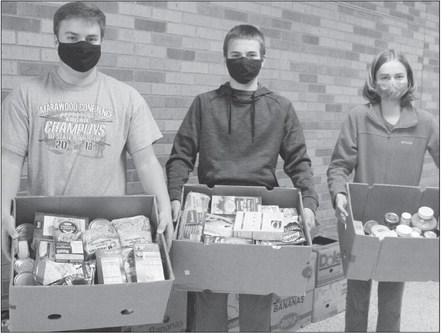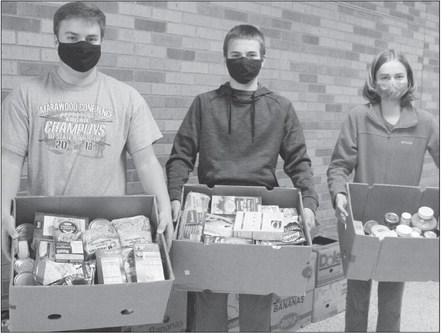 COMMUNITY LIVING
Send Edgar news to: [email protected] phone: 715-223-2342 fax: 715-223-3505 P.O. Box 677 103 West Spruce Street Abbotsford, WI 54405 On campus
Lydia Myszka, Edgar, has been named to the 2020 fall semester dean's list at St. Norbert College. A minimum 3.5 grade point average is required for academic eligibility.
High school honor roll
Edgar High School has reported its first quarter honor roll for the 2020-21 school year.
Highest Honors (4.0)
Seniors: Rachel Brewster, Kaden Goodwin, Drew Guden, Makenna Guden, Jaxson Kurtzweil, Deirdra Pilgrim, Austin Seubert.
Juniors: Owen Baumann, Everet Brehm, Isabella Huehnerfuss, Lydia Huehnerfuss, Skylee Manecke, Samantha Myszka, Valerie Myszka, Ashton Schuett.
Sophomores: Olysta Baumann, Reagan Borchardt, Gretchen Brewster, Kendalyn Dahlke, Ashley Erickson, Carver Higgins, Natalie Krause, Alexa Lang, Laura Lepak, Ella S. Morse, Rachel Schneider, Morgan Schnelle, Ethan Sondelski.
Freshmen: Brett Baumgartner, Cael Higgins, Brooke Imhoff, Emily M. Murkowski, Autumn Schreiner, Teegan A. Streit, Makayla Wirkus, Maycie Yonker.
High Honors (3.5-3.99) Seniors: Jasmine Schnelle, Korbyn Bauman, Kane Lipinski, Olivia Urmanski, Ronald Knetter Jr, Kyle Brewster, Caylee Weiler, Austin Dahlke, Maxmilian Larson, Cole Schilling, Brady Lemmer, Kaitlyn Streveler, Brayden Baumgartner, Harry Fehlhaber, Hailey Fahey, Jacob Kolano, Konnor Wolf.
Juniors: Alexander Thompson, Ayden Weisenberger, Malia Hoesly, Jaxon Graveen, Sasha Huehnerfuss, Wade Schwoerer, Jordan Bunkelman, Peyton Dahlke, Austin Fahey, Karlin Lipinski, Kylie Miles-Kroening, Ashton Gollubske, Rebecca Hagen, Daniel Lepak, Parker Schutte, Stetson Lemmer, Deja Mroczenski.
Sophomores: Colin Mellenberger, Katrina Mata, Amber Skrzypcak, Leah Davis, Kira Slack, Sondra Pilgrim, Brady Stencil, Jessica Mucha, Avery Normington, Brooklyn Schwoerer, Justin Davis, Kylie Mueller, Melani Landwehr.
Freshmen: Karter Butt, Preston Dahlke, Kirsten Ehrike, Morgan Streveler, Jade Tarter, Malana E. Koehler, Corey Schilling, Alexis Schara, Valerie Czech, Kloie Radke, Natalie Thompson, Kohlbe Weisenberger, Harrison Graveen, Elizabeth Woller, Marcus Huehnerfuss, Genevieve Larson, Shelby Dvorak.
Honor (3.0-3.49) Seniors: Olivia Kamin, Devanne Berry, Nicholas Dahlke, Carter Murkowski.
Juniors: Haylee Schlichting, Rakel Mata, Blake Tarter, Jesse Jisko, Jace Kohel, Logan Gagas, Kalvin Kingsley, Sophia Larson, Haylee Schreiber.
Sophomores: Payton Thornton, Xavier Genrich, Benjamin Kraft, Keghan Hartway, Gabriel Reisner, Carson Furger, Dakiah Duberstein, Morgan Gagas.
Freshmen: Erica Socha, Mackenzie Quirk, Amelia Gajewski, Jang Mi Landwehr, Jazmin Landwehr, Autumn Christianson, Meygan Dahlke, Zachary Krause, Kyra Anderson.
Middle school honor roll
Edgar Middle School has announced its honor roll for the first quarter of the 2020-21 school year.
Highest Honors (4.0)
Eighth grade: Emery Borchardt, Tegan Knetter, Isaac Reemtsma, Emma Riehle, Carlie Stahel, Addisyn Trawicki.
Seventh grade: Samantha Schmidt, Tucker Streit.
Sixth grade: Carson Nowak, Levi Seliger, Caius Higgins, Samantha Schneider.
High Honors (3.5-3.99) Eighth grade: Aubrey Behling, Chet Severson, Mia Stencil, Alyson Kolano, Blaze Radtke, Elijah Slack, Fletcher Weiland, Colby Schwoerer, Kendra Mucha, Riley Mueller, Jase Apfelbeck, Emma Hartway, Austin Schreiber, Chloe Mellenberger, Avery M. Maurer.
Seventh grade: Kaitlynn Hartnady, Darin Iczkowski, Alex Schneider, Micah Schulz, Gavin R. Mauer, Wade Kohel, Ella Baumgartner.
Sixth grade: Wyatt Klockziem, Kennen Vanornum, Makita Ellenbecker, Tyler Schmidt, Sawyer Weiland, Naquene Ellenbecker, Jorja Knetter, Jace Duranceau, Natallya Radke, Rylee Heil, Anthony Trawicki, Hailey Schreiner.
Honors (3.0-3.49) Eighth grade: Dakota Ellenbecker, Tyler Murkowski, Laura Davis, Zander Chenier, Brock Mauer, Kasen Ristow, Alaina Singkofer, Evan Lentz Ort, Lillian Schroeder, Leyton Schuett, Ashlynn Baeseman, Corey Koeppl.
Seventh grade: Callie Behling, Maverick Butt, Dillan Sondelski, Preston Erickson, Addyson Nowak, Abigail Drabek, Angelina Mckibben, Mya Quirk, Savannah Koepke, Lucas Stahnke, Deagon Pilgrim.
Sixth grade: Kaden Bargender, Izach Myszka, Reid Kohel, Isaac Socha, Laura Mucha, Delayna Noller, Samuel Dahlke, Koltyn Schraufnagel, Alyssa Kolano.
St. John's honor roll
St. John the Baptist Catholic School, Edgar, has announced its honor roll from the first quarter of the 2020-2021 school year.
Highest Honors (4.0 and Higher) Claire Braunel, third grade, Jenna Hafferman, sixth grade, Isabella Kaiser, sixth grade, Katelyn VanDerLeest, third grade, Madilyn Wendtland, eighth grade.
High Honors (3.50 - 3.99)
Elizabeth Bergs, fourth grade, Rosalyn Bergs, seventh grade, Brody Burke,eighth grade, Rachel Burke, sixth grade, Isla Conway, third grade, William Hackel, eighth grade, Abbigail Halama, fifth grade, Isaac Halama, eighth grade, Amelia Kaiser, third grade, Madelyn Jacobs, fifth grade, Eli Lepak, sixth grade, AliMae Martin, third grade, Cecilia Mills, fourth grade, Daisy Pospyhalla, fourth grade, Elliana Wendtland, fourth grade, Lily Wozny, third grade, Norah Wozny, sixth grade.
Honors (3.00 - 3.49)
Skye Pospyhalla, seventh grade, Ty Schnelle, eighth grade, Siara Schroeder, fifth grade, Spencer Wendtland, fifth grade and Alexander Woller, fifth grade.
Coin drive
A 4K-grade 12 coin drive at Edgar Public Schools has netted $1,816.32 that will be used to purchase Christmas gifts for local children. The project was spearheaded by the Edgar Middle School Student Council and the Edgar High School National Honor Society.
Feeding families
The Edgar Public School kitchen staff will hold its fifth annual food drive to feed families in the Edgar community.
Students are encouraged to bring food items and place them in a box in the school cafeteria. Highly recommended donations include cereal, Pop-Tarts, oatmeal, after school snacks, granola bars, crackers, dinner items, Manwich, spaghetti sauce and noodles.
The Edgar Public School kitchen staff plan to assemble a dozen food baskets for local families. The staff will donate turkey roasts to families in need.
Wellness center
Edgar Public Schools has announced new December hours for community use of its wellness center.
The facility will be open Monday through Saturday. The Monday through Friday community use hours are 4-5 a.m. (with everyone out by 5:45 a.m.) and 8:30 a.m. to 9 p.m. (with everyone out by 9:30 p.m.). Saturday community use hours are 6 a.m. to noon (with everyone out by 12:30 a.m.).
The wellness center will be open on Thursday, Dec. 24, and New Year's Day from 6 a.m. until noon.
Book babies
The Marathon County Public Library is currently taking registration for Book Babies that will be offered every Monday morning starting in January 2021. The program offers stories and more for little ones under age two and time for parents and caregivers to socialize.
Unlike the virtual story times, Book Babies will be conducted through Go-ToMeeting and will be interactive. Songs and rhymes will be geared towards little ones under the age of two with a caregiver. Leaders will read books, sing nursery rhymes, and more for about 20 minutes. Afterward, there will be time for caregivers and babies to see and speak with each other.
These weekly events are free to attend. Go to https://www.mcpl.us/ events/10286#event-10286 to register for Book Babies.
Santa for Seniors
Edgar Elementary School hopes to present residents in local assisted living housing with a wrapped gift for Christmas as part of a Santas for Seniors program. This gift is in lieu of an in-person visit during the COVID- 19 outbreak.
Elementary school classrooms will be collecting gifts for the seniors. Possible gift ideas include large print books, crossword puzzle books, puzzles, body soap, shampoo, playing cards, board games, dish towels, blankets, socks, picture frames, writing and art supplies, magazines.
Christmas Mass
St. Johns the Baptist Catholic Church, Edgar, has announced it will hold extra Christmas Masses at the church and at a sister parish Holy Family Catholic Church, Poniatowski. The Christmas Eve Masses will be held at 4 p.m. and 6 p.m. at St. Johns and at 8 p.m. at Holy Family. Christmas Day Masses will be held at 9 a.m. at St. Johns and 10:30 a.m. at Holy Family.
The extra Masses are to accommodate social distancing at the two churches due to the COVID-19 pandemic.