Posted on
from agriculture on the farm. ….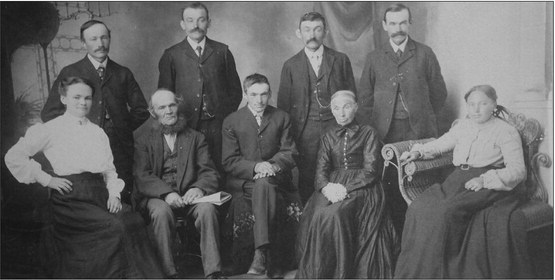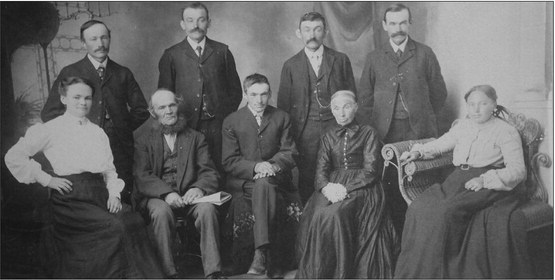 from agriculture on the farm. He lives there with his wife Penny, who works at Marshfield Clinic, Marshfield, and two daughters, Reagan, a sophomore at Edgar High School, and Emery, an eighth grader at Edgar Middle School. The family owns 180 acres and crops another 320 acres on rented ground.
The farm produces milk, sold to the Nasonville Dairy cheese factory, Marshfield, along with corn, soybeans and small grains.
The farm started on Jan. 2, 1870. That was the day that Johann and Albertine Borchardt purchased 40 acres from the U.S. Government for one dollar. The pioneers came to central Wisconsin from Pomerania, the region sandwiched between Poland and Germany.
"When they came here, it was all woods," said Jason. "This all had to be logged off."
He suspects his great-great-grandfather found a local timber baron to harvest the native pine and hardwood forest, leaving the stumps to be pulled. Unfortunately, Johann did not also remove the stones in the rocky ground.
"We are very blessed with stones," said Jason Borchardt in a tongue-andcheek remark. Borchardt said the cleared land turned into excellent farmland. "Half of the land is on split-rock," he said. "It drains so easily. You can get five or six inches of rain and go on with a tractor in no time. Of course, the crops really suffer if you don't have rain."
The original Borchardt farm (1870-1913) was a dairy. It had 12 cows. The animals lived in an 80 by 40 barn built with hand-chiselled beams. The farm also had pigs and chickens.
"That original part of the barn still stands," said Jason.
The original farm owners helped create the rural Wien neighborhood. They were co-founders of St. John's Lutheran Church, located down the county highway.
Life in the early days, Jason said, was not so easy. The village of Edgar did not have a store. That meant the family had to travel to Marathon City for essential foods, such as bread and sugar, and then further by cart and oxen in a two-day trek to Stevens Point for major provisions.
Johann and Albertine Borchardt had three sons, Henry, August and John. It was Henry, Sr. and his wife, Ottilie, who took over the farm in its second generation (1913-1946). The farm stayed at 40 acres, but the dairy herd increased to 18 cows.
The couple's son, Henry, Jr., owned the farm in the third generation (1946-1993).
The next owner would be Jason. His father, Lowell, served in the Mediterranean during the Vietnam War, and, when he returned, purchased a different property in Wien township.
Jason recalled his grandfather Henry, Jr., telling him that he planned to sell the farm outside of the family unless he, as an 18-year-old, wanted to buy it.
"I had just graduated from high school," he said. "It was a big decision for an 18-year-old. I don't regret it, although you always wonder."
Jason took over the herd, the barn and his grandfather's 1949 Farm M International tractor. "I still use that tractor every day," said. "I put 20,000 hours on that machine until I had it overhauled."
Jason said he also continues to use a forage blower that his grandfather purchased from Arden Baeseman at Baeseman Machinery, Edgar, at half-price because it fell off the train.
"I love that blower," he said.
Women on the farm
Penny Borchardt, along with the family's two daughters, said they appreciate living on one of the last pioneer dairies left in Marathon County.
They pitch in with farm chores the best they can.
"I think I do quite a lot," Penny said. "It's a lot of work for one man. I'll bale hay and work in the barn."
The two girls do their part. "I scrape pens, feed calves and cows," said Reagan. Emery said she has the same tasks.
The pair enjoy cross country skiing on the farm's 80 acres of woods and to take their two dogs for walks.
The two said that very few of their classmates live on farms and have responsibilities to take care of animals.
Reagan said the chores do develop character. "I think I am becoming a better person living on a farm," she said. "The city kids play Xbox after school when, after sports, we are in the barn for three hours."
How to survive
Jason Borchardt said staying in the dairy business is no easy task, but, with a plan, it can be done.
He credits keeping old machinery and maintaining a relatively low milk herd average as keys to his success.
"So many farms these days talk about 30,000 pound rolling milk averages, but, at that pace, you are burning out a cow in a year and one half," he said. "My cows last five or six years. That's how I keep going."
Borchardt said he's watched many small family farms sell-out over the years. The farm scene in the county is totally different than it was a mere 20 years ago, he stated.
"There are not a whole lot of farmers left," he said. "The landscape has changed dramatically."
Borchardt said he's frustrated with politicians arguing over subsidies paid to farmers. "We want a fair price, not subsidies," he said. "Of course, everybody gets subsidies, including cheap food. That's how I look at it."
The farmer said milk processors have increasingly got the upper hand in setting milk prices. In the past, farmers could always switch milk plants in search of a better price. But the number of cheese plants has dwindled, too, reducing the competition for milk.
Still, Borchardt said, for all of the work, stress and strife, he's happy he's been able to keep his family farm afloat as a dairy farmer.
"People say that I'm crazy, but I've been doing this for a long time," he said. "It's a noble occupation, I think."