Posted on
'Cats rebound to beat Tigers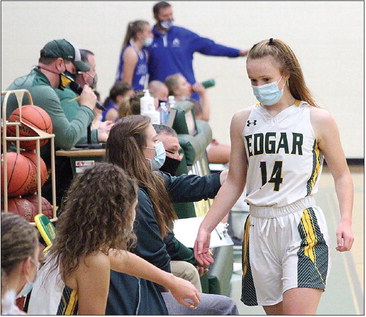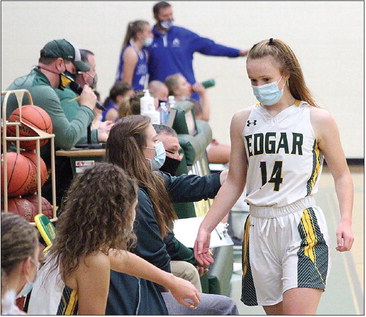 GIRLS BASKETBALL TEAM PREVIEW
Edgar honors former coach during halftime
By Casey Krautkramer
The Edgar varsity girl's basketball team achieved a big home win against Stratford on Tuesday, after suffering a tough home loss to Wisconsin Rapids Assumption in the season-opening game on Nov. 24.
The Wildcats took a 22-18 lead at halftime against the Tigers on Tuesday. Edgar girls basketball players and coaches honored former head coach, Betty Urmanski, during halftime for her 17 years of dedication to the Edgar High School girls basketball program. Urmanski retired from coaching after last season. Edgar High School principal Tom McCarty is the new head coach this season.
The halftime dedication for Urmanski fueled Edgar's team to outscore Stratford, 30-23, in the second half for a 52-41 win against the Tigers. Edgar senior Makenna Guden, junior Malia Hoesly and sophomore Reagan Borchardt accounted for 49 of the team's 52 points against Stratford. Guden led the Wildcats with 21 points, while Hoesly added 17 and Borchardt 11. Sophomore Morgan Schnelle was the only other Edgar player to score with three points.
Guden slightly improved her overall shooting percentage against Stratford, by making eight of her 23 shots for 35 percent. She shot a dismal 24 percent on four of 17 shooting in Edgar's 40-34 loss to Assumption. Borchardt led the Wildcats with 12 points against the Royals, while Guden added 10. Hoesly chipped in seven points and Schnelle had four. Guden did swipe nine steals, which turned into easy fastbreak points in the win against Stratford. Schnelle added six steals, and Borchardt paced the team with 10 rebounds in the victory against the Tigers.
Edgar is currently playing without junior starter Skylee Manecke, who was a key contributor for the team last season. Manecke is sidelined with a shoulder injury until January of 2021, which makes things challenging for new head coach McCarty.
"It does hurt to not have Skylee right now but our young kids did a great job stepping up against Assumption," he said. "Our team played really hard and unfortunately had a threeminute stretch where we broke down a little bit and Assumption was able to separate just a little bit from us in the game."
Junior Karlin Lipinski is another key returner for Edgar this season. McCarty expects sophomores Amber Skrzypcak, Olysta Baumann and Leah Davis, and freshman Makayla Wirkus to also make key contributions to the team.
Guden, meanwhile, is attempting to become the leading overall scorer in Edgar High School girls basketball history. Last season, she became the first junior in Edgar girls basketball history to reach the 1,000-career points milestone. McCarty, however, said Guden is more than just a great shooter.
"Everyone knows Makenna can really shoot the basketball and it helps her set scoring records, but what not everyone sees is how relentless she works," he said. "She plays both sides of the ball, which gives her a wide variety of opportunities to score. She also cuts and moves well without the ball to set herself up for open shots. It's her strong work ethic and drive that'll help her continue to develop as a scorer and leader of our team."