Posted on
Committee balks at letter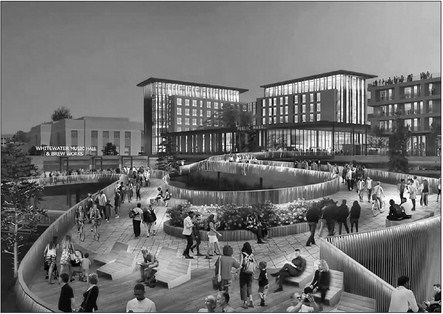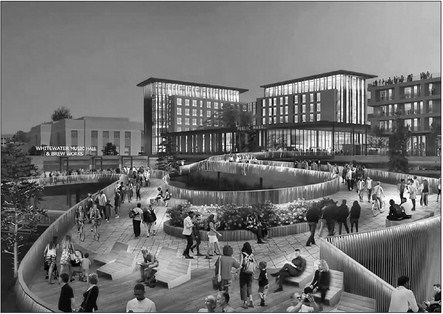 Supervisors question Tax Incremental District donation funding proposal
The Marathon County Executive Committee on Friday postponed a decision over whether to sign a letter endorsing a Wausau Center mall redevelopment project, pending talks with representatives of two supporting organizations, the Greater Wausau Chamber of Commerce and Greater Wausau Prosperity Committee.
In the project, the City of Wausau would spend $3.5 million to bulldoze the majority of the 365,000 square foot, 36-year old indoor mall and replace it with 800,000 square feet of mixed use development, including apartments, retail, commercial office space, a year-round farmer's market and arched pedestrian walkway connecting downtown Wausau to the Wisconsin River.
Dave Eckmann, executive director for the Greater Wausau Chamber of Commerce, and Chris Ghidorzi, spokesman for the Greater Wausau Prosperity Committee, summarized the project for county supervisors.
They said the demolition of the mall would be financed by transferring money from a successful Tax Increment District (TID) No. 7 on the city's west side to a new mall redevelopment TID No. 12.
Eckmann said the project was needed because the 1984-vintage mall was "virtually dead" with only 14 percent occupancy.
Ghidorzi said the project would be an example of "placemaking" that would help attract innovative businesses and new talented workers to Wausau and "unlock the potential" of both the city and county.
The city proposal was met with skepticism by Executive Committee members.
County board chairman Kurt Gibbs, town of Cassel, said he had been asked by citizens why taxpayers should support donation of the $3.5 million from TID No. 7 to TID No. 12.
Neither Eckmann nor Ghidorzi directly answered Gibbs' concern. They said the mall redevelopment effort would be a "public private partnership," like the YMCA and Riverlife projects, that would "move the community forward."
Supervisor John Robinson, Wausau, said municipalities support Tax Incremental Finance (TIF) projects because, realizing new construction, they are able to get around levy limits and raise local property taxes. The supervisor asked if the Wausau Chamber of Commerce and Greater Wausau Prosperity Committee would be willing to renounce levy limits in exchange for the county agreeing to the TID No. 7 to TID No. 12 transfer.
Both Eckmann and Ghidorzi said they could not speak for the organizations they represent, but they would be happy to take the request back to their respective boards.
"I would be happy to get involved with that," said Ghidorzki.
Chairman Gibbs said he supported discussion of Robinson's concern. "I would welcome that," he said. Other supervisors said they needed more information about the mall redevelopment project in order to make an informed decision. Supervisor Matt Bootz, Wausau, said, for example, he wanted to see a copy of the letter the county would endorse before voting on the request for support.
"I'm not against doing something for downtown," he said. "I just want to see the letter."