Posted on
Stratford starts CWC-Large play Friday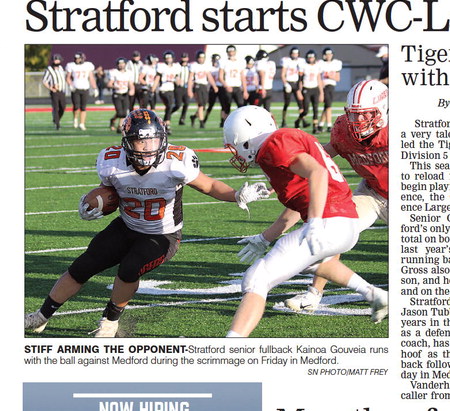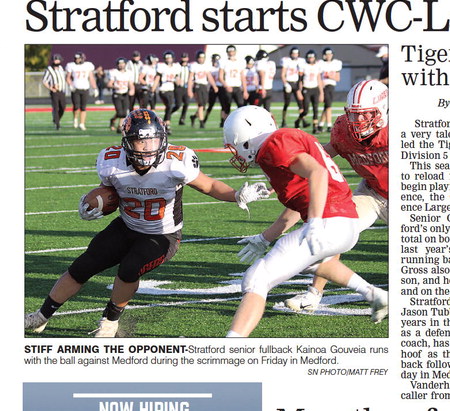 Tigers to battle with Chargers
By Casey Krautkramer
Stratford's football team graduated a very talented class of players who led the Tigers to back-to-back WIAA Division 5 state runners-up finishes.
This season, the Tigers are hoping to reload instead of rebuild as they begin playing in a new football conference, the Central Wisconsin Conference Large (CWC-Large) this year.
Senior Colten Schillinger is Straford's only returning starter out of 22 total on both offense and defense from last year's team. Schillinger plays running back and safety. Senior Beau Gross also ran the ball some last season, and he'll suit up at running back and on the defensive line this year.
Stratford head varsity football coach Jason Tubbs, who's spent a total of 17 years in the Tigers' football program as a defensive coordinator and head coach, has named senior Max Vanderhoof as the team's starting quarterback following its scrimmage on Friday in Medford.
Vanderhoof takes over as signal caller from Max Schwabe, who was a senior last season. Vanderhoof's first varsity start as the team's quarterback is at 7 p.m. this Friday, Sept. 25, when Stratford begins its conference season at Wittenberg-Birnamwood.
Top newcomers to the Tigers' varsity football team who'll see playing time this season are seniors offensive and defensive linemen Hunter Ford and Adam Lieders; juniors Noah Barrett, offensive lineman and linebacker; Elijah Lucio, wide receiver and defensive back; Raife Smart, wide receiver and defensive back; Zach Seitz, offensive and defensive linemen and Dane Poppy, offensive lineman and linebacker.
Stratford will play against some tough opponents in the CWC-Large including Spencer/Marshfield Columbus and Amherst. Stratford beat Spencer/ Columbus two years ago on a cold and snowy field in Medford to advance to the state championship, and last season defeated Amherst at DC Everest to advance to the state title game for the second straight season.
"We are excited to play football with the current news and also excited to compete in our new conference, but we are nervous with the long bus rides and new procedures to prevent contacting the coronavirus," Tubbs said.