Posted on
Raiders ready to roll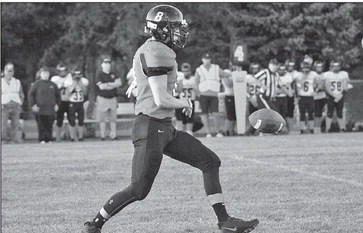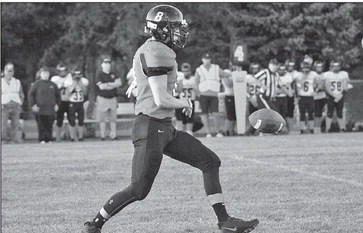 FOOTBALL PREVIEW
Ryan Winkler wants to see Marathon's High School football program continue striving to improve, as he begins his third season as the Red Raiders' head varsity football coach.
Marathon was supposed to play its 2020 season-opening game this Friday night at Owen-Withee, but the Blackhawks canceled their varsity football season because of low numbers of players out for the sport. Now, Marathon has moved up its Oct. 9 home game against Omro to 1 p.m. this Saturday, Sept. 26. The Red Raiders' junior varsity football team plays at 10:30 a.m. on Saturday against the Foxes in Marathon followed by the varsity game at 1 p.m. Omro's football team was originally scheduled to play a road game against Abbotsford this Saturday, but that game was cancelled because of an outbreak of positive COVID cases among Abbotsford High School students.
Marathon's varsity squad returns five players on offense and six on defense this season. Senior Michael Hahn is Marathon's leader and most experienced player back this season as a third-year starter on the offensive and defensive lines. Coach Winkler praises his work ethic.
"Michael has developed into a leader our other players follow," Winkler said. "Last year, he was a first team all-Marawood Conference offensive lineman and a second team all-conference defensive lineman."
Marathon's other top returning players are seniors Dakota Hall, center and inside linebacker; twins Jake and Jared Sweno, wing backs and cor- nerbacks; Mason Kraft, offensive tackle and defensive lineman and juniors Noah Gage, tailback and safety and Nathan Hanke, tight end and outside linebacker.
Coach Winkler has a plan on how to replace quarterback Clark Mouw, who was a senior last season.
"Junior Ben Robbins is the leading candidate to be the starting quarterback," Winkler said. "Ben throws a really nice ball and he is starting to look more comfortable running the offense."
The following are the Red Raiders' top newcomers to the varsity squad who should see playing time this season: Senior Sam Matis, offensive tackle and defensive lineman; juniors Jaden Koeller, wide receiver and safety; Rudy Rhyner, offensive tackle and defensive lineman; Nick Sommers, special teams and inside linebacker; Tanner Hanke, special teams and wing back; John Stoffel, special teams and cornerback; Dakota Erdman, special teams and wide receiver and sophomores Drew Love, offensive tackle and outside linebacker; Griffin Treankler, tight end and outside linebacker; Hector Pintor, guard and inside linebacker and Matt Annis, wing back and inside linebacker.
It's no secret Coach Winkler wants to continue pounding the ball down the opponent's throats with a large stable to solid running backs in tow.
"I feel confident in the four running backs that will see the majority of action this year," he said. "Noah Gage played tailback last year and he will assume that role again this season. Now as a junior, he has a year of varsity experience and has improved on his speed and strength. The other three running backs Jared Sweno, Jake Sweno and Matt Annis, are all athletic players with good quickness."