Posted on
Coach Sinz is back to lead the 'Cats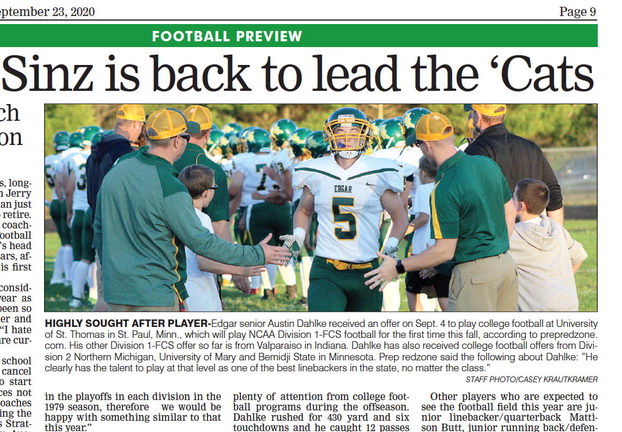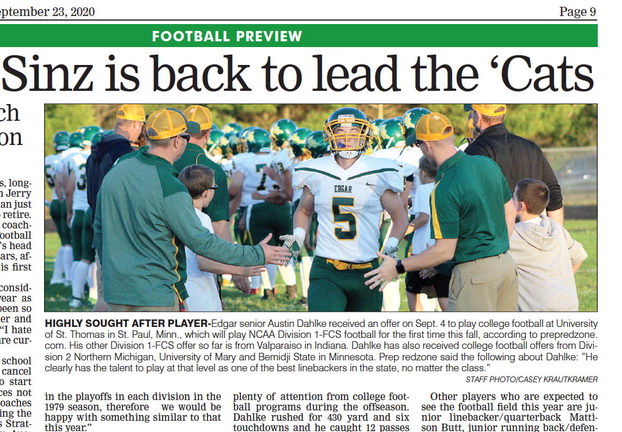 He might coach past this season
By Casey Krautkramer
Luckily for Edgar sports fans, longtime varsity head football coach Jerry Sinz might coach a bit longer than just this season before he decides to retire.
Sinz begins his 49th season coaching in Edgar High School's football program. He's served as Edgar's head football coach for the past 46 years, after being an assistant coach his first three years in the program.
"I was actually seriously considering making 2020 my final year as head coach, but this year has been so goofed up that I may reconsider and coach a bit longer," Sinz said. "I hate to retire in a situation like we are currently facing."
Edgar and other local high school football teams were forced to cancel their non-conference games to start the 2020 season, due to practices not beginning on time to keep coaches and players safe from contracting the coronavirus. The Edgar versus Stratford archrival football game on Aug. 28 was also canceled this season. Edgar begins its season at 7 p.m. this Friday, Sept. 25, against Athens at home.
There is no guarantee there'll be playoff football this year, which would certainly be awkward for a state powerhouse like Edgar that has finished as WIAA Division 7 state runners-up the past two seasons. Some schools have opted to play football this spring instead of this fall.
"I am disappointed that we lost 5 weeks of our season before it even started," Sinz said. "There is still a possibility of a state championship, just not in Madison. We won our first state title in Sparta in 1979 in the snow. Only four teams were involved in the playoffs in each division in the 1979 season, therefore we would be happy with something similar to that this year."
Edgar's football team has seven starting players back on offense and six on defense from last year's squad that finished as WIAA Division 7 state runners-up for the second straight season.
The Wildcats return several skilled playmakers on offense this season, including senior starting quarterback Konnor Wolf who passed for 1,040 yards and 12 touchdowns last season. Star running back/defensive back Kyle Brewster returns for his senior season. Last year, Brewster rushed for 418 yards and five touchdowns and he also caught 15 passes for 300 yards and three touchdowns.
Edgar senior running back/linebacker Austin Dahlke has gained plenty of attention from college football programs during the offseason. Dahlke rushed for 430 yard and six touchdowns and he caught 12 passes for 185 receiving yards last season.
Other top returning players are senior tight end/defensive end Brayden Baumgartner; senior offensive tackle Max Larson and senior center/defensive end Korbyn Bauman who was stellar at the defensive side of the ball last season. Bauman recorded six tackles for loss, recovered three fumbles, had nine quarterback hurries and 13 solo tackles last year.
Senior wide receiver/defensive back Drew Guden is also back. Guden hauled in 10 pass receptions for 240 yards and four touchdowns, and he also had three interceptions on defense last year. Senior linebacker Brady Lemmer recorded 20 solo tackles and 10 assisted tackles last season. Other players who are expected to see the football field this year are junior linebacker/quarterback Mattison Butt, junior running back/defensive end Ayden Weisenberger, junior running back/linebacker Jordan Bunkelman, junior offensive guard/ defensive tackle Waylon Wirkus, senior wide receiver/defensive back Lucas Mueller, senior slot receiver and linebacker Kane Lipinski, junior wide receiver and defensive back Ashton Schuett, junior offensive and defensive tackle Jace Kohel, junior defensive end and offensive guard Owen Bauman, junior slot receiver and defensive back Everett Brehm, junior center and defensive tackle Parker Schutte, sophomore guard and defensive tackle Brady Stencil, sophomore guard and defensive end Carver Higgins and senior tight end and defensive end Nathan Drabek.