Posted on
SWEET H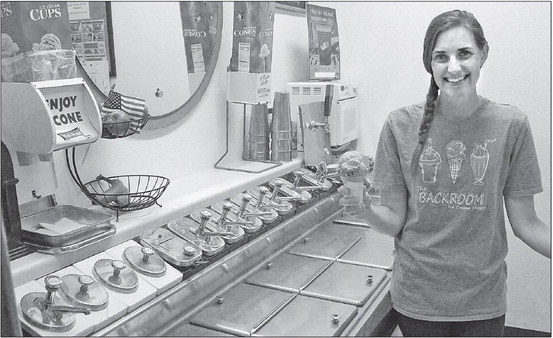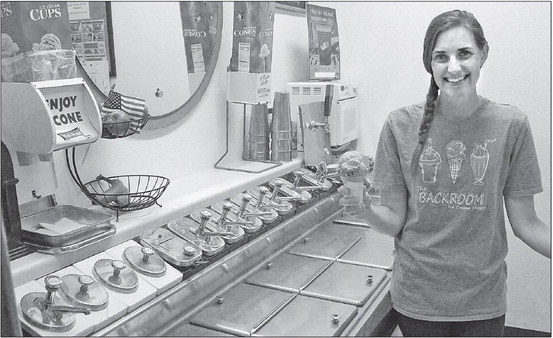 ISTORY
Edgar business serves ice cream from antique fountain
The Back Room, an ice cream shop located in the back of Stark's Floral, Edgar, not only offers customers 19 flavors of scooped ice cream and classic ice cream desserts, but also the sweet taste of history.
The shop, ornamented with various antiques, reuses a refurbished, stainless steel soda fountain manufactured in 1947 by the Bastian-Blessing Superior Co. The company operated two plants, one located in Chicago and the other in Grand Haven, Mich.
The soda fountain has its own history in Edgar. The heavy combination refrigerator and freezer that originally used solid blocks of cork wood as insulation was purchased by pharmacist Harold Gohdes in the 1950's for use at the Edgar Drug Store (currently, the Aspirus Edgar Clinic 103 S. Third Ave.).
The drug store, including the soda fountain, was purchased by Allen Lang in 1975. Dan Johnson acquired the store and fountain in the 1980's and operated both until the business shut down in 1995.
It was at that time that Karen Schmitt and Greg Stark from Stark's Floral purchased the 3-by-12 foot fountain from Johnson and moved it to the Back Room, a space formerly used for Papa's Pizza and B.C. Video.
Getting the one-ton fountain to the Back Room wasn't easy. The unit was lifted onto pipes, and the fountain was rolled down Edgar's Main Street (Third Avenue) with the help of eight men. The fountain was moved into place 25 years ago. It hasn't been moved since.
While at the drug store, a series of Edgar natives worked behind the soda fountain, serving ice cream and sweet soda drinks to generations of locals.
The first of these "clerks" were Cora Bier, who did fountain work for 20 years. She was replaced by Caroline Koehler. Other clerks came later. They included Joan Baeseman, Eunice Tess, Judy Peterson, Bessy Roeth, Lila Viegut, Betty Timm, Jolyn Miller, Diane Hall, Linda Berans, Paul Zweck and Tammie Lindner.
When the fountain was moved to the Back Room, Karen Schmitt's daughters, Amber, Jennifer, Krystle and Miranda, worked the unit.
Today, it is Krystle Schmitt-Guerrero who operates the Back Room business.
She recently oversaw a major remodeling of the retail space. It features antiques from Edgar Drug Store, including a mirror, shelving, glassware and malt maker, but also period light fixtures acquired from St. John's Catholic School, Edgar.
In the remodel, the fountain was rejuvenated and injected with a new refrigerant. The shop got new flooring, new doors and more workspace.
Krystle Schmitt said she likes serving sweets to today's Edgar youth but also to old timers who remember ordering ice cream, malts, banana splits and phosphates back when the soda fountain was at Edgar Drug Store.
"It's cool to have that old person come in and want a chocolate malt like they used to have all of those years ago," she said. "They love it."
Schmitt-Guerrero said she took over managing the fountain when she was in college (in Australia). The year was 2005.
Since then, she's served treats to more than one Edgar generation.
"I see the kids grow up every year," she said. "It makes me feel old."
Schmitt-Guerrero said she exclusively sells Cedar Crest ice cream made in Cedarburg because it is the best. "I like the creaminess and the consistency," she explained. "It is so much better than what we experienced in the past."
Schmitt-Guerrero ticks off this year's favorite ice cream flavors. The top seller is Superman, a fruity combo of blue, pink and yellow ice cream. Second on the list is Pirate's Bounty, caramel ice cream with M& M's and Oreo bits, followed by Caramel Collision, more caramel ice cream with chocolate and caramel pieces. Another local fave is Playdough, blue ice cream with cookie pieces.
Schmitt-Guerrero said she enjoys running the ice cream shop and thinks it fills a need.
"I feel the town needs it," she said. "It provides a safe place for the kids."
Schmitt-Guerrero said she is "grateful" for community support for the Back Room. Summer school classes, soccer teams and T-ball teams frequent the ice cream shop, she said.
Schmitt-Guerrero said she never tires of serving ice cream to the public. Maybe that's because her entire family is crazy about the dessert.
"I love ice cream," she said. "My kids and husband can't get enough ice cream. It's our dessert of choice."