Posted on
Green Valley youth author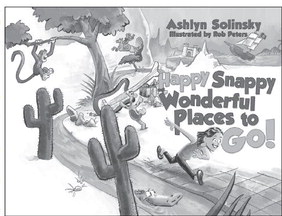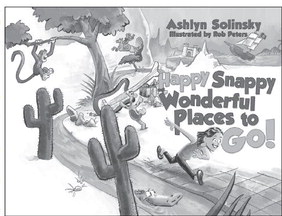 Stratford High school freshman has book for children published, plans new volumes
Few third graders have thought about what their job careers will be in the future. Even some high school seniors haven't decided what type of jobs they want to pursue after graduation.
Ashlyn Solinsky, 14, of rural Stratford, already knew as a third grader at Stratford Elementary School she wanted to become a professional writer. She recently wrote and had her first children's book published, which is rare for somebody to accomplish before they start high school. Her book is titled, "Happy Snappy Wonderful Places to Go!"
She is the daughter of town of Green Valley residents Craig and Sara Solinsky, and this week she'll begin her freshman year attending Stratford High School. Sara Solinsky isn't surprised her daughter has already written a children's book at such a young age.
"I'm not shocked because she's always been great at reading and writing," Sara Solinsky said.
Ashlyn Solinsky created the imaginary character "Little Annie Rosy Rainbow" in her book, which she said is geared toward children ages nine and younger to read. She wrote the book rather quickly but it still took one year for it to get published. Now copies of the book are ready to be sold to the public.
"Last summer, I decided to start writing an imaginary story and it turned into a book," she said. "I told my parents I was writing a book and they thought it was a good idea."
Sara Solinsky said Nico 11 Publishing & Design of Mukwonago didn't make any changes to how her daughter wrote the book. The publisher gave Ashlyn a few options of illustrators to pick for her book. She chose illustrator, cartoonist and designer Bob Peters of Topeka, Kan.
She plans to write more children's books with different imaginary characters in the future. People can now purchase her book, "Happy Snappy Wonderful Places to Go!" on its Facebook site. In the future, people will be able to buy the book on Amazon and at Barnes & Noble.