Posted on
An Outdoorsman's Journal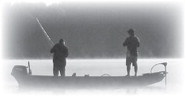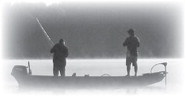 By: Mark Walters
Back to Birch Point
Hello friends: Life is full of traditions and if you are lucky, having a lot of fun. This past week I spent four days at Birch Point Resort on Marsh Miller Flowage in Chippewa County. This was my 20th trip to what is truly one of my favorite places in the world, and as usual I had about as much fun as one person can have over 90 hours.
Monday, Aug. 17 High 78, low 46 As I said, life is full of traditions/ long term plans. My buddy Gary Howe out of Prairie du Chien sold the Courier Press to Morris Newspapers. After four generations and nearly 100 years in the Howe family, Gary and Joan Howe are in the "how much fun can we have" lane.
About three hours north is Birch Point Resort, which is 101 years old and as thousands of people are aware, one of the most fun places to spend time on the planet. Brothers Paul and Dave Maire and long-time employee Steve Kiesow know how to work hard and play hard.
Birch Point has a bar and restaurant that, simply put, is a place where people like to visit with each other. As usual, when Gary and I arrived, we were given a shot of blackberry brandy, just to ease the stress of the road.
So today is day one and we have three days to fish and we also cook excellent meals. Due to a cold spell today, the fishing was slow but neither of us cared as I knew that we would figure the sumo gills out. We ended our day with fresh salmon that I had caught two days earlier and sweet corn and red potatoes from the garden.
Tuesday, Aug. 18 High 81, low 55
Here is a bit of inside information: Gary and I are very competitive with each other and have no problem giving or receiving verbal abuse. Here is some more info: both of us like to give fresh fish fillets to folks who do not have the ability to catch their own fish.
This morning we were on the water very close to daybreak and, let me tell you, as this trip would unfold, it took us time to figure out how to catch good-sized gills.
Generally, after the spawn I like drifting with ice fishing jigs, one on a slip bobber and another straight down. This morning that was kind of working, but not really. Gary and I fished for five hours, had not eaten breakfast nor figured out the gills.
We anchored deep and stayed patient, went to the cabin for lunch and to clean fish, and of course to the lodge for a wee bit of blackberry brandy and an always tasty Birch Point tap beer.
This afternoon the Gary and Mark show was hard at it and we had the gills figured out. I love fishing like this, and we were in the comforts of my War Eagle, which is a very comfortable boat to fish in.
Tonight we cleaned fish and had veggies from the garden and baked chicken.
Wednesday, Aug. 19 High 83, low 49 One of my favorite things about Birch Point Resort is that everyone has fun and one example would be that there are two families here with lots of kids between them. All day long — and I mean all day — the kids are playing in the water, rowing boats, fishing, and just hanging out. At night both families hang out by their campfires and laughter can be constantly heard.
I grew up in a low-income family and raised a low-income family and let me tell ya, income has very little to do with being happy.
Today Gary and I could say that we just about mastered fishing gills in late August on Birch Point — a slip bobber, ice fishing jig and part of a red worm. We had plenty of time to experiment and just like the last 20 years, the fish were figured out.
This afternoon we cleaned fish, ate another great meal, and had a very nice visit with Paul and Dave Maire at a resort that has stood the test of time.
Even if it is only once a year, I am addicted to Birch Point Resort. Sunset!
Marsh Miller Flowage is a great place to start your day.
Gary Howe enjoying life during his vacation to Birch Point Resort.
A slip bobber and an ice fishing jig tipped with a piece of red worm is a reliable bluegill rig.