Posted on
THE MAN B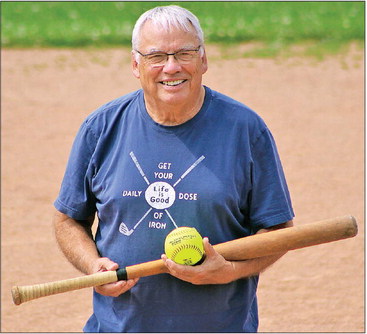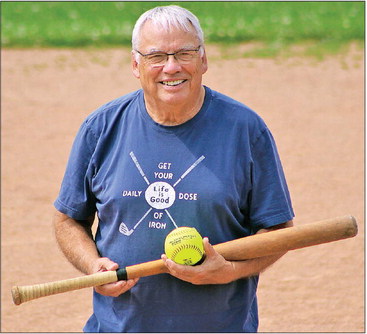 THE SPORTING SCENE
STATS
Handrick hangs up his cleats and puts away his writing pen
Jason Handrick of Edgar has embellished Seasoned Players men's softball statistics to make them enjoyable for The Record-Review readers over the past nine years.
The 74-year-old has decided to hang up his softball cleats after competing in the Edgar Seasoned Players, formally called the Edgar Old Timers, since its inception 40 years ago. He also wrote his final Seasoned Players report for this week's newspaper.
"I still have all the Seasoned Players I wrote on my home computer; I'm hoping to print them all out and put them into a scrapbook," Jason said on Monday after he removed the secondary home plate the Seasoned Players use on the Edgar softball diamond. "People would be excited to read my report each week in the newspaper, but the majority of them didn't know who wrote them. I had the pleasure of playing with a great bunch of guys during my last years in the Seasoned Players." On Monday, Jason reflected on his nearly half a century combined as a member of the Shimmels Bar, Edgar firemen and Round of Mulligans teams in the Edgar Seasoned Players league. The last league games of the summer were played on Thursday at the Edgar softball diamond, where both players and spectators enjoyed eating free grilled corn on the cob.
Jason recalled what motivated him to begin writing the Seasoned Players reports in 2011. He saw stories in The Record-Review newspapers from about 50 years ago about the original Edgar softball league, which was started by Dave Berg, and he thought it would be nice if there were also recaps on the Seasoned Players league games. Local people have looked forward to reading Jason's recaps each week in the newspaper.
Many of the men's softball players already had nicknames, especially those who hail from Athens, upon joining the Seasoned Players league on Thursday nights at the Edgar softball diamond. Jason gave many other players their own nicknames, for example, he called village of Edgar president Terry Lepak "El Presidentee" and Greg Kornack "Sultan of Swat" in his game write-ups this summer.
Teams would give Jason their game statistics each week and he would craft them into entertaining stories for people to read. Camouche Sommer, who plays for Landmark Bar in Athens, already included his teammates' nicknames like Fleabag and Twig in the game statistics he handed to Jason.
Jason noted Rennie Lindner and Rick Schroeder started the Edgar Old Timers league, which eventually changed names to become the Edgar Seasoned Players, 40 years ago. The original softball league and later the Old Timers' players used aluminum bats, but Jason estimated 20 years ago the Seasoned Players switched to wooden bats to make the games safer.
"Larry Lehman hit the first home run with a wooden bat off pitcher Rick Schroeder," he recalled.
Jason played shortstop and third base, and he most recently was the Round of Mulligans pitcher for the past several years in the Seasoned Players league. His men's softball team was named after the golf clubs he uses during league play on Monday mornings and Tuesday nights at Pine Valley Golf Course in Marathon.
The opposing team, Mueller Builders, surprised Jason in his last ever Seasoned Players game on Thursday. They had his sons, Heath and Sean, and grandsons, Connor and Brock, to play in the field for Jason's team while he pitched. Connor played shortstop while Brock, Heath and Sean were in the outfield.
"It was really neat; it was a great thing for Mueller Builders to do for me," Jason said.
Jason grew up on a farm in Halder and he attended the former St. Roberts Catholic School, which was next to St. Patrick's Catholic Church in Halder.
He graduated from Mosinee High School and was drafted to serve in the United States Army from 1965-67; he spent one year fighting in the Vietnam War.
Jason married Kathie (Schmitt) from Athens and the couple will celebrate their 50th wedding anniversary on Oct. 3. He is retired from working 29 years at Prince Corporation in Marshfield. Jason and Kathie's granddaughter, Serena, graduated from Melrose-Mindoro High School this year.