Posted on
An Outdoorsman's Journal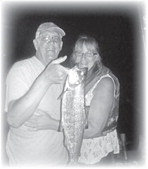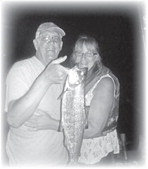 By: Mark Walters
Algoma for Salmon
Hello friends: One of the really cool things about this way of life that I live is that I have a ton of really fun friends. Two weeks ago, I was at Ross and Kimberly Moll's wedding. Ross is 26 and grew up in Niagara. One of his good buddies from when he was a kid is Joe Weber, who was in the wedding, and lives in Green Bay.
Joe is a machinist at Mid Valley Industries and an addicted and very skilled outdoorsman. Over the course of the night we talked about his fishing for salmon, which he does out of Algoma in his Lund Impact that is pushed by a 150-horse Mercury. Joe bought this five years ago and after mastering walleye on Green Bay and musky, he switched over to salmon.
I was lucky enough to get an invite and that is what most of this story is about.
Friday, Aug. 14 High 78, low 55 Joe had to work today, and I managed another fishing invite with my good friends Jeff and Patti "Peppermint" Rouse for an evening on the water. First, they cooked me a dandy steak on the grill at their getaway home in Algoma, where I have slept many nights of my life. Patti was one of my favorite friends growing up and she is so nice that she never even gives me crap about any of my weaknesses.
In all honesty, we just wanted to spend time together tonight and we really hoped to land a salmon on what should have been day one of Algoma's "Shanty Days" weekend. Nineteen years ago, I caught a 24.6-pound salmon on this weekend while fishing with Jeff and Patti and that salmon is on my wall.
Tonight we had a great time talking and while fishing in the Rouse's 20-foot Alumaweld Stryker, we caught two kings and that made us all very happy.
Saturday, Aug. 15 High 82, low 60 Joe Weber and Ryan Kelley met me at the marina at Algoma long before sunrise this morning with Joe's boat in tow. Ryan also is from Niagara and rode the bus with Ross Moll and is an employee at Procter and Gamble, which is a paper product manufacturer in Green Bay. Back to these guys fishing musky — the first time they tried it on Green Bay they caught a 53-incher and another big kahuna. So we start out in the dark with Joe doing most of the setup work and me kind of driving the boat. When we hit 160 feet of water, fish number one hit a spoon on a downrigger that was set at 60 feet, and just like that Ryan caught our first fish, which was about a 5-pound king, a perfect eater. Next Joe caught about a 7-pounder and then I caught an 8-pounder. Joe's boat record is seven salmon and the way our luck was going, I was hoping we could break it.
What was very nice for myself were three things: one was to see how through hard work Joe had created an income to buy and rig a very nice boat; two was to see how he taught himself to fish salmon, which can be very difficult; and three was to listen to and fit in with kids in their mid-20s.
I just met Ryan today, I think, and though Joe and I have done some ice fishing and he stayed at my house once, we really do not know each other. They are both past the kid stage of the early 20s, but still have plenty of stories.
Today the kings were in the depth of about 180 feet and we kept working our way to 340.
Once we hit 220, the rainbow started hitting our spoons. We went 6-for-8 and talked lots of fishing and hunting and I have a strong feeling that I may fish or hunt with these guys again.
As usual, the Chevy pickup got me home and I had one day before my next trip, which was also with a good friend and to a good friend's resort.
Living the dream. Sunset!
Jeff and Patti Rouse love to spend time playing at their vacation home in Algoma!
Good friends (left to right) Joe Weber and Ryan Kelley, having a good time fishing salmon out of Algoma.
The rewards of a good morning salmon fishing!